How to download Bet9ja Android app
As one of Nigeria's leading betting sites, it is little surprising that Bet9ja have developed their own mobile app. It has a reasonably modern feel to it and can be downloaded on nearly all Android devices by following the steps below.
Head to the Bet9ja website on your mobile browser.
Tap the A-Z menu button, and at the top of the screen, it should say 'Get the Bet9ja app' next to a yellow 'download' button'.
Tap 'Download' to access the official Bet9ja apk file. You may see a warning that such files can harm your device but rest assured the Bet9ja mobile app is perfectly safe.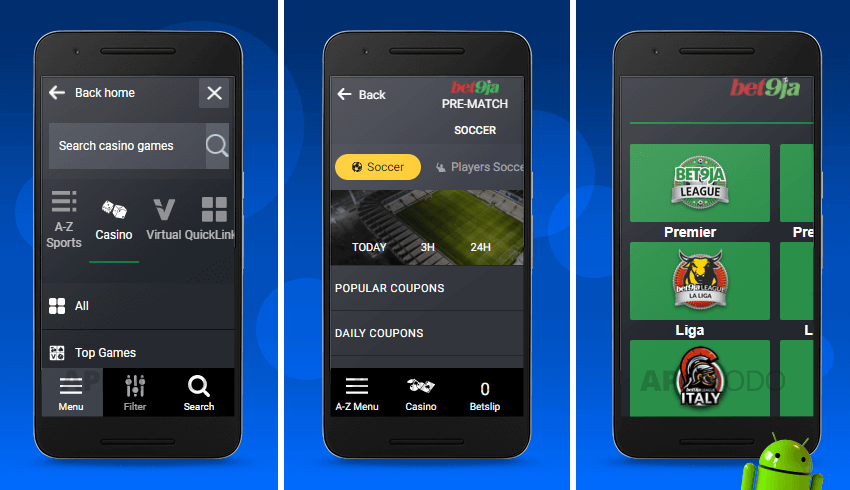 ---
How to install Bet9ja Android apk
Once you have downloaded the Bet9ja apk file, it is simply a matter of installing it. This quick and simple process should take no more than a minute.
After downloading the app, tap the 'open' button.
At this stage, your phone may notify you that it "is not allowed to install unknown apps from this source". Should this happen tap the 'settings' button when prompted.
You will be taken to the 'install unknown apps' settings of the browser you were using. Simply tap the slider that says 'allow from this source'.
Once done, tap the back arrow and tap 'proceed' to continue with the installation.
The Bet9ja app will then install in the background, taking approximately 10 seconds to sort out as it is only a small file. Once complete, tap either 'done' or 'open' to finish the process. The base app takes up just 21MB of memory, so it is not going to take up a significant portion of your internal storage.
---
How to download Bet9ja iOS app
In Nigeria, Android is the dominant operating system, claiming an 80%+ share of the market. With iOS far more unpopular in the region, Bet9ja have not taken the time to release an app compatible with iPhones and iPads. If you are using an Apple device and would like to play at Bet9ja, you will have to do so using their mobile site.
---
Benefits of the Bet9ja mobile app
The biggest benefit of using the Bet9ja mobile app is speed. Not only is accessing the app quicker than accessing the mobile website, but the entire experience is more streamlined. This means you can spend less time placing your sports bets, a key benefit, particular when it comes to in-play betting!
---
Bet9ja mobile version
For those unable or unwilling to download the app, you will need to use the Bet9ja mobile site. You will automatically access this by loading the Bet9ja site in any mobile browser, so there are no special instructions you need to follow. It is effectively a compact and touch-friendly version of the main desktop site Bet9ja uses. Everything the brand offers is available on the mobile site, so you can do all your mobile gambling in one place.
---
Bet9ja Sports Betting App
If you want to place sports bets on the move, the Bet9ja mobile app has you covered. Whether you have your eye on football (soccer), tennis, basketball or anything else, you have the full range of Bet9ja markets at your disposal. This includes live betting, too; if you tap the 'live' button at the top of the app, you can easily view all in-play matches currently taking place.
Just be mindful that some of the live football events you may see on the app (particularly during quieter times) are what Bet9ja calls 'zoom soccer'. Although these feature real team names, the games themselves are simulated. It is easy to distinguish which games these are, though, as they feature a 'Z' in front of the names.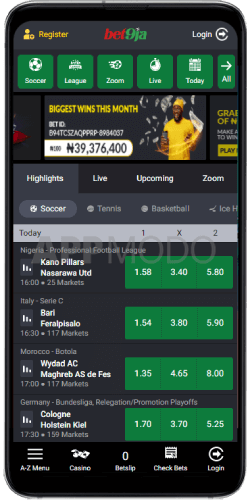 ---
Bet9ja Casino App
Although the Bet9ja app has a 'casino' link at the bottom of the page, casino games are not supported within the app itself. If you tap the link, the Bet9ja website will load in your default browser, and you will be taken outside the app. We would point out that this is not standard practice as many Android gambling apps support a full or almost full casino games library.
While this is a slight disappointment, the Bet9ja mobile site does a great job housing its casino games. Like with the desktop site, there are hundreds to choose from, and you can view a helpful game description for all.
---
Notable Mobile Features
Although the Bet9ja mobile casino includes a 'filter' button, it is inaccessible at this time. Helpful filter options are available on the Bet9ja mobile site for sports betting and casino games, however.
As mentioned before, the 'zoom' soccer markets are exclusive to Bet9j. You can access them via the mobile site and app. They ensure there is a regular stream of in-play betting markets available.
The mobile casino also supports 'demo' versions of non-live games. This mode allows you to try a game out with all its features while not betting real money. For this reason, it is a great option when you are getting started with a new game or type of game.
---
Mobile Offers
Bet9ja do not have any promotions that are exclusive to mobile devices. You will, however, collect reward points for all bets placed on your mobile device and boosts on your (5+ selection) accumulators.
---
Bet9ja App vs Mobile Version
The mobile version, while not as speedy as the app, does have a couple of extra benefits. The main one is that the mobile app provides the full Bet9ja experience, so to speak. You will find it has links to all areas of the sites, e.g. promotions, Super9ja, rewards, plus extras such as 'odds filter'.
The mobile site also comes equipped with the 'old version', which is extremely basic and lightweight. While not suitable for many, it can be a big help if you are on a very weak connection.
---
System requirements
The Bet9ja android app is compatible with virtually all Android devices. You only need to be running Android 4.1 (Jelly Bean) or higher, an operating system released in 2012. There are very few phones out there still working that will have an older OS.
As for non-Android users, so Windows, iOS, and so on, there are no system requirements as there are no downloads available. You just need to visit the Bet9ja site on your preferred mobile browsers; it is as easy as that.
---
Mobile Payment Methods
There are many different ways to pay on the Bet9ja mobile app or website, so it is very easy to top up your account. Not all payment methods are free of charge through so pay attention to the details listed in the table below. As standard, the minimum deposit is ₦100 across payment methods. Withdrawals are free of charge via bank transfer, and players can have up to two registered accounts on their Bet9ja profile.
---
Frequently Asked Questions:
Can I register via the mobile app?
If you are a brand new player, you can sign up via your mobile device. If you are on the app, just select the yellow 'register' button in the top left-hand corner. You will then be redirected to a webpage featuring the registration form.
Is the Bet9ja mobile application free to download?
Yes, there is no cost at all for downloading the Bet9ja app, and this will remain the case in the future.
How do I find my account ID via the mobile app?
As some payment methods require you to enter your account ID, it is useful to have it handy. You can easily find your unique ID by tapping the person icon in the top right corner then looking at the bottom of the page.
Can I view and update my personal information on the mobile app?
No, on the app, you cannot view your account details. You can view them by logging into the mobile site, but to change them, you must speak to customer support.
How can I hear about Bet9ja offers and special events via my phone?
Within your marketing preferences, you can opt in to receiving SMS communications and/or push notifications. These will allow you to keep up with many things Bet9ja has to offer.
Do I need a Wi-Fi connection to use the Bet9ja mobile app?
You will need either a Wi-Fi connection or a mobile data connection (3G, 4G or 5G).
Can I take part in the Super9ja competition via the Bet9ja Android app?
No, this free-to-play game featuring a ₦10,000,000 jackpot is only available via the mobile or desktop site.
---
Company Information
When it comes to betting in Nigeria, Bet9ja is the biggest name in the business. It is so popular, it one of the most visited websites in the entire country. KC Gaming Networks Limited is the company responsible for the brand after establishing it in 2013.
---
Overall Apps Rating
Although Bet9ja are yet to release an iOS app, we are happy to give them a high mark for their mobile services. Not only do they have a smooth and functional Android app, but their mobile site is also fully fit for purpose. It is something that could be a little quicker, but, importantly, it manages to support the impressive full range of Bet9ja services (sports betting, casino, virtuals, in-play and so on).
As such, we are giving Bet9ja mobile a highly credible overall score of 8.5/10.