How to download the Betfred mobile app for Android
Downloading the Betfred mobile app is incredibly easy. Simply follow the steps below to download the .apk file on to your Android device. Then, follow the next section to install the .apk file.
Open your Android device and go to Settings.
Go to Security & restrictions, and then Unknown sources.
Turn on FileBrowser by toggling the FileBrowser option.
Go to Betfred's mobile site and press on the menu icon.
Select the app of your choice, and then press the Android mobile download button.
The .apk will start downloading on your Android, wait for it to finish.
When prompted, allow access to your photos, media, and files on your device.
Press OK if you receive a popup saying the file is harmful. Don't worry, and the file isn't detrimental.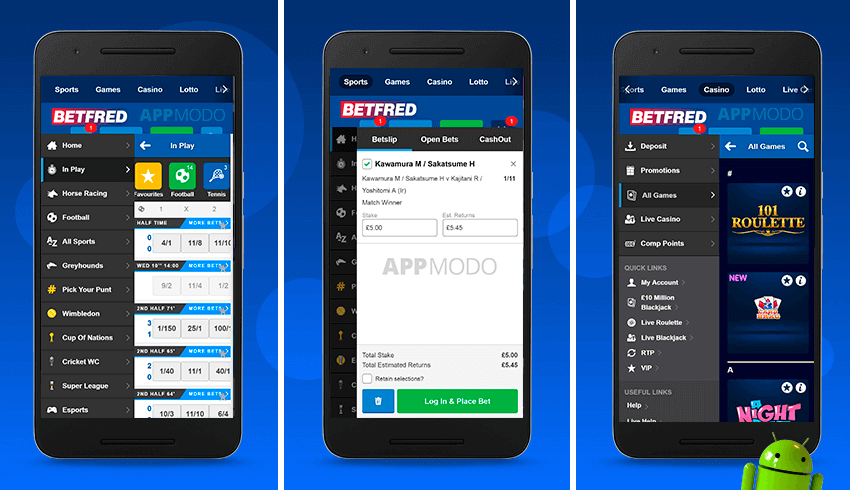 ---
How to install the Betfred app for Android
Remember, you can only install Betfred app after you've downloaded the .apk file from the previous section. Once the file is downloaded on to your Android device, follow these steps to install it:
Locate FileBrowser → Local Disk → Download on your device.
Press the downloaded Betfred mobile app .apk and then the OK button to start installing it.
Follow the installation instructions and wait for the file to finish installing.
If prompted that your device can't install unknown apps from the source, press Settings and then Always to bypass it. After that, allow from the source by pressing on the toggle button.
Once redirected to the installation screen, press on the Install button and wait for it to finish.
---
How to download Betfred app for iOS
It's also very easy to download the Betfred app for iOS users. You can have the app downloaded on your device within a minute. Follow the detailed steps listed below:
Open your iOS device and open the App Store.
Type in "Betfred" in the search bar above and locate the official Betfred mobile app by Betfred.
Press the GET button beside the official app to start downloading it.
As an alternative, you can go to Betfred's mobile site, select an app you want, and then press the Download for iOS button. That will redirect you to the correct app in the App Store.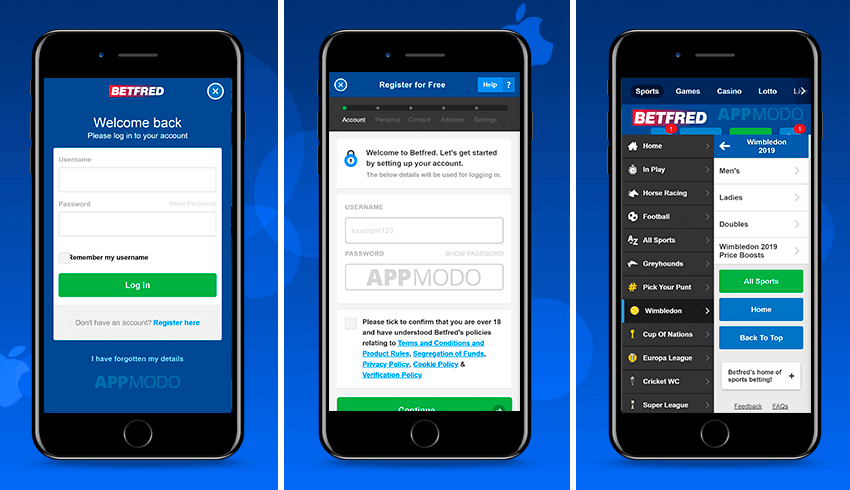 ---
How to install Betfred app for iPhone/iPad
To install Betfred apps on your iPhone or iPad, you'll need to download the Betfred app for iOS first. So, make sure you follow the previous download section first, and then take a look at the instructions below:
Once you press the GET button as stated in the download section, the app will begin installing on your device.
Once the app finishes downloading, press the home button on your device and look for the app.
Press on it to complete the installation process.
---
Benefits of the Betfred mobile App
Using the Bedfred mobile app provides you with many benefits, including:
A free optimization upgrade – downloading and installing the Betfred mobile app on both Android and iOS is entirely free. Having the app is an upgrade because it optimized for mobile devices. The app eliminates interference with browser incompatibilities and glitches.
Simple navigation – when you use the Betfred mobile app, you'll realize that it's easy to find everything that you're looking for. You can easily find links to all the sections you're looking for.
Accessibility – having Betfred mobile is ideal because you can play on the go with the press of a button. With the app, you don't have to open a browser and log in every time regularly.
---
Betfred Mobile Website Version
An alternative to using the mobile app is the Betfred's mobile website. The mobile site is indeed similar to the app, and that's why we'll discuss the advantages and disadvantages of using each of them later. The Betfred mobile website also provides you with simple navigation. You can easily find popular games, including in-play, football, horses, vegas, cards, and others. With each section, you'll find hundreds of games to choose from.
On the home screen, you'll find a list of competitions that are currently in play. You can browse through the next five horse racing, highlighted games, new games, most popular, and more! The Betfred mobile site runs very smoothly, so you don't waste time on the loading screens. If you scroll down to the bottom of the site, you'll find information on matches that are popular across the globe. It's hard to miss out on the action.
You'll also find relevant links. These links include the contact page, privacy policy, terms and conditions, and so on. Feel free to read them as you please. With a stable internet connection, you'll find that the mobile site is a great platform to play on.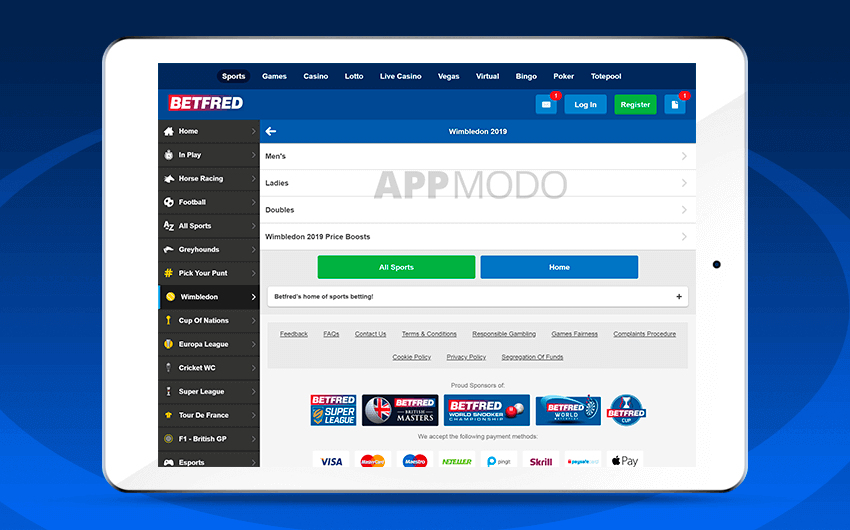 ---
Betfred Sports Betting App
Betfred's Sports betting app is among the favourites. There are dozens of options to choose from, everything from football, soccer, hockey, and other well-known sports. You have the option of browsing events that are currently in-play, featured games, popular, and more. You can also place bets on virtual sports! That is something that a lot of people haven't tried so that you may find some luck there.

There are plenty of sports contests to choose from, so make sure you do your research carefully before placing a bet. There are also many features that'll help keep your profits and prevent losses, but we'll also talk about that later.

When you find sports matches that you're interested in, press on it to view the available betting options. You'll notice that there are special conditions that have different payouts.

If you find conditions with lower payouts, it means that unique condition commonly wagered. On the other end, if you see conditions with higher payouts, it means that specific condition not often wagered. Usually, high payout conditions are harder to win.
---
Betfred Mobile Casino
Betfred's mobile casino is a popular and great section to look into. When you reach the casino page, you'll see the massive list of casino slots you can play! There's everything from tables, cards, roulette, blackjack, virtual, slots, jackpot, and more. Each game has its own rules and payouts, so it's a good idea to read through each one before playing them. The variations between the games are what makes them so fun.

In the mobile casino section, there are hundreds and hundreds of choices to decide. You'll also see a list of popular and new opportunities to play. Each popular game widely played, so you may find some luck as other players have. New games may give you winning opportunities that you wouldn't find somewhere else, so give them a try! If you're having a hard time choosing a game, you can ask the community what alternatives they play, or use the search bar to look for a specific slot you've seen elsewhere. It's a smart move to test your luck through a variety of casino tournaments.

Casino events are usually won and lost at random, so you never know when your luck will strike.
---
Mobile features of Betfred
As mentioned earlier, there are specific mobile features that you should be aware of. These features widely used because they help players save money. They can even prevent them from losing money. More importantly, these features can also open new betting opportunities for you, so pay close attention. Here are some mobile features of Betfred:
Cash Out – the Cash Out option is one always to consider when playing live competitions. When you place a bet, and the event has progressed, you can use the Cash Out option to cash out your current balance. That is a safety net for those who want to keep the profits or prevent further losses.
Live betting – live betting is a Betfred mobile feature that allows you to place bets on matches that have already started. This feature is excellent for those who want to feel out how a contest will progress before making a bet. Keep in mind that the odds may change as the competition progresses.
Live streaming – the Betfred live streaming feature gives you access to watch and bet on hundreds of different matches that are being live streamed. You can hop into the action and place bets on sports even after they've started.
---
Betfred Apps
Betfred Sports App: The Betfred Sports App allows you to place bets on your favourite sports events. Each sports match has different payouts based on specific winning conditions.
Betfred Casino App: The Betfred Casino App allows you to play all kinds of casino slots. There are dozens of categories to choose from. Each slot has different rules and unique payouts.
Betfred Live Casino App: The Betfred Live Casino App is one of the most popular apps among Betfred. Here, you can play most table games with real-life dealers. That emulates a real casino environment.
Betfred Bingo App: The Betfred Bingo App allows you to play bingo with other players. You can find specific bingo rooms to play in. You need to try this app if you haven't already.
Betfred Vegas App: The Betfred Vegas App allows you to play games that are commonly played or well-known in Vegas. You can choose to play significant opportunities like jackpots, table games, and more, all in a Vegas setting.
---
Betfred Mobile Bonus
Betfred mobile does not offer a special bonus when signing up. Don't let this discourage you as there are other bonuses to choose from. Each bonus its specific terms and conditions, so make sure you read each one carefully before accepting it.
Betfred Sports Bonus: Using a promotion code

WELCOME40

you can receive a £30 in Free Bets and £10 in Free spins when you bet £10+.
Betfred Casino Bonus: Deposit minimum £/€10 and get up to 200 Free Spins on selected games.
Betfred Lotto Bonus: Although lower than other bonuses, you can still receive £20 in Free Bets when you deposit and play £5, with promo code

LOTTO20

.
Betfred Bingo Bonus: Another promotion code you can use is

BINGO100

to receive £10 in bonus credit and 100 free spins when you place a £10 stake.
---
Mobile apps vs Mobile site version
As mentioned in the Betfred mobile website version section, the mobile app and site are similar. However, they each have their advantages and disadvantages that you need to take note. Here's a list of them:
Betfred mobile app
Betfred mobile app advantages:
Perfect mobile optimization
Fast access to Betfred apps
Secure login and payment methods
Betfred mobile app disadvantages:
It uses up space on your Android or iOS mobile device
Must meet minimum requirements to run the app
Must continuously update the app to avoid compatibility issues
Betfred mobile version
Betfred mobile site advantages:
Save up some storage space on your mobile device
Can zoom on any element using the mobile site
Don't need to update anything as the site handles that for you
Betfred mobile site disadvantages:
Cannot be fully optimized for any mobile device
Takes more time to access Betfred apps
It requires a stable internet connection
---
System requirements and device compatibility
To run Betfred mobile apps for iOS users, your device must have at least iOS 7.0 installed. Android users have it easy as the Android app is compatible with all mainstream Android devices such as Samsung, Google, Motorola, and Sony. However, while most devices should be compatible, feel free to contact Betfred's fantastic support team if you run into any compatibility issues. It's a good practice always to try to keep your device updated the latest OS version.
---
Payment methods through mobile
Through Betfred mobile, there are many payment methods to choose from. Each payment method is fully secured, so you don't have to worry about breaches. You aren't limited to one method, so feel free to switch between the payment methods at any time:
| Payment Method | Deposit Minimum | Deposit Maximum | Time for Deposit |
| --- | --- | --- | --- |
| PayPal | £5.50 | £45,000 | Instant |
| Skrill | £5 | £45,000 | Instant |
| Neteller | £5.50 | £45,000 | Instant |
| Ukash | £5 | £5,000 | Instant |
| Debit Cards | £5 | £5,000 | Instant |
| Visa | £5 | £5,000 | Instant |
| MasterCard | £5 | £5,000 | Instant |
| Maestro | £5 | £5,000 | Instant |
| Bank Wire Transfer | £85 | £45,000 | Instant |
| Paysafe Card | £5 | £45,000 | Instant |
| Payment Method | Withdrawal Minimum | Withdrawal Maximum | Time for Withdrawal |
| --- | --- | --- | --- |
| PayPal | £5 | £5000 | 48 Hours |
| Skrill | £5 | £6,500 | 48 Hours |
| Neteller | £5 | £4,500 | 48 Hours |
| Ukash | | | |
| Debit Cards | £5 | £9,999 | 48 Hours |
| Visa | £5 | £5,000 | 48 Hours |
| MasterCard | £5 | £9,999 | 48 Hours |
| Maestro | £5 | £9,999 | 48 Hours |
| Bank Wire Transfer | £25 | £25,000 | |
| Paysafe Card | £5 | - | |
---
Frequently Asked Questions
I already downloaded the Betfred APK file. What if it won't install?
Copy the .apk file into FileBrowser/data/apps on your Android device and then restart your phone. Try turning off any screen dimming apps and updating your phone to the latest Android version. If that doesn't work, contact Betfred support for more help.
How to use the Betfred app?
You can use Betfred apps by downloading and installing the apps on your device. Then, press on the apps to open them up.
Was the app ever not working?
The app will always work unless otherwise stated by Betfred. If you run into issues with the app, try reinstalling the app you're using or connecting to another internet connection.
Can I change the odds from Fractional to Decimal?
You can easily change the odds from fractional to decimal in the setting options of the mobile app.
Are my mobile payment methods secure?
Every payment method you make through Betfred is fully secured. You won't have to worry about any third party stealing your information.
Is the Betfred iOS app free to download?
Yes, the iOS apps are entirely free to download and install on your iOS device.
How do I use the Betfred mobile login?
When you open a Betfred app, you'll be asked to log in. Put in your credentials to access the features of the app.
How do I use Betfred register?
To register a Betfred account, go to the official Betfred site and press the sign up button.
How do I contact support?
Scroll to the bottom of the Betfred site or mobile app and look for the contact link. Fill out one of the forms or contact Betfred support using one of the available methods.
---
About Betfred mobile
Betfred is a famous bookmaker based in the UK. The company founded by two individuals, Fred and Peter Done. Their mobile services have been carefully designed to ensure customer satisfaction. They have a dedicated support team that is always willing to lend a hand. There are hundreds of different choices to prefer from, each with their own rules and payouts. The mobile apps are enjoyable and easy to use, so give them a try!
---
App rating and conclusion
Betting on mobile has never been easier with Betfred apps. You have plenty of options to choose from. The simple navigation and user interface make it easy to get around! Overall, the mobile services deserve a 9/10 rating because of how well they've been designed.