How to download BetWinner Android app
As a brand that fully appreciates the huge demand for mobile betting, BetWinner has made its Android app open to all.
To access it, head to the BetWinner site on your mobile device.
Swipe down on the home page until you reach the 'mobile applications' button.
After tapping this, you will see a large yellow button stating 'BW Download the App'.
Your device will then ask if you wish to download the official BetWinner apk file.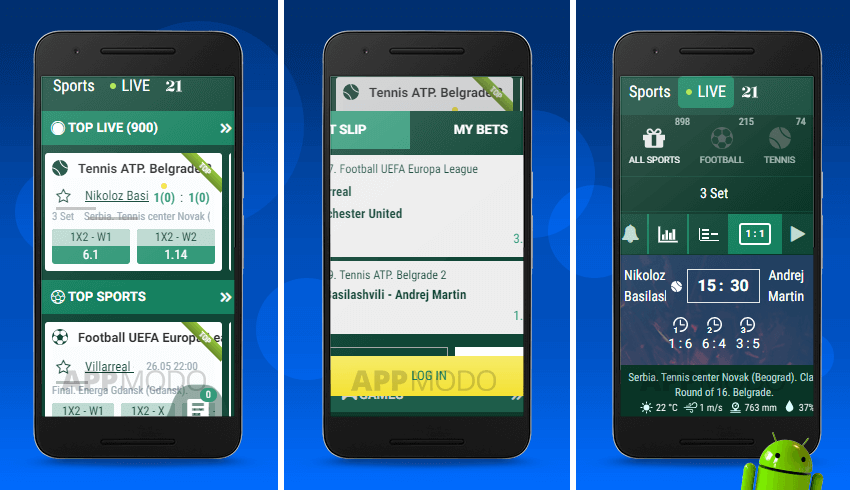 ---
How to install BetWinner Android apk
How you install the app depends partly on if you have installed an apk file from outside the Google Play Store before.
If you have, you can simply tap the 'install' button once the 36MB download has completed.
If not, you will need to alter your phone settings to allow the installation of unknown apps from your mobile browser.
You can do this by heading to settings > apps > your mobile browser > advanced > install unknown apps > allow.
Once allowed, you will be able to install the app in a matter of seconds.
---
How to download the BetWinner iOS app
Like any top brand out there today, BetWinner also has an iOS application to accompany their Android app. You can access this in the same way by tapping 'mobile applications' at the bottom of the BetWinner mobile homepage. As the site will recognise you are on iOS, you can simply tap on the download button where you see the iOS app.
If you are from Nigeria, you can simply download the BetWinner app via the App Store.
---
How to install the BetWinner iOS
If you are cannot access the BetWinner iOS application from the App Store and instead must use the website, you may need to tweak your settings before you can install it.
To do this go to settings > general section > device management > corporate programmes.
Select 'Kontrast,' 'ooo', and then tap 'trust'.
The iOS app should now be installed and ready to use.
---
Benefits of the BetWinner mobile app
Free to use and seemingly bug-free, the BetWinner mobile apps are definitely worth trying out. Having the fast-loading app on your home screen ensures you have rapid access to your account at all times. The app will even remember your details, so you do not need to enter your login details every time you open it. As a result, you are never more than a few seconds away from placing a bet or playing your favourite game.
---
BetWinner mobile site version
In addition to their two well-crafted mobile applications, BetWinner has also developed a mobile compatible version of their website. You can access this regardless of your smartphone's operating system or the mobile browser you are using. Compared to the app, the mobile site has a slightly greater focus on aesthetics. Although this comes at the expense of some speed, the mobile site looks excellent and has an incredibly user-friendly interface.
---
BetWinner Sports Betting App
Back to the app now, and both the iOS and Android BetWinner apps feature lots of sports betting opportunities. You can bet on a huge range of over 40+ sports, easily filtered by start time, plus a wide range of eSports bet. The selection of in-play bets also impresses with a huge number of matches and markets covered. With any, you can easily turn on notifications by tapping the bell icon.
---
BetWinner Casino App / Live Casino App
As a mobile player, you have access to a huge number of different casino games at BetWinner. The only trouble is, it is sometimes hard to know what is available. If you click 'casino' inside the Android app, for instance, your options are live casino, slots, TV games, bingo, virtual sports, legion poker, fishing, scratchcards and other games. It is bizarre that 'fishing' gets its own spot, yet 'card games' or 'table games' does not. The fact there is no search button either only makes the problem worse.
Another issue for casino games is that they are not built into the app; rather, they load via your browser. What this means is when you back out of a game, you end up back on the app home page. This can be a little annoying if you are someone who likes to jump between casino games.
---
Notable Mobile Features
Live streaming
With the mobile apps, you can watch many sporting events and competitive eSports fixtures live. The streams are of excellent quality and take little time to load, making them a wonderful accompaniment to your betting.
One tap bet
With in-play betting, seconds can make all the difference. To ensure you get your bets in before the market closes, you can activate the one-click bet option. This will ensure that you do not need to confirm your bet if the odds change less than a specified amount.
Odds movements tracker
By clicking the line graph icon on a particular fixture, you can see how the odds have shifted over time. For the more serious gamblers among you, this can provide highly useful information about whether the bet is good value for money at any given time.
---
Mobile Offers
Somewhat confusingly, BetWinner has both a 'promotions' page and a 'promos' page. For the latter, you can find this within the app by expanding the 'other' menu. Here you will find all the offers listed on the website that require bonus points (which are exchanged for promo codes) to redeem.
As for more regular promotions, you may notice that not everything BetWinner has to offer is visible on the mobile app. This is simply an issue of design, though, not that mobile customers are blocked from certain offers. Rest assured that even if you cannot view the details of select promos, smartphone users have just the same bonus access as desktop players.
---
BetWinner APP vs. Mobile Version
Although the BetWinner apps are not flawless, they are faster than the mobile site and are better for receiving notifications. The speed is something we really want to stress as both the iOS and Android apps are among the quickest gambling apps we have ever tested. So, even if you have an ageing device, the browsing experience is completely painless.
The mobile site version lacks the issues we discussed in section 8 when it comes to locating casino games. It includes far more search options and is more sensibly organised. Overall, the mobile site seems to handle the sheer size of BetWinner's offering a little better. Sure, it takes more time, but it sometimes makes it easier to find what you are after.
---
System requirements
According to the BetWinner site, their iOS app only requires iOS 9 or above (iPhone 5 or newer), making it highly accessible. You will, however, need iOS 12 if downloading it from the App Store.
The bar for running the Android app is also extremely low, with only Jelly Bean 4.1 (released in 2012) required.
---
Mobile Payment Methods
BetWinner accepts a huge number of different payment methods, including a wide range of cryptocurrencies listed underneath the table below. BetWinner process all mobile withdrawal requests 24/7, but approval can take as long as seven working days, depending on the method selected. Bank transfers are also possible, but options tend to be very localised.
---
Frequently Asked Questions:
How do I know if I have the latest version of the Android app?
Open the setting menu and at the bottom tap the button that states the version of the app e.g. BetWinner v.13 (2200). Doing so will inform you if you are running the latest version.
Can I receive information about special offers to my phone?
Yes, BetWinner can send you information about promotions and special deals by SMS.
Can I check sporting results on the app?
Absolutely, you can check results across sports for any particular day. Just open the main menu and select 'results' and then choose a date by tapping the calendar button.
Will my phone flash if I receive a notification from BetWinner?
Not as default, but you can turn this option by heading to settings and turning on the LED indicator option.
Does it cost anything to download the BetWinner apps?
No, both apps are completely free of charge.
How do I view my bet history on the BetWinner app?
At the very top of the main menu, you will see the 'bet history' button. Tap this, and you can view all the bests you have placed previously. You can filter them by bets you won or lost, and you can search bets placed/settled during a specific time frame.
---
Company Information
BetWinner is a fast-growing sportsbook and casino site that has already attracted over 400,000 unique customers. They operate in many countries across the globe using a Curacao gambling licence. The website is owned by Harbesina Ltd, while Prevailer B.V. is the operator and licence holder.
---
Overall Apps Rating
There is plenty to like about the BetWinner mobile apps. They are extremely fast, largely easy to use and do not take up much internal storage. At times though, for example, within the casino, it can be tricky to find exactly what you are seeking due to a lack of searching options/sensible categories. The more detailed and advanced mobile site does not have such problems, but it is nowhere near as fast, making it impossible to get the best of both worlds.
So, while not without fault, BetWinner is still deserving of an 8/10 for its mobile services.