BetOnline Mobile App for Android
BetOnline has made gaming on the go quite an easy task, especially for Android users. With a full selection of gambling services, you can easily join in the fun and begin playing at BetOnline through their mobile gaming platform which is compatible with almost any modern Android phone.
Instead of the traditional downloadable app from Google Play store, BetOnline offers Android gamers a mobile platform that is based on their regular mobile browsers. Through this web-based platform, you will have access to all of BetOnline's services including sports betting and live casino among many others.
In the next section, we will explain how to access the mobile platform from your Android device.
---
How to Download and Install BetOnline Mobile App for Android
BetOnline's mobile gaming is not based on a downloadable Android app. This means you do not need to go through Google Play store searching for a BetOnline app as you will not find one. To begin playing on your Android mobile device, all you need is to ensure you have installed a good web browser on your Android device. Once you have done this, you can follow the step-by-step guide below to access BetOnline mobile.
Step 1: Open your web browser and type in BetOnline.ag. You can also use your Android device to scan a QR code provided on the desktop site. This will automatically redirect you to the mobile site through the URL mobile.betonline.ag.
Step 2: Click on the setting tab at the top right corner of your web browser. From the setting options, bookmark the BetOnline page and add it to your home screen. This will allow for easier access.
Step 3: Log in or create an account to start playing. Setting up an account with BetOnline is quite an easy process that can be complete in a few minutes.
---
BetOnline Mobile App for iOS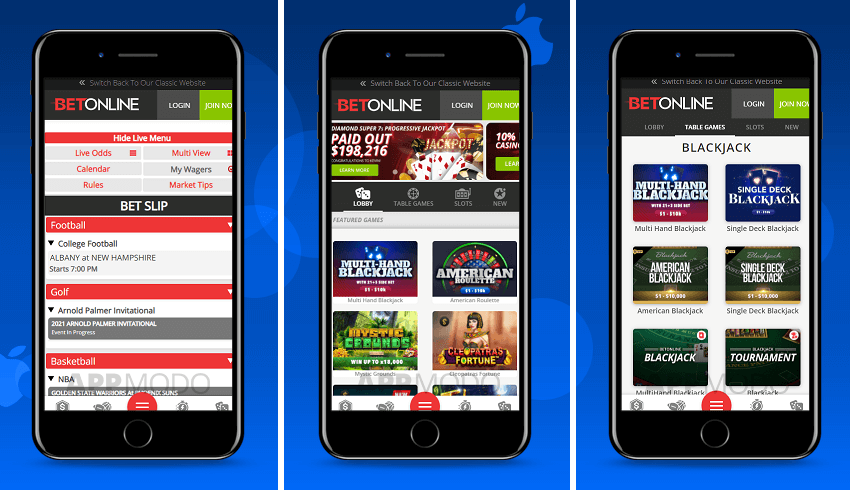 BetOnline mobile gaming can also be accessed by gamers using Apple mobile devices. Similar to the Android mobile devices, playing on your iOS mobile device will give you full access to all of BetOnline's betting options, bonuses, and promotions. The gaming interface on iOS is quite similar to the main desktop site, albeit some little changes to suit the small mobile devices' screens.
Below is a guideline on how to access and start playing BetOnline through your iOS device.
---
How to Download and Install BetOnline Mobile App for iOS
It is important to note that BetOnline does not have a downloadable stand-alone app for iOS devices. This means you do not have to search for the app through the app store. Instead, you can access the BetOnline mobile gaming platform through the regular mobile browser on your Apple device.
This is an easy process that can be achieved through the steps below:
Step 1: Open your favorite web browser. This could be any mobile web browser as the site is compatible with multiple browsers. We will expound further on the compatibility issues in the next section.
Step 2: In the web browser search bar, type in the URL mobile.betonline.ag and search. This will automatically load to the BetOnline mobile site.
Step 3: Sign in and begin playing.
---
BetOnline Mobile Website Version
To serve the ever-growing mobile gaming market, BetOnline has developed a highly responsive mobile version of their website. The mobile is optimised for mobile browsing, with an impressive layout that fits mobile screens. In terms of the theme and appearance, the mobile site is quite similar to the main desktop site, with hues of red, black and white. The mobile version has been changed a bit in the layout to enable easier browsing on mobile devices with less clutter.
Aside from the aesthetics, the BetOnline mobile website version function just like the main site. From the mobile site, you can engage in all your favourite betting activities without any hustle. You can easily bet on sports, horse racing, join the live casino lobby or try out the hundreds of slots machines on display.
The beauty of mobile gaming at BetOnline is that no downloads are required as you can access all this fun through your usual mobile browser.
---
BetOnline App Features
Mobile betting apps are popular for having extra features that add some flavor to your regular betting. With BetOnline, since there is no downloadable mobile app, we will highlight some of the features you will find while playing through the mobile site version.
Live Casino
Through the mobile site, you can join in the fun at the BetOnline live casino hosted by entertaining live dealers.
Racebook
The BetOnline mobile site also grants you access to the racebook that features horse races from multiple markets around the world. These come loaded with odds that can be quite rewarding.
Financial Betting
To add some twist to your regular casino betting games and sportsbook, BetOnline has added a new category for financial betting. Here you will basically be betting on the movement of the prices of financial assets such as currencies.
Parlay and Robin Betting Option
For sports betting enthusiasts, BetOnline has a parlay and robin betting option which allows you to bet on multiple lines featuring several games in a single bet slip. Parlay betting is popular for having an accumulator effect on the overall odds on your bet slip. This and more sports betting features will be explained in detail in the next review section.
---
BetOnline Mobile Sports Betting
Whether you are playing from the desktop version or through the mobile site, you will find a comprehensive sportsbook at BetOnline that features multiple sports. From the mobile site, simply click or touch the three dots at the top left corner to activate the pop-out navigation menu. From this navigation menu, you can easily jump to the specific event that is of interest to you. Here you will find betting options on popular sports events such as baseball, American football, soccer, tennis, and basketball among several others.
In addition, you can also bet on alternative sports such as Lacrosse, softball, martial arts and snooker, to name a few. For fans of e-sports, BetOnline also features betting options on games such as Counter-Strike 2, Dota 2, League of Legends and Warcraft 3.
As hinted earlier, the sports betting section at BetOnline is loaded with some interesting and useful features. For instance, there is a stats center that is updated with a breakdown of information and statistics on various teams with upcoming matches. This information can be quite useful when making your betting decision. There is also a live betting option that allows you to bet on live events as they unfold.
---
BetOnline Casino App
Though BetOnline does not have a downloadable online casino app, you can still access the full suite of its online casino games through the mobile site. Here you will find a wide selection of games ranging from table games and slots to video poker and specialty games.
At the slots section, you will find a variety of more than a hundred machines comprising of popular titles such as The Slotfather, Fruit Zen, Frankenslots Monster and The Golden Owl of Athena. If you are more interested in card and table games, then you can check out the more than a dozen games offered. Here you will find different variants of blackjack, craps, roulette, and poker.
The mobile casino also features a specialty games section where you will find games such as keno, scratch cards, and a virtual racebook.
Provided you have a modern smartphone; you will find all the casino games here are presented in HD quality with very good graphics and sound effects.
---
BetOnline Poker App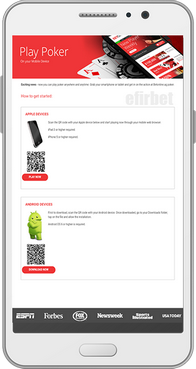 To join the BetOnline poker room, no downloads are required as this is easily accessed through the mobile site. This makes the poker room easily accessible by gamers using any smartphone with an internet connection.
Besides, to use the mobile site, Android users have an extra advantage of getting a downloadable BetOnline Poker app. To download the BetOnline Poker app, simply scan the QR code from the main desktop site, and you will be directed to a page where you can download the .apk file for installation. This download option is however not available for iOS users, and therefore they will have to resort to using the browser version of the poker room.
Regardless of how you join the poker room, you will have access to various poker tournaments with impressive payouts. The tournaments are scheduled on a daily, weekly and even monthly basis.
---
Differences Between Mobile Site Version and the App
Generally speaking, whether you are playing from the mobile app or the mobile site, the services you will access at BetOnline are more or less the same. However, some slight differences come about from the utility of either means. These minor differences might seem to give one mode of access advantage over the other. We have broken down some of the obvious pros and cons of using each playing mode below.
Mobile App
Advantages
Faster loading in between pages
Better layout making for easier navigation
Less data consumption during gameplay
Disadvantages
Long and tedious installation process
Requires modification of security settings on Android devices
Mobile Site
Advantages
Faster access as no downloads are needed
Easily accessed on multiple devices
Saves storage space on your mobile device
No regular updates required
Disadvantages
Shows some slight lagging when redirecting between pages
Consumes more mobile data compared to the mobile app
---
BetOnline Mobile Bonus Offers
Unlike many online betting companies, BetOnline has a bonus designed specifically for gamers on the mobile platform. By simply signing up and making your first ever sports bet, you will be entitled to $50 of free play money from BetOnline if your bet loses. To claim your bonus, simply send an email to the customer support team with the subject as "$50 Mobile Free Play".
In addition to this offer, you will still have access to the multiple offers availed at the main desktop site.
---
System Requirements and Compatibility
If you are using an Android device, before getting the app, you need to ensure you are running on Android version 6 or above. For iOS users, you will need to have an iPad 3 or above or an iPhone 5 and above.
Although the mobile site can generally be accessed from any smartphone with an internet connection, you need to ensure you have a modern device with good graphics for a better gaming session. Below is a list of sample devices that you can use to play at BetOnline mobile:
Samsung S8 and S8 Edge
iPhone 6 and 6s
Google Pixel Smartphones
Huawei P20
Sony Xperia smartphones
---
Mobile Payment Methods
For your deposits and withdrawals, BetOnline accepts one of the largest numbers of payment options you will find in the industry. Here you can also transact in cryptocurrencies as well such as Bitcoin and Etherium. The tables below provide a breakdown of the payment options available with the transaction timelines and amount limits for each.
| Payment Method | Deposit Minimum | Deposit Maximum | Time for Deposit |
| --- | --- | --- | --- |
| Visa | $50 | $5000 | 3-5 days |
| Bank Wire Transfer | $1000 | No limit | 3-5 days |
| Neteller | $10 | No limit | 3-5 days |
| Skrill | $10 | No limit | 3-5 days |
| MasterCard | $50 | $5000 | 3-5 days |
| Bitcoin | $20 | $25000 | 3-5 days |
| Litecoin | $20 | $25000 | 3-5 days |
| Ethereum | $20 | $25000 | 3-5 days |
| Money Orders | $300 | $9000 | 3-5 days |
| Person to Person | $100 | $600 | 3-5 days |
| Cashier Check | $1500 | $15000 | 3-5 days |
| Payment Method | Withdrawal Minimum | Withdrawal Maximum | Time for Withdrawal |
| --- | --- | --- | --- |
| Visa | | | |
| Bank Wire Transfer | $500 | $24900 | 3-5 days |
| Neteller | $25 | $9900 | 3-5 days |
| Skrill | $25 | $9900 | 3-5 days |
| MasterCard | | | |
| Bitcoin | $20 | $10000 | 3-5 days |
| Litecoin | $20 | $10000 | 3-5 days |
| Ethereum | $20 | $10000 | 3-5 days |
| Money Orders | $500 | $9900 | 3-5 days |
| Person to Person | $50 | $400 | 3-5 days |
| Cashier Check | | | |
---
FAQs
After mobile signing up, where do I find my username and password details?
Once you have registered, your account log in details including your username and password will be sent to the email address you used to register.
I forgot my password. How can I retrieve it?
Click on the 'Forgot Password' tab at the log in page. Within a few seconds, you will receive an email with details on how to reset your password.
Can I update or modify my personal information after signing up?
Yes, however, you will be required to contact the customer service team and provide certain verification documents before your changes are updated.
Is there an age limit at BetOnline?
Yes, BetOnline accepts players who are 18 years and above only.
How do you claim the free play bonus from mobile device?
First, you need to ensure you type in the correct promo code when making your deposit. The bonus claim will be assessed and if eligible, deposited in your account.
How long does it take for a bonus amount to reflect in my mobile account?
Normally, the amount will reflect in your betting account within a maximum of 24 hours.
Can I cancel a mobile bet that I have made by mistake?
No, you cannot cancel a bet once it is confirmed.
---
About BetOnline
With betting operations dating way back in 1991, BetOnline is arguably one of the most established brands in the modern betting world.
The brand is operated by Blue High House S.A, a company that is based in Panama. It's from the same jurisdiction that BetOnline has acquired its online betting license. Through the growth of the mobile gaming platform, BetOnline has been able to reach even a wider market and provide more betting options. Their sportsbook is one of the most comprehensive you will find around.
---
Rating and Final Verdict
BetOnline offers an impressive online betting and gaming platform. Their platform does a good job of bringing together casino games and sports betting. Even though the mobile casino is not hosted on an actual downloadable app, it still serves the purpose and provides some brilliant game.
Nonetheless, having an actual downloadable casino app would bring much more convenience and ease of use. Our final rating for BetOnline mobile app is: