Bovada Mobile App for Android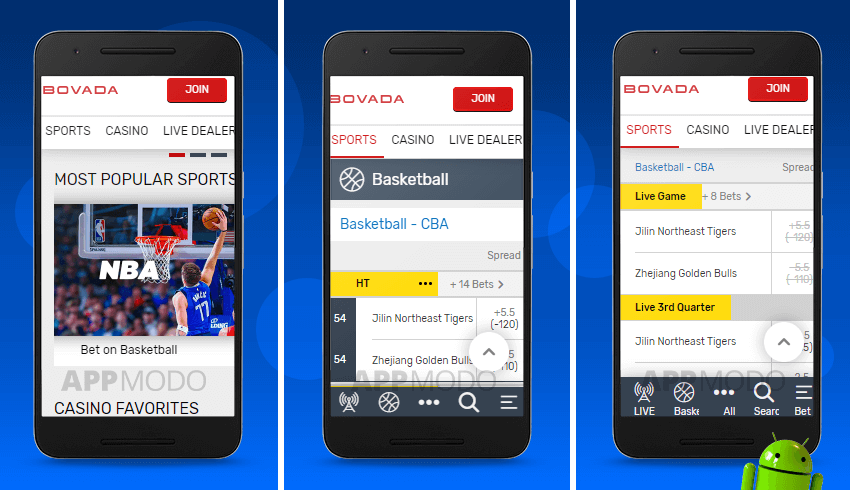 Despite being in the online gaming market for quite some time now, Bovada online casino is yet to develop a stand-alone Android app for mobile users. Instead, gamers offered an alternative to accessing the casino through a web-based mobile site.
---
Bovada Mobile App for iOS
When it comes to iOS users, the narrative remains the same as for Android users. Emerging market trends show more and more online casino operators are developing an iOS app for the mobile gaming clientele. Bovada, however, is yet to ride this wave. That leaves the iOS user with the only option of accessing this online casino through their mobile browsers.
---
Mobile Website Version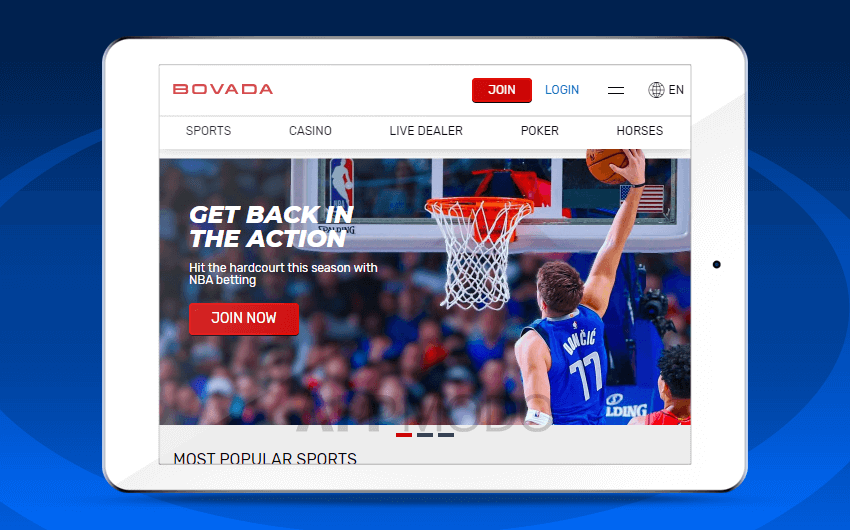 With the lack of stand-alone mobile apps, Bovada's clientele can only play on their mobile devices through mobile browsers. Similar to the desktop version, the Bovada mobile website has a sleek design with a neat layout that makes it easy to navigate from one section to another. The primary theme colours of red and black feature prominently on the mobile website, giving it the classical feel of a casino.
To access the mobile website, all you need to do is search for the name Bovada from your mobile browser's search bar. Alternatively, for direct access, you can directly type in the URL www.bovada.lv. Bovada's website optimised for mobile devices, and therefore it will automatically detect if you are on a mobile device and adjust to the mobile version.
---
Bovada Mobile Site Features
When it comes to functionality, many mobile gamers prefer having dedicated mobile apps since they normally offer more features. However, from the design of Bovada mobile website, you will be missing out on very few features compared to the apps. The mobile website stocked with numerous features that come in handy to mobile gamers.
Some of the outstanding features you will find here include in-play wagering and instant bet slip processing. This feature allows you to place live bets during a certain game or event. That increases your betting options and chances of winning, especially if you are keen on analysing the game's data.
Additionally, there is also a 4-digit security pin put in place. That is in addition to your regular casino account password. This extra layer of security gives you more control and protection for your account, even when your regular password has been a breach.
For poker players, Bovada mobile website has a downloadable hand history feature. That is a unique feature that shows you a record of all the hands you have dealt in the past. With this unique feature, you can study the trends and improve significantly on your poker strategy.
It is important to note that, however, the Bovada mobile website lacks some key features that are quite common in apps. For instance, with the mobile site, you will not have the cash-out option for your bets. The mobile site also lacks a live chat customer service platform, leaving gamers with the only option of sending an email or calling for support.
---
Bovada Mobile Sports Betting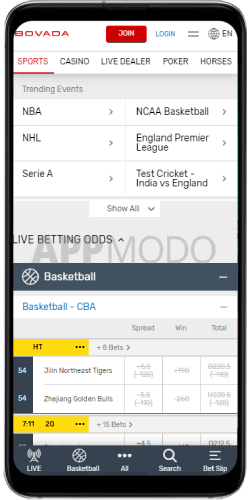 Over the years, Bovada's brand has gained popularity mainly from their sportsbook. This is replicated on the mobile site, which offers you an expansive list of sports and events which you can bet on. The sporting events here range from the most popular ones such as football, tennis, basketball and American football, to alternative event such as e-sports.
The Bovada sports betting section also features a horse racing section. This section is packed with horse races from various competitions around the world, which come with some good betting odds.
In addition to the regular sports, Bovada mobile sportsbook also allows you to bet on various political events such as upcoming elections. Such betting options normally have good odds with high returns.
---
Bovada Mobile Casino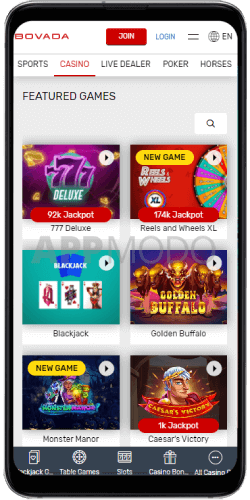 Bovada mobile website also plays host to an online casino that features a complete suite of casino games. Ranging from the age-old game of poker to the modern 3D slots machine, Bovada mobile casino has it all to offer.
At slots machines section, you will present with a list of more than a hundred games to choose from. The slots here are categorised based on their design. Here you will find three reel classic slots, 5-reel video slots and 3D video slots with realistic animations. Provided your device has good screen resolution and graphics settings, you will enjoy the vigorous action at the slots reels. We will expound more on the issue with compatible devices in the next section.
Bovada the mobile casino also features a live dealer and poker rooms. The Bovada mobile poker room has a VIP program for high rollers. The VIP section comes with some advantages such as free deposits and withdrawals, among others. Bovada mobile casino also has cards and table games section. Here you will find a selection of various versions of popular strategy games such as blackjack and roulette.
Bovada mobile casino has a unique feature that allows you to save a list of your favourite casino games. That is a feature that could quite come in handy especially when presented with an array of more than a hundred casino games to choose.
---
Bovada Poker App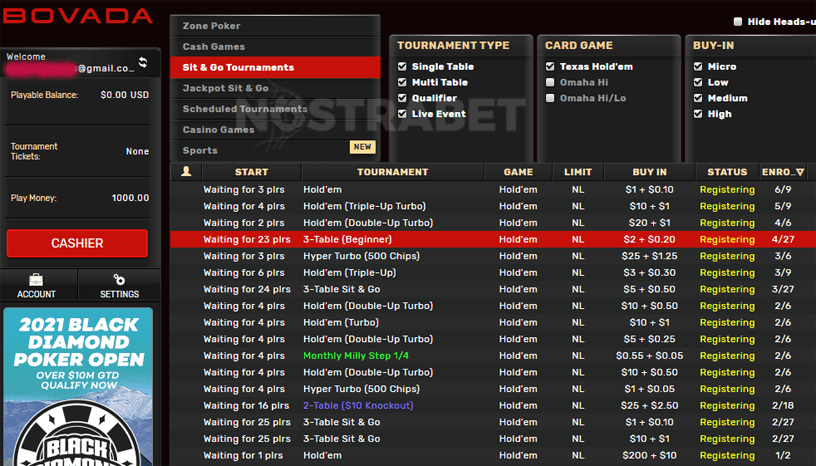 If you are looking for a betting operator that focuses on its poker clients, you should definitely take a look at this one because the Bovada poker app is like no other. Thanks to the numerous language options, the anonymous tables, and the fact that you can play up to fifteen tables at the same time, this quickly became the go-to option for many casino players.

To get your hands on the poker app of Bovada, you have to visit this operator's website. Once you do that, head over to "Poker", and you will get the chance to download it for Windows and Mac. The software is free, so just choose your preferred OS and wait until the download process is over.

It is worth noting that you don't need to download any poker apps if you want to bet on the go. Whether you are a fan of Android or iOS, you just have to open Bovada's industry-leading mobile site, and you will have access to things like Zone Poker, which is their fast-fold variant for cash players. Additionally, players can also avail themselves of things like Texas Hold'Em, Omaha Hi/Lo, and Omaha.

Remember to check the different tournaments because the Bovada poker application usually has something in store for its customers.
---
Bovada Mobile Bonuses
When playing at Bovada through the mobile site, you have full access to the bonuses and promotions offered to the desktop clientele. The offers include a Welcome Bonus package that matches 50% of your first deposit. Also, at Bovada, it pays to be social, as their tagline goes. Here, if you refer a friend to the site and they use your code to register, your gaming account will be loaded with $100 free money.
In addition to these, you will also have access to several free spins or free playing coins that tied to particular casino games. Bovada also regularly runs weekly and monthly promotions. While playing at the mobile site, you can assure the regular offers availed to the gamer on the desktop site will also be available to you on the mobile site.
As it is with any promotional offer, it is essential to read the terms and conditions of the free playing money or bonuses. That will help you understand how you can utilise the promotions to the maximum benefit.
---
System Requirements and Compatibility
From our observation, any smartphone with an internet connection can access the Bovada mobile website. All you need to have installed on your phone is a good web browser. Most phones sold with the web browser already pre-installed. However, if you would like to opt for a third party browser, some of the recommended ones include Firefox, Google Chrome, Safari, and Opera browser.
In terms of device system requirements, there is not much consider since you are not installing any additional app, but instead, you will be using your regular web browser. It is important to note that your overall browsing experience depends on your mobile device's processor speed and screen pixelation. That will affect the quality of the graphics especially for the casino games that loaded with animations.
It is therefore recommended you access Bovada mobile website using an up to date smartphone or tablet as modern phones come with better processing speeds and screen technology. Below is a list of example of the recommended android and iOS smartphones that you can use, among many others;
Samsung Galaxy series
HTC phones
Huawei smartphones
Samsung Tablets
iPhones
Sony smartphones
Other than the smartphone's features, you should also ensure you have stable internet either through mobile data or Wi-Fi. That is especially important when playing online casino games for a smooth gaming session.
---
Payment Methods
With online gaming, the deposit and withdrawal methods are as important as the games offered. The same is true for mobile gaming. At Bovada, the payment methods offered for the desktop site are still what you get with the mobile site. This means there are no payments methods unique to the Bovada mobile website only.
In comparison to other leading online casinos, Bovada is quite limited in its banking options. That is especially so for withdrawals, which can be quite a hustle here. The only positive to take away from the Bovada's cashier section is that they accept Bitcoins. Here you can also use your regular credit and debit card to make deposits.
Below is a comprehensive list of the payment methods you will have when playing at Bovada:
---
FAQs
Do I need to install an app to play at Bovada?
No, Bovada has not developed any mobile apps, and therefore Bovada mobile is played through your mobile web browser. You do not need to install any apps.
Can I access Bovada mobile through a phone that is not powered by Android or iOS?
Yes, the only requirement is that your device should have a functioning web browser and a good connection to the internet. You can begin playing right away.
Bovada does not seem to have licensing information on its website. Is that a problem?
Initially, Bovada operated under a license issued by the Kahnawake Gaming Commission, an online gaming regulator based in Canada. In 2016, the regulator changed its policy and blocked all casinos running under their licenses from targeting the U.S market. For Bovada, rather than lose the U.S market, they voluntarily relinquished their license and are currently working on getting registered under another body. Based on our review, this does not seem to be a problem as Bovada has built the trust of its clientele.
Am in the U.S but cannot access Bovada on my mobile. Why?
The player in the five U.S states that is; New Jersey, Maryland, Delaware, Nevada, and New York, cannot use the Bovada online gaming platform owing to the local regulations regarding online gaming.
Are all desktop games available on the mobile website platform?
Yes, Bovada mobile casino as packaged all the features and games in the website version and provide them to mobile users as well.
Are there unique bonuses for playing on the mobile platform?
No, the offers and promotions on the mobile website aligned with what is on offer at the desktop version. As such, you will enjoy the same packages of bonuses.
How long does it take to withdraw money from Bovada?
The withdrawal could take anywhere between 15 minutes and seven business days. That will depend on the payment method you choose.
Can I play using Bitcoin at Bovada mobile?
Yes, Bovada is among a growing list of online casinos that readily accept payments in Bitcoins.
---
Company information
Established nearly two decades ago, Bovada is a well-known brand in the online gaming market. Initially, the company used to trade by the name Bodog, with a concentration on the US market. With the onset of the new online gaming regulations, the company rebranded and since 2011 has been using the brand name Bovada. Although Bovada's main target market still seems to be the US, the online casino still accepts player from various countries globally.
One a caveat that tends to raise eyebrows is how Bovada does not make public information about its licensing. That could raise some questions on the online casino's registration and reliability. One would tend to think that maybe the company rides on the trust the brand has built over the years with its clientele. Nonetheless, this online casino remains quite popular, especially in the US.
---
Conclusion and rating
When it comes to packaging the right gaming content, Bovada scores quite highly among many other online casinos. The mobile website is quite easy to navigate and not demanding on your phone's processor, as it would be the case with a stand-alone mobile app. Although there may be questions about licensing, Bovada has tried to maintain a good record with its clientele, which is the reason why it is still rank among the top, especially in the U.S.
The only let down here is at the casino section which offers a minimal number of payment methods. However, the introduction of Bitcoin as a payments method has brought some flexibility when it comes to banking. In this review, we give Bovada a rating of: