How to download the Bwin mobile app for Android
The app is a great place to build custom bets and place them on your favourite sports and casino games. The Android version of the app is a great place to play because of its high speeds and mobile optimization. Here's how to download the Bwin mobile app.
Enter Settings on your Android -> Security & restrictions -> Unknown sources.
Keep scrolling until you find the toggle button to turn on FileBrowser.
Tab on the toggle switch to turn FileBrowser on.
Visit the Bwin official page.
Scroll down until you see the Bwin app for Android.
Press the Download the app now button and follow the instructions on the download screen.
---
How to install the Bwin .apk file for Android
You can only install the Bwin app after you've downloaded the .apk file. To do so, you'll have had to follow the download instructions in the section above. Here's what to do after you have the .apk file:
Open FileBrowser which is located on your home screen -> Local Disk -> Download.
Press on the Bwin .apk app and then the OK button.
Wait for the file to start installing on your device.
Once redirected to the installation screen, press the Install button and follow the remaining steps.
---
How to download Bwin mobile app for iOS?
Playing the Bwin mobile app for iOS is another excellent choice. You'll have the same experience as Android, but luckily, the steps to download the app are very straight-forward:
Look for the App Store on your home screen and open it.
Type in "Bwin" in the search bar.
Keep scrolling until you find the authentic app made by ElectraWorks Limited.
Press the GET button beside the official app to start downloading it.
---
How to install Bwin mobile app for iOS?
You're three steps away from having full access to Bwin's amazing features on your mobile iOS device. Simply follow these steps to complete the installation process:
Wait for the app to finish downloading on your iOS device after pressing the GET button.
Press the back button your device and look for the Bwin app.
Press on the app to open it and to complete the installation process.
---
Benefits of the Bwin mobile App
There are plenty of benefits for using the Bwin mobile app. Here are a few of them:
A free and mobile-friendly experience – The mobile app is specially designed for mobile devices. By using the app, you'll have an incredible experience without having toworry about browser glitches and bugs. Most importantly, downloading the mobile app is entirely free of charge.
Simple user interface – When you use the Bwin mobile app, you'll have a simple user interface that'll guide you through the app. You'll be given all the information andlinks you need to get started.
Portability – Having the mobile app handy allows you to access all of Bwin's features without needing to open up a browser, entering in a URL, and then logging in.
---
Bwin Mobile Website Version
Although the mobile app and mobile site are similar, the mobile site is still worth using. When you enter the site, you'll notice that everything loads quickly. Bwin won't bombard you with lots of advertisements and promotions like other bookmakers do.
The simple user interface at the top allows you to register an account, or log in right away. The essential links to the Bwin's features are also at hand. You can enjoy various sports, casino entertainments, live casino, virtuals, and more.
You will also see a list of events that are currently playing live. You're able to check out the scores, betting odds, and so on. You can view all the live highlights of various sports, and even make a wager! You don't have to wait for a game to start to make a wager. Towards the bottom of the page, you'll find all the other relevant links such as terms and conditions, the privacy policy, contact page, and more.
---
Bwin Sports Betting App
Bwin sports betting app offers a pretty extensive sportsbook. When you open it, a colourfull sliding banner will greet you. It will inform you about the hottest upcoming sports events.

The app is very well-optimised. The main menu on the upper side of your screen provides you with easy and quick access to the most preferred sports.

Once you select your favourite one, the events will list on your screen. You only have to tap on the market, to add the game in your betslip. Placing a bet is also very straightforward. The Bwin Sports betting apps for iOS and Android offer a great In-Play Section. You will have the chance to monitor the interactive picture of the selected event, to watch it live or the inform yourself about the statistics in the current game.
---
Bwin Mobile Casino App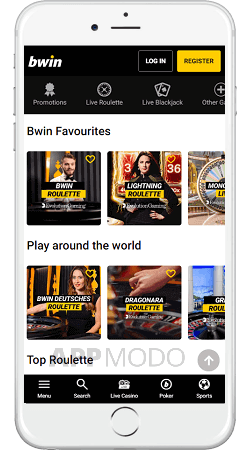 Bwin's Mobile Casino App is also user-friendly. The simple interface makes it easy for you to pick up games to play. You will have an extensive list of entertainments, including slots, premium suggestions, live casino, new adds, exclusives, jackpot, blackjack, table games, and more.

If you're unsure of what game to play, Bwin lists out suggestions that are customer favourites.

There are literally hundreds and hundreds of slots to, so make sure you give many of them a try. With the massive number of entertainments available, it's best to test your luck with multiple variants.

Every game you select has its own rules and payouts. Make sure to read each of them before playing, so you have a good understanding of how the game works.
---
Bwin Poker App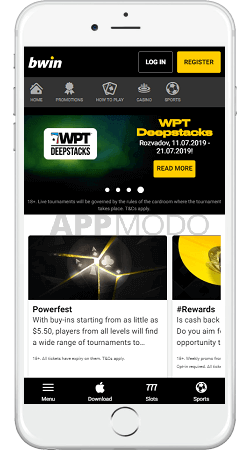 The Bwin Poker App is also exciting. Bwin usually offers many promotions when it comes to poker. When you access the Poker app, you'll see all the promotions and rewards they're running. Make sure you read each one carefully as they all have different rules and requirements.

As you scroll down, you'll receive information on how to play their poker tournaments. Use the HOW TO PLAY button to be redirected to their instructional page. Then once you're ready, you can start looking for virtual poker tables. The poker app offers plenty of tournaments to choose from. You can check them out by pressing the Tournaments tab. There are competitions with different styles of poker, such as Texas Hold'em, Omaha Hi-Lo, and more. All competitions either have a pot-limit or no-limit betting capacity. Depending on your budget, you may want to define a buy-in range that's suitable for you. You can select tables with buy-ins from $0 to over $100.
---
Notable Mobile Features
There are plenty of notable mobile features you need to be aware of when using the Bwin mobile app. Some of these features can help save you money, and even give you winning opportunities. Here are some of the features you should be aware of:
In-Play: The in-play option allows you to place bets on events that are playing live. This is an excellent option for those who want to see how a game starts out beforeplacing a bet.
Cash Out: The Cash Out option allows players to secure their accumulated profits, or prevent further losses by cashing out their balance before the end of a game.
Bwin Live Streaming: The Bwin Live Streaming option allows players to watch and wager on sports that are being streamed from around the world. There are hundreds of sportsand games available.
---
Other sections
There are also many additional options that you should check out on Bwin mobile. If you try out one of the leading apps, such as Sports or Casino, you will see that each app has other games that are worth trying. A great example of this is virtual sports and horse racing. You never know where your luck may turn up, so it's a good idea to explore these other sections.
---
Bwin Mobile Bonuses
Although there are no specific mobile bonuses when you sign up with Bwin Mobile, there are still other bonuses to choose from, including:
Welcome offer – Every new customer of Bwin receives a 100% welcome offer of up to EUR 200. It's vital to read all theterms and conditions as you cannot just make a deposit and expect to withdrawal the bonus money.
Poker Bonus offer – When you sign up for Bwin Poker, you can also receive a 100% welcome bonus, but this time it's up to EUR 100.
---
Bwin Mobile app VS Mobile site
It is true that using Bwin's mobile app and mobile site are similar. However, there are some key differentiators between the two. Here's a list of advantages and disadvantage for both platforms:
Bwin mobile app
Advantages of using the mobile APP
The mobile app is designed for mobile phones, giving you an optimized gaming experience
You can access the Bwin app instantly without having to open up a browser and log in
There are standalone apps which make it easy for you to focus on specific games
Every time you log in or use the payment methods, it will always be secured
Disadvantages of using the mobile APP
You may not be able to run the mobile app if your phone isn't compatible
There will be updates for the app every once in a while, and it's up to you to update the app
Having to download the app on your phone takes up storage space
If you use the mobile app, you won't be able to zoom in on anything
Bwin mobile version
Advantages of using the mobile site:
You're able to save some space on your mobile device by only using the mobile site
You can easily zoom in on anything through the mobile site
The mobile site is designed to fit perfectly with any mobile device
The website automatically updates, so you don't have to worry about keeping anything updated
Disadvantages of using the mobile site:
With any mobile browser, it is not going to be fully optimized. Therefore, you may occasionally experience interrupts while gaming.
You have to open up your browser and then log in every time you want to access Bwin
You need a secure and stable internet connection
---
System requirements and device compatibility
If you want to use the Bwin mobile app, you'll need to have at least iOS 9 if you're using an iOS device. If you're using an Android device, you'll need to have at least Android 5.1. You don't have to worry about any system requirements if you choose to use the mobile site, so please keep that in mind. If you have compatibility issues, contact Bwin support.
---
Bwin mobile payment options
Here are all the mobile payment methods available through the Bwin mobile app, including their limits:
| Payment Method | Deposit Minimum | Deposit Maximum | Time for Deposit | Minimum Withdrawal | Withdrawal Maximum | Time for Withdrawal |
| --- | --- | --- | --- | --- | --- | --- |
| Visa | £10 | £10,000 | Instant | £10 | £8,500 | 3-5 days |
| Bank Wire Transfer | £10 | £70,000 | 5-7 days | £10 | £5,000 | 3-5 days |
| Neteller | £10 | £50,000 | Instant | £10 | £4,500 | 24 hours |
| Skrill | £10 | £50,000 | Instant | £10 | £4,500 | 24 hours |
| MasterCard | £10 | £10,000 | Instant | £10 | £8,500 | 3-5 days |
| PayPal | £5 | £10,000 | Instant | £10 | £8,000 | 24 hours |
| Fast Bank Transfer | £10 | £70,000 | Up to 3 days | £10 | £5,000 | Up to 3 days |
| Maestro | £10 | £10,000 | Instant | £10 | £8,500 | 3-5 days |
| ClickandBuy | £5 | £20,000 | Instant | £10 | £4,500 | 24 hours |
| Delta | £10 | £10,000 | Instant | £10 | £8,500 | 3-5 days |
| Paysafe Card | £10 | £1000 | Instant | | | |
---
Frequently Asked Questions:
What is the Bwin app store?
The app store is where you can find download links and files for all the mobile apps.
I already downloaded the Bwin .apk file. What if it won't install?
If you run into problems installing the .apk file on your Android device, place the .apk file in FileBrowser/data/apps, and then restart your phone. If that doesn't work, disable any of your screen dimming apps and make sure your phone is updated to the latest Android version.
Bwin is a premium app for iOS?
Bwin is considered a premium app as the bookmaker has a huge userbase.
How to use the Bwin app?
If you want to use the Bwin app, make you download and install the .apk file on your device. Then, press on the app to open it.
Can I play Bwin in the UK?
Yes, Bwin is available to all UK residents.
Was the app ever not working?
The app will only not work if the company is doing global maintenance work. Otherwise, make sure you're connected to a stable and reliable internet connection to avoid any connectivity issues.
Where is the Bwin app for sports?
You can find the sports app in the Bwin app store.
Can I change the odds from Fractional to Decimal?
You're able to change the odds from fractional to decimal at any time. Open the settings icon and choose how you want the odds to be displayed.
What are the most popular apps to play with?
The apps that have a lot of action and gameplay going on include Bwin poker, Bwin sports, and Bwin casino.
Is Bwin mobile app free to download?
Yes, the app is 100% free to download and install.
How do I cancel a withdrawal?
To cancel a payment, visit the withdrawal page and either reverse your transaction or cancel it completely. Once you cancel a payment, you can make another withdrawal immediately.
How do I play with the Bwin Android poker app on mobile?
To play the poker app, you'll need to follow the download and install sections for Android listed in this review. Once you complete the installation process, you can play the app on your mobile device.
---
About Bwin Mobile app
Bwin Interactive Entertainment is a leading online betting and casino company. They were founded in 1997 in Vienna Austria. All of Bwin's mobile services has been carefully designed to ensure customer satisfaction. If you ever run into problems, visit their support page for help. They will always be more than willing to lend you a hand.
---
Bwin Final Verdict and Apps Rating
The Bwin mobile app deserves at least a 9/10 rating. If it's your first time playing with Bwin, we can confidently say that you won't be disappointed.