In this digital era, traditional TVs have been replaced with Smart TVs. Samsung Smart Tv is considered one of the top brands that bring lots of good apps for an unlimited watching experience. You can find below the list of Samsung smart tv apps that can be download from Samsung's smart hub. No more waiting around your favorite show. No more fumbling with piracy or torrents or streaming sites that don't work half the time. Just you, your favorite show, and your happiness—the couch and the popcorn are optional. If it sounds crazy, well, it's not. Actually, you can have that kind of experience right now, if you have a functioning Internet connection and a Samsung TV to play all kinds of Samsung smart TV apps. The truth is, these apps run the gamut on all your favorite shows, movies, musicals, music videos, web shows, and all kinds of other audiovisual content—making Samsung smart TVs—and the plethora of shows, choices and channels they offer—the ideal choice for you and your family.
Top 15 Samsung Smart TV Apps
If you watch sports, then NBC's sports app is the perfect find for your Samsung smart hub. The platform makes all kinds of sports available to you, including hockey, basketball, soccer, football, F1, golf, and, of course, the Olympics. You can stream live events as they happen, as well as watch sports on demand. No matter what kind of sports you're looking to follow—whether as a long-time fan or a person with a brand-new interest in an interesting activity—NBC sports has got you covered. You'll never need to worry about missing a match from your favorite sport again—and you won't have to deal with the stress of buying tickets that sell out within a minute.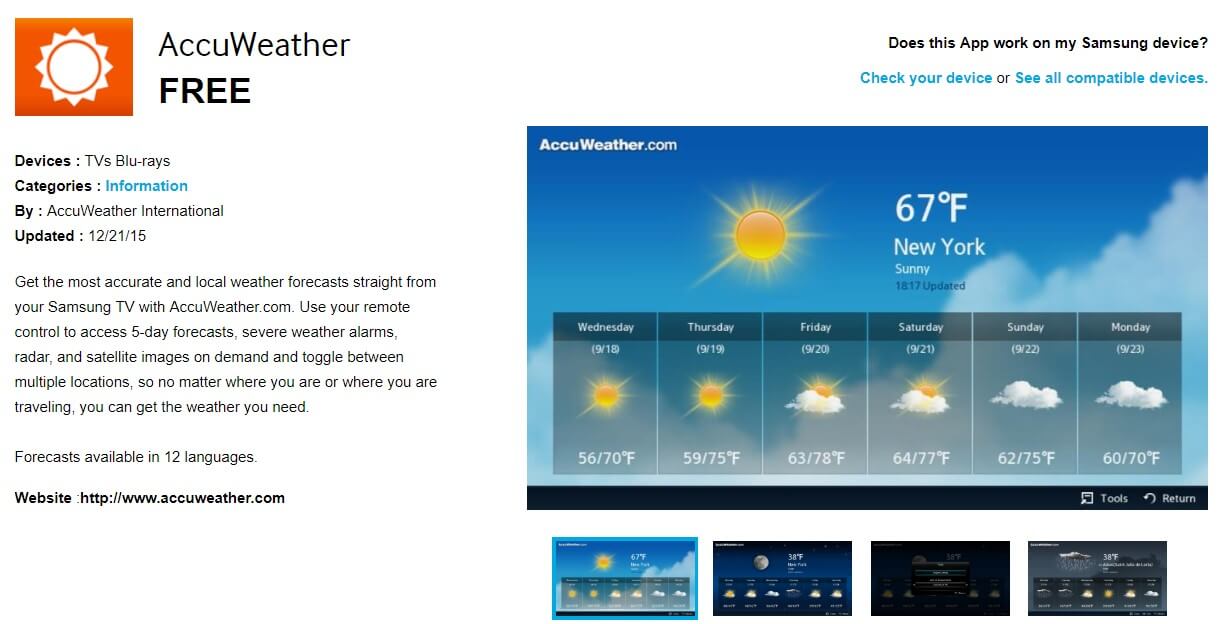 Who doesn't love the weather forecast? …Okay, so probably most of us. That being said, there are all kinds of things you can do with the Accuweather app, whether you get the free version or the paid version (they are available as separate entries in the Samsung app store). Both of these smart apps will provide you with up-to-date, accurate forecasts. However, if you get the paid version, then you can find forecasts that are seen in specific cities or ZIP codes so that you can find the precise weather for exactly your neighborhood or where you live. Ten-day forecasts are also available, as well as weather maps that show changes in the weather hour by hour, and satellite readings. There are also weather warnings so that you know whatever is coming up on the horizon and in the future. Best of all, the information is user-friendly and easy to read, even if you're not used to interacting with this kind of app.
YouTube, the giant of all online streaming services, has its own app on the Samsung app store—and, as a result, it has changed the TV game entirely. In other words, because YouTube now has a smart TV app—rather than merely its (admittedly powerful) website and mobile app—which means that you can watch web TV on real TV…or, in other words, that all your favorite web TV shows, from video-game streams to cooking show to vlogs about all the cool new streamers, can now be watched on a TV. It's a total game changer, and will it replace regular TV? Probably not…but that doesn't mean you can watch all your favorite web shows, from the comfort of your living-room TV (better on the eyes than a small laptop or cramped mobile screen).
Plex sounds like it would be for movies (like in "Cineplex"), and it is…but not just movies. Instead, Plex is like Netflix, but for your own personal collection of videos. Instead, the app allows you to everything you own—whether you own it as a file on your PC or as a file in the cloud of the Internet—and transport it seamlessly onto one platform so that you can watch whatever you want, whenever you want. All you need, really, is one shared connection to a WiFi network. The interface is smooth and easy-to-use—even if you don't have a lot of experience in this kind of thing—you can pick up exactly where you left off when you return after long and longer periods of time, and you can download metadata, including artwork, from the Web, using a streamlined functionality that's specialized for that purpose.
If you think of "streaming websites other than YouTube," Vimeo is often the first service on your mind. And with good reason: the service offers all kinds of free videos that have been uploaded by users, available in every genre—including high-quality films by the hottest, most innovative new filmmakers. While you can search for—and find—anything you want on the Vimeo platform, you can also find the best of the best—the crème of the crème, if you will—if you check out the staff members' picks to see what their faves are. Videos on the platform include music videos, comedy shows, vlogs, gaming videos, conspiracy theories, documentaries, "Top 10" shows, and more on this smart app.
UltraFlix's title calls to mind the streaming service Netflix, and that's a fair comparison. This is also another streaming service, which will form part of your Samsung smart hub, that you can use to watch movies and TV shows, thus making your binge-watching sessions awesome and entertaining. With the app, you'll get access to both free and paid 4K content—perfect to render on the high-quality screen of a Samsung smart TV—and movies to rent at low prices. You will have a full 48 hours to watch these movies once they have been rented. As well, the content is always changing and being updated, so check back frequently to see which of your favorite shows and movies will soon become available. Also, one of the coolest things about this app is that you don't need a high broadband speed—only 4 to 5 mbps—so that you can get it even if you have a less feature-heavy Samsung-brand TV. Also, if your TV has HDR enabled, then some of the content will integrate and make use of that feature.
Spotify consists of a mobile app and a streaming service, available on both desktops and as one of the Samsung smart apps, that allows you to stream pretty much any popular song you've ever heard of. We're not kidding—think of a popular song (that is, a song you would hear on the radio or web radio, even if it's not technically "popular"), and you'll find it; it's there. Even popular holdover Taylor Swift eventually moved her songs onto the platform. Browse songs, discover new music, add stars to your favorite pieces, and create playlists—all of these features (and more) are offered to you on the Spotify platform. You can even make new friends and see what songs they're listening to at any given time. Plus, the app will create randomized playlists based on your own specific tastes, giving you an amazing opportunity to find and discover new music while you're doing something inane, like washing the dishes or folding your laundry. Neat!
If you have a Samsung smart TV, then you should definitely buy this app off the Samsung app store—it's already available on your system. The app gives you the ability to control everything you need to with your TV: you can launch movies, TV shows, and videos when you're using your mobile phone. In other words, it helps you use your phone as a remote…thereby saving you the cost of buying one. (Plus, remotes are already annoying as it is: they need battery changes every so often, and how many times have we struggled to turn the TV on thanks to their clunky interfaces?) Get this free app, and help make your life that much more convenient.
One of the coolest smart app for Samsung tv is Shout Factory TV, which offers all kinds of cult-classic programming—everything from Mystery Science Theatre and its sequel/spiritual successor Rifftrax to sci-fi classics, to the best movies by Roger Corman. Their roster of films and shows is constantly changing, so check it out frequently to see which amazing audiovisual offerings are available at any given time. There are even all kinds of old TV shows, like Dennis the Menace and the Japanese shows Super Sentai, which the American Power Rangers was based on. The channel also includes original programming and shows, in addition to some unique content.
If you have an Amazon Prime subscription, then you get access to all kinds of things, such as two-day shipping, free release-date delivery of your favorite books, benefits at Whole Foods, unlimited photo storage, discounts at restaurants in American metropolitan cities..and, best of all, free unlimited TV, in the form of Amazon Prime. Not only will you get access to Amazon's own high-quality original programming, including Transparent, The Man in the High Castle, The Marvelous Mrs. Maisel, Bosch, and Mozart in the Jungle, but you can also watch episodes of all the cool, third-party shows in their roster, such as Downton Abbey, Good Omens, Jean-Claude Van Johnson, Bubble Guppies, Teen Wolf, and Justified. The platform organizes content into well-defined categories that will help you find exactly what you're looking for, whether you want new content to gorge on or old favorites to cuddle up with. Note that you'll get access to Prime in many countries, though not all; the list includes the US, the UK, India, and many of the European countries.
Of course, Netflix would come up on this list, but that's really no surprise: the streaming giant's app is available on countless platforms, from your phone to your smart TV to your favorite video-game console, and features hundreds of everyone's favorite movies and TV shows. It can be considered one of the best smart hub apps for this reason alone, really. But what's also great about Netflix is that you can create profiles for different family members or friends, search the collection using either the search functionality or the dozens of clever and well-crafted categories, and add shows to "your list" so that you remember to keep watching them and get to the end, and then finally understand what everyone is going on about at the water cooler. You can also have multiple people watching their shows on multiple devices like if one person is browsing from their desktop or laptop and the other person is watching from their Samsung smart  LED—not the kind of access you can get with a traditional TV.
Everyone knows that you have to pay for Hulu, but that doesn't mean it isn't a high-quality service that is most definitely worth the money it will cost you. More specifically, this streaming service will allow you to binge in all your faves, including The Handmaid's Tale, The Mindy Project, 11.22.63, American Dad!, How I Met Your Mother, Seinfeld, Rick and Morty, It's Always Sunny in Philadelphia, Saturday Night Live, Futurama, Black-ish, Community, House, and countless others. It is the exclusive provider of many original shows as well, so it's must-have for the biggest fans among you. And no one can deny that—while the service is more expensive than, say, Netflix—it has many more of the well-known and popular TV shows.
Using this smart hub app, you can get all of your favorite shows…including literally everyone's favorite, Game of Thrones. Perfect timing, especially since the seventh and final season is due to begin in January. Indeed, with this app, you can access tons of the best shows, including Band of Brothers, the ever-popular police show classic The Wire, True Detective, The Sopranos, Westworld (can you predict the plot as it develops?), Rome, Curb Your Enthusiasm, Fantastic Mr. Fox, The Mummy, Last House on the Left, The Hand that Rocks the Cradle, The Silence of the Lambs, and Alien vs. Predator.
DirecTV is as fun to watch on a smart TV as it is on any other TV—but it's that much more convenient. The service promises you an exciting line-up of all kinds of content, from live-streamed sports events to content on local channels like NBC, Telemundo, Laff, and The CW, as well as many independent stations. Basically, with the app, you can turn your television watching into the ideal satellite TV experience.
If you'd like some intelligent discussions alongside your comedy and drama shows (and dramedies), then TED is the right app for you. It hosts many speeches, given by speakers both well-known and more obscure, on all kinds of topics—everything from neuroscience to biology to the psychology of the human mind. With this app (which might be one of the best free TV apps on the market), you can watch more than a thousand of these videos, given by scientists, artists and musicians, experts in tech, and all kinds of other qualified professionals. Turn on TED and learn something new—every day.
Samsung Smart Apps: A great way to enjoy your favorite shows, both new and old
When all's said and done, smart TVs—whether by Samsung or by other companies—are a great way of enjoying TV in a new way that's adapted to the current (and amazingly cool) future that we live in. You can find any kind of show on these platforms, and use them for all kinds of purposes, to unwind after a long day at work, to teach yourself a new skill, to cuddle up with when you're sick (in addition to soup and a teddy bear), to get in tune with the best new blockbusters..and yes, even to "Netflix and chill." Yes, no matter what kind of audiovisual experience you're looking for, you can achieve it with the help of a Samsung smart TV.