Music Player Remix for webOS Now Available
Music Player Remix for webOS is now available at the Palm App Catalog. This longtime homebrew app is considered to be one of the most feature-rich music players for the webOS platform. The app is designed to simplify the way you access and manage your music.
Features:
Flylists: Create custom, dynamic playlists that can contain songs, albums, artists, genres, or synced playlists.
Universal Search: Start typing within the app to instantly find anything within your music collection. Also initiate searches using webOS 2.0's Just Type.
Faves: Pin items to the home screen for one-touch easy access to your favorite music.
Autolists: Auto-generated playlists created based upon your listening habits.
Mini-player: A multi-module, customizable player that resides in your device's notification area.
Custom wallpapers: Choose a wallpaper, use the phone's wallpaper, or have the app pick one for you!
Social networking: Scrobble songs to Last.FM, post songs to Twitter & Facebook with links to their YouTube videos, and listen to other people's posted songs.
Advanced bookmarking: Set manual bookmarks with visual marker cues. Auto-bookmarks are saved when exiting the app, leaving a playlist, or when changing tracks.
Lyrics & Karaoke mode: Download lyrics & start a karaoke session to record yourself singing along to the song.
Playlist Preview mode: Visually browse & manage your current playlist without interrupting playback of the current song.
Album Art downloading: Download album art by searching a vast online album art repository.
And much, much more!!!
Check out Music Player Remix for webOS on the video below: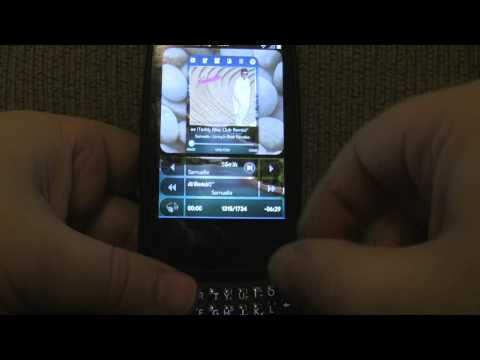 *Please note: Music Player Remix requires webOS 2.0 or later.
Filed:
Music
•
New Apps
•
Palm