WidsMob Review
Get Better Image Viewing and Management on Your Mac in One Useful Platform Have you always wanted an advanced image viewer in your Mac so you can view multiple images at the same time? The WidsMob Viewer with its no-nonsense name allows you to do just that, and it complements this main feature with other benefits the most notable of which is the fast loading times of each image.
With that said, the software is able to achieve this by incorporating different modes of viewing. For instance, there is a Library mode where you instantly add folders from your computer into the software to easily add the images you want to view. You will instantly be able to get a preview of each one, based on the number of image files in that specific folder. The size of the previews and thumbnails can be easily adjusted by zooming in and out using the slider.
Doing this will immediately adjust the positions of the images as well. If you want to view the image in full size, you only need to double-click it. This will display more details about the image as well. Click on the arrows on the bottom row to view the other images within the folder in their respective full sizes. The Favorite icon makes it possible for you to view images that you like that are situated in different folders and promptly browse through them.
You may even drag and drop various images to the current viewing window that you are using, similar to grouping them into actual folders within the software.  From here, you can shiftily add modifications to the image as well, editing aspects such as exposure, contrast, tint, sharpness, and saturation, to name a few. Each one has its own dedicated slider for easy editing. You may even include effects to the images, rotate the image, crop it, flip, and other editing capabilities that you would expect from a standard image viewer but is rarely achieved on a Mac.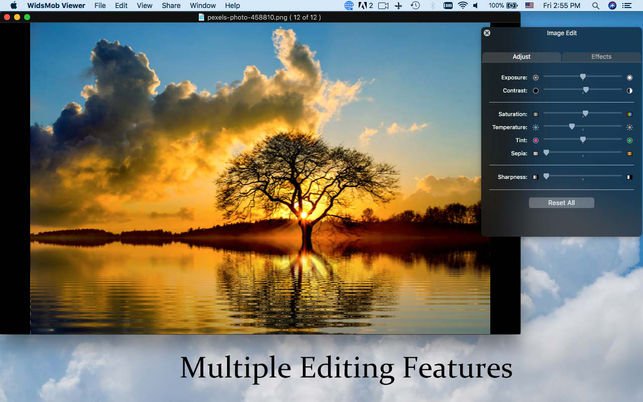 After you are done, you can immediately choose to save the image and share it on various social media sites or email. Other bonuses include the ability to view your images in slideshow mode and set your favorite image as a desktop wallpaper from the software.  This particular image viewer gives numerous tools that users need to do basic tasks that concern any kind of visual media on Mac.
It delivers a lot of perks that would have required you to download individual software just to get them and do these activities. This quality is pretty much what makes WidsMod effortlessly standout from other kinds of image viewers out there. The convenience brings to the table is hard to top.
Website: https://www.widsmob.com/viewer