Writing is a form of communication where you express yourselves in such a way that it not only connects your emotions and ideas but touches the heart of millions. The ability to inculcate in you, the attitude of self-expression makes you a better paper writer and most importantly a better person. What if you get this power in an app for your text writing where you can just open and kick start your journey and never look back? Here is a list of the top 7 writing apps for Android and iOS that you can use:
1. Writer Plus
Want to jot down your ideas on the go? Want to write your novels, essays, poems or draft notes on your phone or tablet? Writer Plus comes to the rescue. It comes with great features like night mode, folder support, Bluetooth keyboard support, fast scroll bar in editor and markdown support. And it's free!
2. iA Writer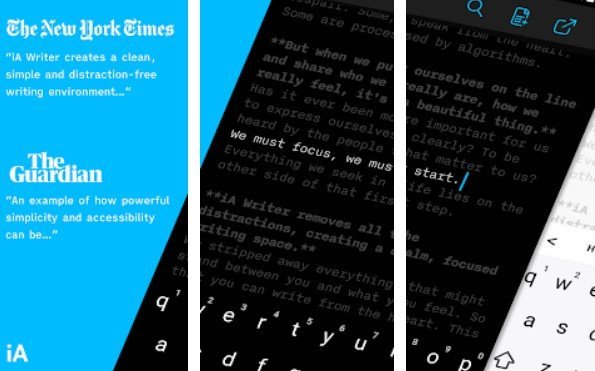 iA Writer app has set a benchmark for markdown writing apps. Four times 'Best of App Store' winner is all about simplicity and accessibility. It offers features like selective text highlighting, iCloud Sync, and Focus Mode where you can dim everything but the current sentence, helping you stay focused. You can rearrange your keyboard and play with the layouts as well. Though it's not free, you will want to loosen your purse strings to know it's worth.
3. JotterPad
JotterPad is best known for its minimalistic and creative interface. It is perfect for writing novels, essays or any long form of content of the assignment. It comes with some of the writer's essentials tools like the dark theme, phrase search, export options to PDF and DOCX, markdown, customizable typography, Cloud Sync, and distraction-free screenwriting. The app comes with the both free and paid version.
4. Editorial
With powerful AI tools and inline preview option, Editorial makes your writing experience cooler than ever. It comes with power-packed features like Dropbox Sync, snippets, smart keyboard and In-App Browser where you can browse your research on the go. The ability to create workflows saves a lot of time on weekly essay writing and even lets you choose various text processing actions.
5. Evernote
If you are concerned about your planning and organizing skills, why don't you leave it to Evernote? Create notes anytime, add your to-do's, images, audio, web pages and what not. You can put everything on it, and you are good to go.  It syncs anywhere and is free.
6. Day One Journal
Day One Journal App is an award-winning journal app which not only provides you a distraction-free writing experience but also brings you a wide variety of other features such as reminders, calendars, unlimited photo storage, End to End Encryption, cross-platform support, markdown and Cloud Sync too. It's free of cost to download and you will like it!
7. Microsoft Word
How can I write about the best writing apps and not mention about this mighty tool? MS Word is known to all and used by many. By far the easiest and most user-friendly interface to draft your documents, books, reports, essays, and the list will never end. It helps you share your files easily and is free to download.
The Verdict
If you want a seamless writing experience, here you go. Grab your hands on those listed apps. Find what is convenient and relevant to you, because you never know when you can get struck by inspiration for writing, and these tools come in handy.