We all like to know if our loved ones are safe at home or wherever they might be. Whether it is your better half, your kids or a friend, it is always important to know their real-time location. This way, you may warn them in case you are aware of a dangerous situation they may not know about or you can send quick help. By employing the help of family locator app, you can be a guardian angel to your loved ones and also have a peace of mind knowing that they are safe. Although there are lots of real-time locations tracking apps, we have listed in this post the eight best there are in the market currently for Android and iPhone devices. But before we look at the apps, let's take you through the reasons why you should get a location tracking app.
Family members' safety: The aim of these apps is to help you locate your family members, making it easier to find them in case of emergency. In the event that one of them is in trouble, you will be able to track their location and help them out.
Children's security: As a parent or guardian, it is natural to worry when your children go out. But with the help of the locator app, you will be at ease knowing that you can trace their whereabouts and take any necessary actions.
Abrupt plans: Maybe an impromptu family gathering or vacation, a location app can come in handy if you are connected with them, as all you will need to do is check out their locations. If you are using one of those locators that have a messaging platform, you can also get a real-time response in addition to location.
1. GPSWOX Family Locator
This free family locator application has a blend of safety features, unlike its contemporaries. This app is the best thing you could ever wish for. It is literally a guardian angel. Using the app, you can know when a family member or a friend's phone battery is running low and then send you their real-time location so you don't get into a panic mode if you don't get a response from them. In addition, you can track average speeds of fewer experience drivers in the family as well as set alerts when members reach a certain location. Users of the app can also access history of members' movement as far as 30 days back, so you can see the locations at any given point that your family members have been to within that time frame. This app is among the best mobile trackers on the App Store and Google Play. The additional safety features make it preferred choice for many families as well as set it ahead of the pack. Features include:
Additional safety features
Provides past 30-day movement activities of a family member
2. Spyzie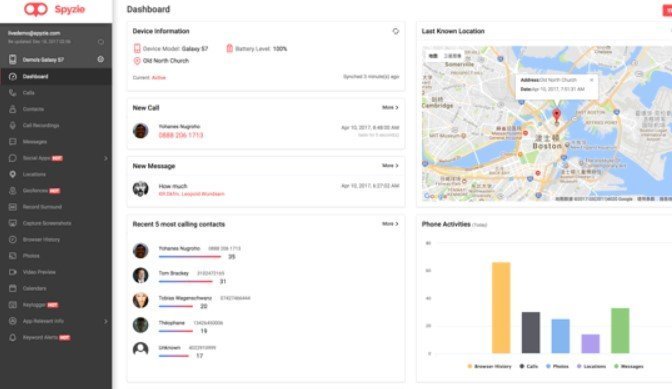 Spyzie is arguably one of the leading real-time location tracking mobile app in the market today. It can be used to identify an instant location of someone, in addition to the fact that it is compatible with all of the best versions of Android. Another important feature of Spyzie is that you can use it to find all places a person visited in the past, or obtain important data about the device's contacts, call logs, photos, messages, keylogger and many more. Features include:
Tracks in stealth mode
Provides a real-time location
Web-based interface to let you access the app remotely
Provides device's social media access logs and any other vital information
3. Google Maps
All you need is accessed to the target's Google account and you will know their current location as well as obtain information about their recent location, on a monthly or yearly basis. Google Maps has the following features:
Timeline for the past locations visited by the target
Location sharing option to share your whereabouts with friends
Smooth integration with some other Google services
4. FamiSafe Phone Tracker
Price: $9.9 per month
FamiSafe is a real-time location tracking app for iPhone users developed by one of the most popular software development companies known as Wondershare Technology. The app provides numerous crucial features that enable you to track devices from anywhere in real-time. Another good thing about FamiSafe app is that you can install it without rooting your device. Some of its features include:
The geofencing feature lets you set a safe perimeter
Offers real-time tracking as well as location history
The app lets the user filter any website plus its content
The FamiSafe app can monitor or block all the apps on the android phone
Users can limit the use of their device by using the screen time tracking and control feature
5. Find my iPhone
As the name suggests, this mobile app location tracker is for iPhone users only. The app is commonly used to track down stolen or lost iPhone, but you can also use it to locate a target if you know their Apple ID as well as password. The app's dashboard can easily be accessed from iCloud's website – one of the best features of the Find my iPhone. Users can also enjoy other features like:
Integration with iCloud
Can erase your device's content or ring it remotely
The app can also be accessed remotely
6. Glympse
Arguably one of the best real-time tracking applications on the market today, Glympse app is available of both iOS and Android. This app allows you to share real-time location with anyone. It works stealthily in the background and uses GPRS, GPS or Wi-Fi to locate a target's device and redirect it to the app server. The app has the following features:
Users can use the app without signing up
One can view the real-time location of a target using the app
7. Family Locator-GPS Tracker
This app is developed by Life360 and is compatible with both Android and iOS devices. Family Locator-GPS Tracker helps users maintain a connection with loved ones and friends all the time. The app has other benefits such as tracking lost or stolen devices. Main Features are:
Enable users to communicate with family or friends
It provides the current location of the target
It can also be used to track stolen or lost devices
8. Sprint FamilyWall
Price: $2.99 per month with 15-day trial
This app helps you remain in touch with friends and families to ensure they are safe. This app has other features such as photo sharing platform, which shows that it is just not an eye from afar but more. You can set tasks as well as do list and reminders for the entire family so that every member knows exactly what they are supposed to do and when. The connected members can share their real-time location too. Features include:
Photo sharing platform
Organizing and communication functions
Conclusion
There are numerous reasons everyone needs a location tracking app. Luckily, the market is filled with lots of these tracking apps, which are unique in their own ways. The decision on which to use depends on your needs, for example, if you have a large family member, you may need an app that has lots of additional safety features. In this case, you need a family locator apps like GPSWOX Family Locator or Sprint FamilyWall. If you want to keep tabs on your little ones, there are also numerous apps for that, such as Spyzie and Family Locator GPS Tracker. There are also location tracking apps that help you keep in touch with your loved ones instead of watching over them. This post contains the best apps for both Android and iOS, which will help you, track the real-time location of your family members or friends. Majority of these apps also runs in stealth mode, keeping things low key.