WiFi networks are complex. Their strengths vary at different spots, time of the day, etc., and it takes some time to learn the places where you can get the best reception. What if you were able to tell what zones have the least interference, best speed, and so forth, even before connecting to the network? WiFi analyzer windows help you do these and many more, essentially helping you to get the best of out a given channel. A WiFi analyzer application optimizes your WiFi by helping you inspect WiFi connections around you. Free WiFi analyzers for Windows should, at the very least, be able to detect and give you details about hotspots nearby. The best WiFi scanner, you can retrieve the Service Set Identifier (SSN) or network name, the strength of the WiFi signal, information about the underlying security architecture of the network, and so on, depending on the specific program. As if this was not great enough, some more advanced analyzers can generate the network's heat map. Heat maps let you know the coverage zones with interference as well as the areas where the signal is weak, and they also provide historical or real-time data about networks. These functions allow you to place your router in the best spot for optimal radio reception. When looking to use a WiFi analyzer Windows, you can look at the features. However, the features are not all that separate regular WiFi analyzer software from the best ones; the best programs are highly intuitive and easy to use. If you are looking for an ideal WiFi scanner for your Windows PC, we have cumulated the top 10, to help you streamline your choices from the tons of WiFi analyzers available for windows.
1. WiFi Analyzer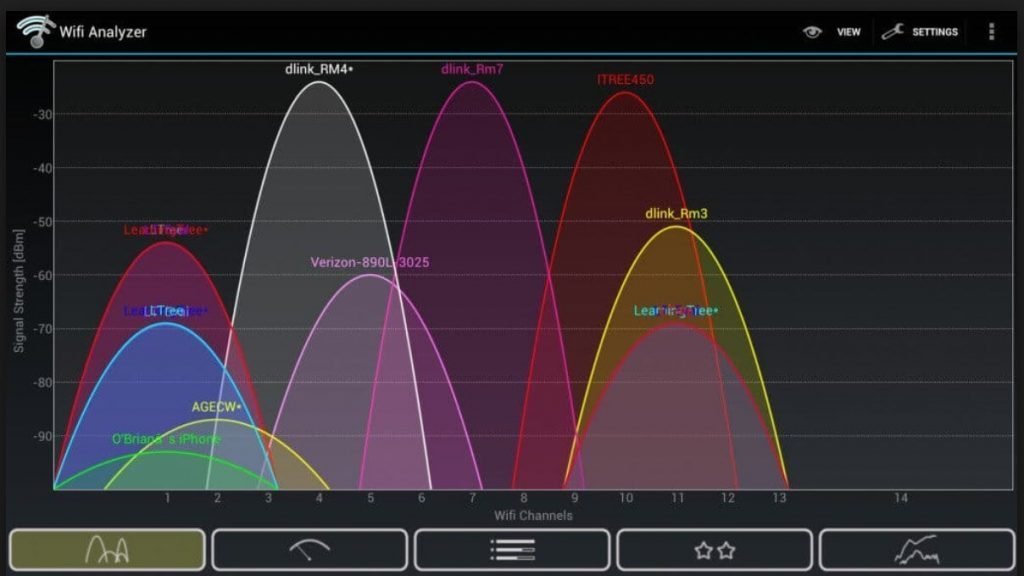 First on the list is the excellent program simply called WiFi Analyzer. WiFi Analyzer is a popular freemium program that was built for Windows 10. With heat maps, WiFi analyzer lets you discover channels, to identify the perfect zone for installing a router. A great thing about WiFi analyzer is that it scans other WiFi hotspots around you and tells you the ones interfering with your WiFi. As stated earlier, the best analyzer programs are intuitive and easy to use. WiFi Analyzer makes the operations simple, as it rates the nearby channels with stars, to help you quickly distinguish them by their strengths. As it is marketed in a freemium model, the program is free to download and use. However, to fully enjoy all its amazing features, you can get the pro version. The pro version has some pretty cool features; for instance, in the pro version, running the WiFi analyzer keeps your screen on, and there is a beep whenever you are in a hotspot. Verdict: Suitable for both amateurs and seasoned users, WiFi Analyzer is one of the best WiFi analyzer programs out there for Windows. The free version is good enough for most users. But the more you use this program; you might feel the need to upgrade to the pro version or shell out a few bucks to get features via the in-app purchases. Wifi Analyzer for Windows: Download Here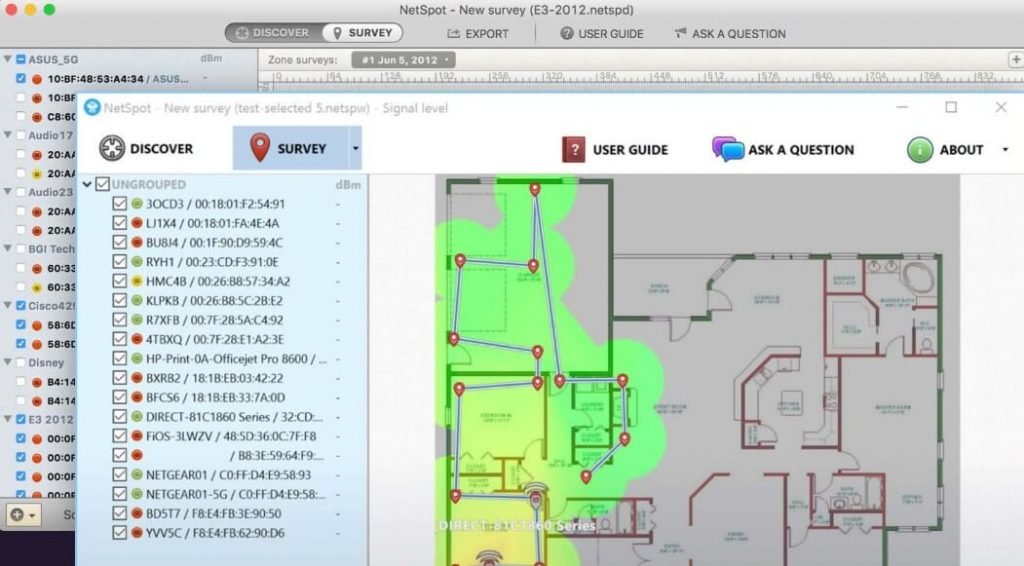 NetSpot wins in terms of aesthetics and user interface. While most other WiFi analyzer applications focus primarily on functionality, NetSpot developers made sure that their software has one of the most beautiful interfaces. Apart from aesthetics, NetSpot is easy to use; you can either use it in the Survey mode or Discover mode. The simplicity of this program cannot be overemphasized. The modes as mentioned earlier help streamline your operations and enable you to find and connect to the strongest hotspot around you without interference. If you wish to generate heat maps for discovering channels around you, you use the Survey mode. Alternatively, Discover mode helps you to take snapshots of channels in your area. Unlike the other WiFi analyzers listed, to enjoy NetSpot, you have to shell out some money. You can start with the home edition of NetSpot, with which you can create a maximum of two snapshots in two WiFi areas, and a maximum of 50 of these points for a given zone. The home edition is not for commercial use, and a two years' license for the home edition costs $49. Verdict: NetSpot is, in our opinion, worth the money if you want a software without a steep learning curve. However, it is a bit pricy if you are not using it commercially. While it is excellent for beginners and the tech-savvy, it was specifically built for firms and professionals.
3. WiFi Analyzer Tool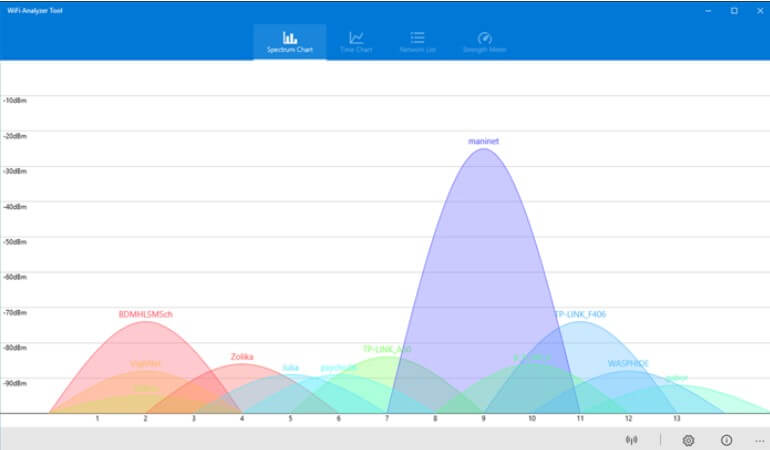 WiFi Analyzer Tool is another contender for best WiFi analyzer for Windows. This basic program is compatible with Windows 7, Windows 8, and Windows 10, and you can easily download it from the Microsoft store. The first feature that stands out in this app is the spectrum charts for discovering channels that interfere with others, in order to help you choose the best network around you. The developers of WiFi Analyzer Tool made it to let you analyze WiFi networks around you, allowing you pick up 2.4 GHz as well as 5 GHz bands while keeping it as simplistic as possible, by leaving out all the extra features. Regarding the signature feature, the spectrum chart; WiFi Analyzer stores past data from networks, so that you can track their signal levels over time. You can also save images of spectrum charts on your device for later. Regarding customization, after downloading the software, you can personalize it with either the dark skin or the light skin. WiFi Analyzer costs just $4.95; however, it is also available for free. Verdict: Great app; it is one of the best WiFi analyzers for Windows. We loved everything about it, and we loved that it has no compatibility issues with other Windows versions. This program easily rivals the best WiFi analyzers for Windows. On the other hand, although it is cheap, the functionalities do not quite justify that price as you can get similar functions in other free WiFi analyzers for Windows. Wifi Analyzer Tool: Download Here
Similar to WiFi Analyzer, Netcut is another powerful WiFi utility that was primarily developed as a backend tool. Netcut is essentially a Windows program for investigating and debugging WiFi channels; however, users of Android and Apple devices can also enjoy this robust software as there are Android and iOS versions out. More so, Netcut is targeted at more professional users. One of the notable features of Netcut is the ARP protocol, which helps you to police user bandwidth usage in order to reduce or check abuse of the WiFi network. Regarding the policing of your network, with Netcut, without accessing your router, you can easily disconnect people from your network. Further, Netcut handles channels' interference superbly, as it enhances your router performance as well as connectivity range to remove any form of interference with other nearby channels. Verdict: Netcut supports more operating systems than WiFi Analyzer. It is available to Windows 7, Windows 8, and Windows 10, as well as for mobile Android and Apple devices. The learning curve of Netcut is a little steeper than that of WiFi Analyzer, so it might take you more time to get used to it. However, Netcut is one of the bests in terms of functionality, and you will love it when you finally master using this fantastic app.
If you like the simplicity of NetSpot but do not want to shell out much money or are not looking to use it for office work, then SpeedTest Master might be ideal for you. This free WiFi analyzer, SpeedTest Master is an easy-to-use solution that helps you get the job done in less time and with fewer clicks that most other WiFi analyzers. This program has all the essential functionalities of WiFi analyzers, such as evaluating the latency and speeds of WiFi networks, and so forth; but also, SpeedTest Master stands out as being one of the few programs that let you switch between different channels. You can also switch from WiFi to an Ethernet network. Verdict: The first thing you would notice on launching this free WiFi analyzer software is how easy and fast the operations are done and handled. It is perhaps the quickest one from the best WiFi analyzer solutions available right now. You can get SpeedTest Master for free on the Windows app store.
Specifically targeted at companies and professionals, inSSIDer monitors the strengths of WiFi networks over time, and with this historical data, you can discover the most reliable networks to connect to. inSSIDer is a bit pricey compared to the other WiFi analyzers listed here. However, this is understandable because not only was it built for professional use, it is also unique in that it was developed for huge networks. Similar to other WiFi analyzers, inSSIDer will track channels, to report crucial details about the networks, but this powerful program doesn't stop there; it also observes the saturation of these networks over time and if there's interference, inSSIDer tells you where the interference originates from. You can also compare different channels and carry out some checks to ensure that you are connecting to the best one available. Verdict: If you want to use a WiFi analyzer for your network of many computers, inSSIDer is definitely the ideal choice for you. inSSIDer comes in different plans, and the cheapest costs $149. This $149 plan does not support spectrum and 2.4 GHz. However, you can start with this plan and move on to higher ones if you like the software.
If you need a pure Windows 10 WiFi analyzer software, you should go for WiFi Commander. WiFi Commander is a lightweight, ad-free WiFi analyzer that works on only Windows 10 and is best operated with a touchscreen. It features a stunning 3D user interface, which makes the process of analyzing WiFi look great. The 3D user interface comes alive when viewing and manipulating the channel distribution graphics. As stated about the other Windows WiFi analyzers, the programs monitor nearby WiFi networks, analyzing their details and statistics over a period of time. However, WiFi Commander is different in this regard, in that it shows you the data from nearby WiFi channels in real time. The advantage of real-time analysis is that with it, you can make more informed decisions about WiFi channels based on the most up-to-date (hence, most accurate) data, rather than historical data. WiFi Commander costs $4.99. Verdict: No doubt, WiFi Commander is quite easy and fun to use, but you can get everything it offers and more (except the beautiful 3D display) for less or free in other apps. However, if you value convenience and you have a touchscreen Windows PC or tablet, you would definitely love this piece of software.
If all you want in your WiFi analyzer program is to retrieve details about WiFi networks, and not much more, check out WiFiInfoView. WiFiInfoView does just what its name says – lets you view WiFi info. With this app, you can find out various details about WiFi networks, such as the speed, type of PHY, the name of the organization, SSID, signal quality, frequency, RSSI, and many more.  Best of all is that WiFiInfoView is completely free. This program displays all the info in a tabular form, making it easy to navigate through them. Further, it has something called a feature called summary mode that rounds up all these stats neatly. Verdict: WiFiInfoView is one of the best WiFi analyzers for Windows. It delivers smooth, easy navigation, and it gives you everything you need in a basic WiFi analyzer without many extra features, for free. It gets the job done.
First, let's set this straight – GlassWire is the last on this list, but not necessarily the least of the best WiFi- analyzers for Windows. The usefulness of WiFi analyzers depends on what you do with it. GlassWire is another powerful WiFi analyzer Windows that also lets you know what networks and devices your computer is communicating with. Security wise, you can opt to block a specific IP address or software using GlassWire's built-in firewall. This is another application in the freemium model; you can get it for free but would have to pay to unlock some extra features, such as historical (6 months) data and logs, lockdown mode, etc. Verdict: We loved GlassWire's beautiful user interface; it seemed to guide us into making more informed decisions in less time than other WiFi analyzers. The free version packs a lot of punch, and it will be okay for most.
Vistumber is a feature-packed WiFi analyzer software for Windows. This free WiFi analyzer software helps you discover and monitor WiFi networks, analyses strengths, speeds, and does everything a good WiFi analyzer should do. The various WiFi analyzers are built for general or specific uses, and Vistumber seems to be targeted at people who are constantly on the move. This fantastic WiFi analyzer also supports location services, such as GPS and live Google Earth. And in addition to your WiFi details, with the aid of the location services, Vistumber gathers your basic location info. It retrieves your current location, available channels around you, their strengths and encryption information, and so forth. After collecting these details, Vistumber then plots it all on a map. Verdict: For a free app, Vistumber sure does pack a lot of handy features, especially if you are mostly on the road. However, we were let down by the dated UI, which makes Vistumber feel like an application from 10 years ago. Still, great app nonetheless.
Conclusion
There is no outright best WiFi analyzer for Windows PC, as they all work, and they were built to solve specific problems. Depending on what you want to achieve with your wifi analyzer, how you want to use it (personal or professional), aesthetics choice, and so forth, you would find different WiFi analyzer apps to be more ideal than others.