Recent statistics show at least one out of 20% of US citizens are plagued with a learning disorder. What is the implication here? There is an increasing need for text to speech apps for mobile phone. Leave alone those who are plagued with learning conditions. What if your screen is just tiny such that reading is problematic? You too need a text to audio app. Are that athlete who practice early in the morning but can't fail to get news update across the world? You cannot have your phone on hands as you exercise. In this condition, the best thing to do is to listen rather than reading. Thanks to technology, there are so many texts to speech apps on Google PlayStore. You free to listen to whatever you want at any point in time without necessarily looking at your handset. Is this something new to you? I don't think so. The technology emerged back in the 1970s and has been used extensively in various platforms. Nevertheless, tts is a technology that has evolved significantly over time. As highlighted earlier, the technology is quite useful to individuals with reading problems, or perhaps those with learning disorders like dyslexia. The technology is also helpful to people visual problems since they can be able to listen to what they were to read by means of these applications. Besides, individuals learning other languages find it helpful as well. In business settings, technology has heavily been used to upsurge productivity. For example, if you need to multitask, these applications can simply read the information for you. Evidently, there are so many benefits you can get from these apps. To be of help, we are going to discuss 7 best text to speech apps for mobile phone. Follow along and see how you can benefit as an individual or a business.
1. Voice Aloud Reader
This is an app with the ability to read aloud, just as the name suggests. It has the ability to read all the texts saved on your phone. There are various options such as intonation and the reading speed among others. In order to use the app, you first need to download the text desired to your phone's memory, mainly in text format, though it can as well read PDF & HTML. The interesting part of this application is that you will be in a position to select the specific language along with the voice type you intend to play in case there are multiple languages. When the reading begins, you can adjust various things such as volume and intonation, as well as the reading speed.  What is more, if you just want a particular paragraph read, you will have to double tap it and it will immediately get there. This is a very important application that will allow you to listen to whatever book or material comfortably. The following are some of its features:
The app allows you to share files freely through the mail.
You are able to control the volume, the reading speed, volume, and the reader's pitch.
It features a sleep timer. Reading can stop after a set timeline.
2. Narrator's Voice
This is yet another fantastic tts app. The most outstanding feature of this app is the ability a number of voice features even without an internet connection. What is more, it allows you to connect convert the material into audio mp3 as well as video mp4 as you share them in various social media platforms. It perfectly fits with various in-built features and this makes it even more attractive. The following are of the features of the Narrator's Voice:
You can save all your audio files and use them in the future
The voices are quite expressive and natural
Offer ad-free experience, though you have to go for in-purchase application in order to enjoy this feature.
The other significant feature of this app is that the end product is a personalized narration of the initial message, which you have the option to share ass you need. Recent statistics show that the app has at least 5m installations. To what can you attribute such success? Definitely its effectiveness and high user experience. If you want to ascertain the effectiveness of any software application, the best thing to do is to look at users' reviews. You can confirm that the Narrator's voice has at least 375,000 5-star ratings on Google Play. Evidently, this is a great app you must give a try.
3. Talk FREE
One of the exceptional features of Talk FREE is its capacity to import messages from other applications in the device. What is more, it has a lot of knowledge base with the ability to translate whatever someone is typing right on the screen. Besides, it can as well import audio files, though in WAV Format. It does nearly everything the phone is supposed to do. For instance, you can copy files you intend to read while doing other things such as driving and have this app red for you instead. In addition, reading is instant, even if you copy paste the whole volume of the book and click play. The only challenge is that the reading if often interrupted with notifications. Now let us summarize its outstanding features as follows:
Can play a variety of languages.
It has the potential to read texts even from other applications in the device.
Reads what you type
The app has also a lot of positive reviews from users. Give a try and see how beneficial it is.
4. TK Solution
Have you tried this app? If you haven't then you are missing a lot. This is a straightforward app with the ability to transform the text into speech. It is one of the easiest apps to use when it comes to tts. I mean, you will be required to download the app from Google PlayStore, paste the text and then click play. In addition, you can adjust the speed along with the pitch in order to enjoy the reading. Also, there is a provision to directly save the text while using the app. The following are some of the features of this app:
The reading can be in different languages
The speed and pitch can be adjusted
It is possible to save and share the file recorded with friends
The only problem with this app is that there is no provision to change the voice and so you will be restricted to the default one.
5. T2S
T2S has a lot of practicality and efficiency. You can read the text and even export it as an audio. Besides, it can read what you have personally typed aloud if you change the mode to 'Type Speak'. Like others, it is possible to modify pitch and reading speed as you desire. The most appreciated feature is the ability to copy-paste texts from other applications and change them to speech. This is a very important feature for individuals in need of help when it comes to communication. Here is a summary of some of these features:
It has a 'Type Speak' inclusion.
Can import texts from other apps
Pitch and speed can be adjusted.
6. Pocket
A fantastic app that allows you to read from anywhere. It features a number of voices and this is important because you are not restricted to the default voice. Moreover, it features many languages and allows users' to adjust the pitch and reading rate. The following are some of its features:
Allows for background playback. This means it is possible to use other apps as you listen to the material.
Saved content is accessible offline
7. iSpeech Translator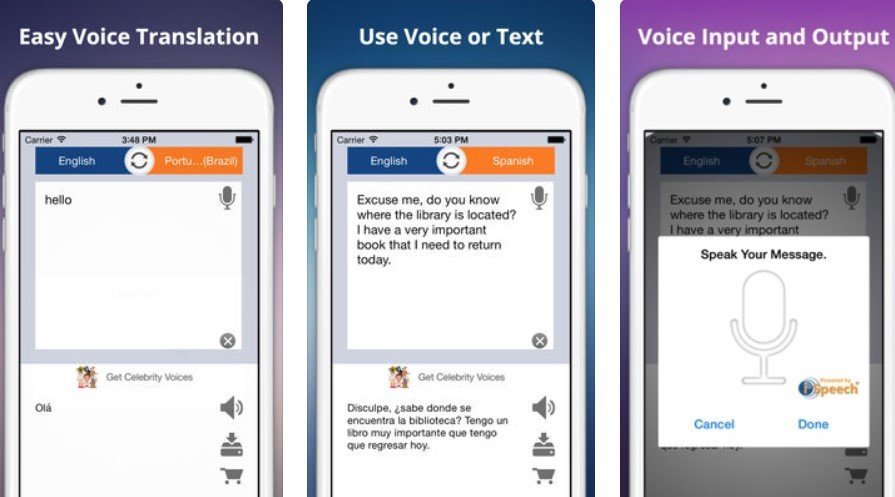 The last one on our list but a very important app as far as text to voice app is concerned. It has the ability to translate other contents saved in your handset. I mean, it can translate texts to other languages instantly. The following are some of its features:
It supports at least 50 languages
Contents from different webs are supported
Translations can be shared
Conclusion
We have discussed seven text to speech apps. Which one interests you? Is it Voice Aloud Reader? Whichever the case, these apps are very important and if you have not tried any, we advise you to consider one and you will enjoy the experience.