Whether you've been enjoying Sims 4 game as an expert, a beginner, or you haven't even played it before; due to exciting sims 4 challenges, it is one the most generally played game that is profoundly stimulated with various activities that causes excitement that is pleasurable in our world today. As a matter of fact, over 10,000,000 copies are been sold around the globe. With the Sims, a series of actions that create sensory input are inbuilt, such that boredom no longer has a say in your personality. The series all began in the year 2001 with set rules and objectives on every challenge. The series of challenges improves the pleasure, amusement, and the enjoyment far beyond what normal game offers along with the custom content. Without disputing the fact that some challenges can be quite difficult, Sims 4 still provides plenty of fun moment with unforgettable excitements. Below are a number of detailed challenges you really need to try.
Best Sims 4 Challenges
"Legacy" Challenge
Amongst the Sims 4 challenges, the legacy challenge is one of the most popularly played. Here, you are simply the pioneer! The challenge begins with you and a sum of $10,000 Simoleons (the cost of the lot is noninclusive). Then you begin to procreate for more earnings for the next generation even to the tenth generation. The legacy challenge comes with the rags to riches challenge stories for the visible growth of your Sims. The legacy challenge exhibit a timeless quality in a particular style. Check it out!
"Accidental Time Traveler" Legacy 
Here, you portray the personality of an accidental time traveler that needs to survive through six generations by all means available. A lot of skills are required for you to make use of the available resources with the set rules. Before you begin, consider the fact that you cannot violate the rules in order to gain advantage from any situation in the challenge. Some of the rules go thus;
Begin with a small tent with a 30×30 restroom, sited on a lot around the campfire.
As you travel further, you then begin to have the ownership of legal documents.
The dead can no longer come back to life, as soon as the reaper takes them away.
The first generation babies will not be given birth to in the hospital as this is the lifestyle of an accidental time traveler.
"Asylum" Challenge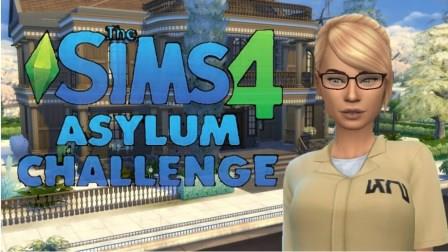 This is the time to get a little bit more overly excited with an enthusiastic strategy to tackle the asylum challenge. In this context, you are required to create eight Sims that must have the "insane" trait situated amongst all of them. Not only that, this challenge is full of difficult tasks in the attempt to take possession and control each of the traits for them to archive their hope and aspirations before they can depart from the asylum.
"Build a City" Challenge
Gamers refer to this challenge as complicated. Yes! It has a number of overlapping Sims that needs to be selected at random, but its complexity offers a new way to unlock your Sims. After each selection, you get to have an entirety control all around your city for the achievement of your scored points. With this challenge, you need to arrive at 50,000 points before you can call it a WIN!
"100 Baby" Challenge
Hmmm, do not get it twisted by the name as this challenge can be time tasking as it requires more effort just for the test of endurance. Do not get scared as it is full of fun and excitements with that awesome feeling of relief once you are done. Indeed, it is a unique challenge; a single Sim will give birth to 100 babies and each and every one of them needs to be cared for. Their upkeep, maintenance, close-attention, feeding, treatment, and other concerns need to be cared for.
"Wolf Pack" Challenge
In this challenge, you need to persevere and cope by all means to survive on the island alongside your wolf pack I.e. a group of six dogs. Beware as the raccoon is readily available to make living unbearable for you. Your earning will continue to accumulate as you perform different tasks such as gardening, hunting, fishing, and more. With full attention to every indications and warning, your main aim is to establish a house that is worth fifty thousand simoleons and this must be achieved before the death of the raccoon.
"Apocalypse" Challenge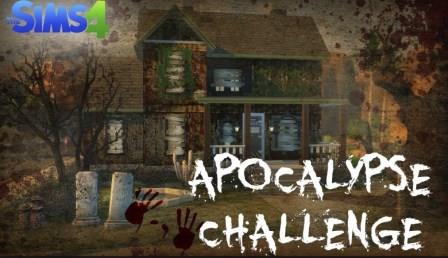 There are a number of limitations that are associated with the apocalypse challenge with the series of restrictions that needs to be conquered. Make sure you create the Sim, build a shelter, and acquire every other necessary requirement. The Sim is only warranted to die at old age; you automatically lose for any occurrence the leads to death other than old age.
"Black Widow" Challenge
Right from the onset of Sims 2 even through to Sims 4 the black widow challenge is another aesthetic challenge that works well enough with the assigned guide and rules. With this challenge, you will get to marry as many as ten to twenty Sims and afterward kill them. This act is repeated frequently; once you kill a Sim, you move ahead to marry another. This is done at several times even up to the time of the death of the black widow.
"Lyrics" Challenge
If you truly desire the Sims 4 challenge that offers genuine motivation, the lyrics challenge gives you extreme motivation in an inspiring and a hopeful manner. As you go further, you might get to know some new songs even to that extent if liking them or adding them to your playlist. However, you need to understand that you can make use of money cheat as part of the rules; please do this in a sustainable manner without excesses usage. We recommend you make use of the cheat to obtain your first house and afterward, you will not make use of the money cheats. Ensure the lifespan of your Sims is normal and play this challenge as happy as a clam.
"Decades" Challenge
As the name implies, you begin this challenge from the 1890's and then continue your journey through the modern age. Meanwhile, Sims can only get married within their ethnic group! Without discrimination, during this era, there is no homosexuality, no electricity, and it seems to be pretty awkward in the 1890's as you can't even have sex for fun. Yeah! It gets better; as you enter the 1990's aura, you begin to enjoy the electricity, yet, there is no provision for women's job. Let us consider the breakdown of some years and their specific goal.
The 1900s; Jobs (male only); indoor plumbing (without showers), electricity, culinary up to level 5, embark on business to level 6 and more.
The 1910s; the war years, the male children are focused on going to the war once they attain adulthood.
The 1920s; Women's right is active! Provision is made for women's job. This happiness might only last for a while as they tend to lose their jobs in the 1930s. At the period, all Sims becomes noncommittal, mean, and gloomy.
The 1940s; World War II! Both male and female are allowed to work. The male gets ready for war at adulthood and women have no restrictions for work.
The 1950s; Korean War! The activities in the 1940s become more enhanced as new careers are available.
The 1960s; Sexuality is now been revolutionized and civil rights are been influenced with pretty awesome careers available.
The 1970s; Vietnam War Ends! Individual children become more active with confidence in their abilities.
The 1980s; the Computer Era!
The 1990s; the Internet Era! This goes with no restrictions on computers alone.
The 2000s; Climate change!
The 2010s; Gay marriage is allowed!
Every decade has new phases of tasks and obligations until you get to the current decade.
"Big Brother" Challenge
This challenge is typically comparable to the Big Brother reality show that we are all acquainted with. You get to create eight Sims (characters and traits are noticeably different amongst each of them). There is always a new challenge such as the painting task, music task, game task, and more to test your skills every week and any of the Sims that does not keep up will be evicted. Provisions for every basic utility are been made to make your survival in the house super convenient! However, there are restrictions on the use of computers, TVs, radios, music players, book and alarms. Note; no Sims is allowed to leave the house until eviction.
Sims 4 "Homeless" Challenge
Homeless Challenge is another good challenge of sims 4. Here, you will encounter the harsh reality of daily survival without a home or shelter. You get to decide and chose any background that you desire and you must adapt to every challenge you go through. The way you dress must be as that of a homeless person as you try not to look too elegant. Certain restrictions automatically follow this challenge such that you can't get a girlfriend or a boyfriend, not to talk on getting married, and you can't even get a proper job. You are homeless! You can have a baby anyways, dig for treasure, and go fishing, rum on trash cans. Your goal is to earn cash simoleons to purchase a house with a permit and live gets better. Enjoy!
"Disney Princesses" Legacy Challenge
You know what? Some individuals believe that there is no difference among the Disney princesses; meanwhile, they are of different appearance and characters.  This challenge simply portrays their different personalities with this full excitement. Guess what? You do not need to have female Sims, your choice of where to live might vary except for Aurora and Snow White, the ethnicity will be different from the original princess, but they must have a similar appearance. Other can chose to marry whomsoever they want except for Pocahontas. The Disney princess challenge varies from the generation of Snow White, through that of Cinderella, to that of Aurora, and Ariel, Belle, Pocahontas, Mulan, and finally to "you". The modern princess that can do whatsoever she wishes.
Sims 4 "Seasons"
Regardless of the little modifications that are been made on a lot of challenges, some of them still have similar features. However, the season's challenge is a unique challenge that gives you that experience from the springtime, through the summer, and then into the winter. Meanwhile, you need to set the season period to fourteen days as you start up your first generation with 50,000 simoleons. Note, every new generation is meant for a new season and the occurrence of a new generation comes into play as soon as the child turns into a young adult. Also Read: 25 Best GBA Games (Game Boy Advance)
"Big Sister" Challenge
This is another exciting challenge that allows you to generate a family that is made up of a big sister, who needs to earn money through personal hobbies such as paintings, gardening, writing, and more. All these earnings are obtained just to take care of her younger siblings after she has killed either of their parents.
The Sims 4 Gameplay
Video Credit: GameRiot I hope you will enjoy playing these Sims 4 challenges, comment below your favorite challenge and see which one is the most popular among the gamers.