What is Photo Viewer and Why we use it?
This may not be new to most PC users because basically, at one point in time, we have opened and viewed photos on our computer. The software that displays the image is called the Photo Viewer. Photo viewers can often handle various graphics file formats. Photo viewers give flexibility to the user by offering a direct view of the directory structure on the storage. Often times, especially for the photography enthusiasts, there is always the urge to move away from the default Photo App that comes with Windows 10, due to the non-availability of essential tools to finetune our images to a satisfactory level, and this is why people look elsewhere for photo viewer alternatives. Typical features of photo viewers include basic viewing operations such as zooming and rotation, Fullscreen display, slideshow, thumbnail display, printing, screen capture, and so on. Our list of best photo viewer for Windows 10 features some photo viewer alternatives, ranging from premium-like applications to the simple but robust ones. Some of the photo viewers have the functionality for batch file processing, (such as image format conversion, renaming, etc.), generating HTML thumbnail pages, and applying different transition effects to your slideshow. Picking the best photo viewer is not a simple decision, and will definitely come down to personal preferences, as only a thin line separates the applications.
10 Best Photo Viewers for Windows 10, 8, 7
Apart from being an excellent application for viewing pictures from your photo gallery, FastStone is also a very good image organizer. It lets you sort your pictures by date, event, or location. The user interface is intuitive and quite easy to use, it only requires very continuous and consistent use of the app. Even with the numerous premium-like features of the photo viewer, it is available for free! FastStone has a multi-monitor configuration that is very useful when handling a large number of photos. It has a pack of incredible transitional slideshow effects and also supports many languages. The software offers a set of useful tools for photo editing; color adjustments, lighting control, noise reduction, photo effects, watermarks, the addition of texts, red eyes removal, and many more, which can be done easily within the app environment. It also lets you compare selected images, which is a nice tool for photo editing. It offers support for many popular graphics formats such as JPEG, BMP, PCX, TIFF, WMF, ICO, TGA, and some popular digital camera RAW formats. Pros:
FastStone can convert and rename a batch of files
It has easy email attachment options.
It supports a wide range of image file formats.
It comes with useful and crucial image editing features found only in more advanced image editing applications.
Cons:
Slow scrolling process and thumbnail generation
There are limited help and support for the app.
IrfanView is a photo viewing and editing software that is quite popular in the photography world. It is one of the best photo viewers on the market today. The user interface is quite easy to use, even for beginners, and it doesn't take forever to get familiar with the application environment. IrfanView did not make it to this list because of its popularity alone, it has a load of useful features to its name. It lets you rotate and flip images, change color-depth, and add frames and borders to images. It also features tools that simplify color correction, inserting watermark or text, and applying various photo effects. In case the app doesn't come with the tools you need, you can easily install additional plugins for added functionalities. IrfanView can also play various audio and video formats. The software is lightweight and supports large graphics format base file. Moreover, IrfanView can be downloaded and installed for free! Pros:
It can open big image files taken from DSLR with a fast speed
It supports batch file processing
Available plugins for additional functionalities.
Supports many image formats
The application is lightweight, only 2MB
Cons:
The user interface is not really friendly
It doesn't hide non-image files when viewing images in folders
This easy-to-use photo viewer is one of the best free photo viewers. HoneyView is faster than the photo viewer that came with Windows 10 and offers similar features for basic image viewing, making it a better photo viewer alternative. It offers the users the ability to rotate and resize images, and also redirect them to other third-party photo editing software such as paint or Adobe Photoshop for further advance image editing functionalities. Though HoneyView is a lightweight and basic photo viewer, one of the reasons it made our list of best photo viewers for Windows 10 is because of the ludicrous speed at which it opens big DSLR images. It lets you open and views images in compressed files, without the need to extract them first. The application also offers many transition effects to apply between images during the slideshow. Pros:
It is quite similar to Windows Photos Viewer, simple and easy to use.
It has multi-monitor support
It is very lightweight and uses little system resources.
Cons:
HoneyView does not have any inbuilt edit tools.
This photo viewer is quite popular because of its robust functionalities, as it supports more than 500 file formats which allow it open almost any image files that you have on your computer. It features a picture preview tool that lets you display images in folders. The photo viewer is an amazing image organizer, with a remarkable feature called the Duplicate File Finder, XnView searches your hard drive for any duplicated images and lets you delete them. XnView lets you watch selected pictures as a slideshow, with your own music. You can add texts and watermarks to images, convert to grayscale, swap and correct colors, send your pictures by email, capture screen, and many more. It allows you to open and edit High-Definition pictures, and also play both audio and video files. And above all, this software offers many language options. Pros:
Scripting is allowed for basic tasks
It supports vast image file formats
It performs well in files and folders organization.
Supports Batch files processing and batch renaming
Cons:
XnView free version is only available for personal or educational uses and nonprofit organizations. However, a premium license is available for professional uses.
ACDSee is one of the most popular photo viewers on Windows 10 in 2019. The software is lightweight and has a user-friendly interface. ACDSee does auto color adjustments and lets you create transition with subtle effects on images. This photo viewer can open and display images inside a zipped archive without extracting it, allowing you to adjust brightness, contrast, and exposure with speed and high efficiency. It has an inbuilt red-eye removal feature, and some essential tools for basic photo editing such as lossless rotation, resize and crop, slideshow, photo editor, editing metadata options and lots more. This application is one of the best photo viewers for windows 10 because it packs loads of features that are well-optimized not to slow down the user experience. Pros:
It enables you to view images in the Zipped archives.
The features are well-optimized
Supports about 61 images and 33 video formats including RAW file formats.
Cons:
ACDSee is available with only 30 days free trial and the paid version costs $109.
Nomacs is an open source photo viewer and is available for use at a zero fee. It allows you to view images in full-screen and frameless mode. Other than just viewing images, this application takes an image and overlays a database of images relating to their histograms. It also features Multiple Instances Synchronization and allows for optimized image comparison. This cool software reads images in zip archives and MS office documents and allows you to add notes to selected pictures while you work with them. Nomacs provides extracting multipage TIFF files, as well as extracting media files from the archive. It offers a wide range of picture editing functions like automatic image quality enhancement, picture sharpening, image rotation, and flipping, resizing and cropping, hue adjustment, saturation, and lots more. It supports almost all image formats including RAW and PSD images. Nomacs is no doubt a photo viewer alternative to consider, and definitely one of the best photo viewers for PC and Windows 10. Pros:
It lets you compare multiple images at once
The launch time is very fast.
There is a built-in tree that allows one to navigate easily between different directories in the hard drive.
It allows for batch processing of files
Cons:
The latest version of the software is relatively slower.
Quicklook is a macOS tool by the Apple developers, used for a quick preview of files. You are wondering why a macOS app is featured as the best app for windows? Don't worry too much, there is a free Windows version of this photo viewer. Quicklook does exactly what its name suggests, allowing you to preview most file types from within file explorer. It works just like the Quicklook on mac, you simply click on a file and then press the spacebar, the app immediately displays a preview of the item, be it a picture, audio, PDF or even a video file. You only need to press the escape key to return the file folder. Quicklook quietly listens for the hotkeys trigger in the background and comes to live immediately a trigger is pressed. The User interface of Quicklook, the lightweight design, and the support for a large number of file formats made it a very good photo viewer alternative. Quicklook is available for free on the Microsoft Store. Pros:
Features a rapid and fast access
Beautiful and easy to use User Interface.
Cons:
It cannot manipulate the files on its own.
Quicklook does not have a homepage window to interact with.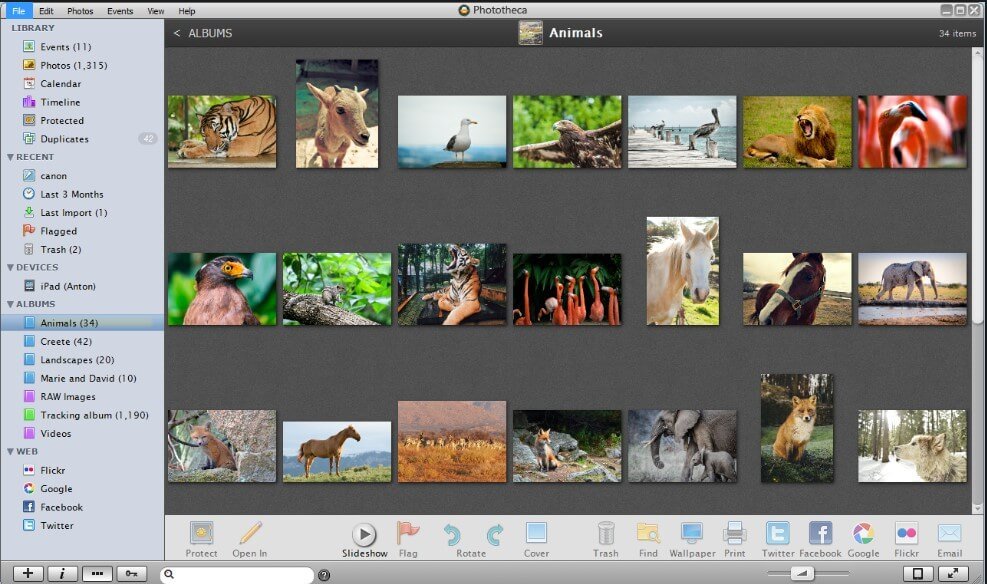 Phototheca is a free app for Windows, developed by Lunarship software. This photo viewer makes it easy to organize and structure your photos by offering the most convenient tool-set to view, sort, tag your photos and more. It detects duplicate photos, allowing you to optimize your storage and save space. Phototheca can display a calendar view, where your photos are presented in a calendar that quickly visualizes the history of your photos, and sorts it into whether months or years. The photo view offers support for RAW and video files. Pros:
Smart albums that work as saved search queries.
Duplicates detection and removal.
Clean User interface
Password protected safe-boxes
Cons:
Phototheca is a little unintuitive to use
FreshView is one of the emerging simple photo viewer alternatives for Windows 10. This photo application allows you to organize your pictures, music, and videos, as well as create HTML albums. Freshview offers support for about 86 different file formats, making it simple and robust. This photo viewer has a powerful image editing tool, which supports image formats including RAW and PSD images, allowing you to cut, crop, resize and customize image resolution easily in its simple, minimalistic user interface. Moreover, this premium-like photo viewer is absolutely free! Pros:
It has support for a wide range of image formats
It has a converter for images and an HTML album generator
Cons:
Displays various ads on its interface.
10- Windows Photo viewer
Even though this photo viewer application is no longer the default app in Windows 10, many users have found a way of bringing the beloved Windows Photo Viewer back. While users agreed that the Windows 10 Photo app is simple and easy to use, they prefer not to use it because they claimed it lacks the essential features of a photo viewer which do not allow one to tweak pictures. Some users even claimed that the photo app is relatively slower, and uses too much system resources. And this is the main reason why users seek photo viewer alternatives. The Windows Photo Viewer performs wonderfully well for a default software. This has made it no doubt the most popular photo viewer on PC, a position it earned thanks to the large number of window users that loves it for its basic editing features, simplicity, and fast speed. The Windows Photo Viewer is present in the Windows 10 file directories, but you need to download some registry files to reactivate it. If you need a simple yet powerful photo viewer, perhaps you should consider ditching the photo app for the Photo Viewer. Pros:
The image loading speed is fast
The User interface is simple and easy to use.
Because of the minimalistic design, the software is lightweight
Quick button to rotate the image and slideshow.
Cons:
The application does not support GIF file format.
It has a few editing options
Somehow, Windows Photo viewer reduces the image size while rotating images.
The Verdict
As mentioned at the beginning of this article, selecting a photo viewer depends on personal preferences. And you might need to try the lots before finding one that matches your taste and suits your preferences. However, if you will like a recommendation for best photo viewer for Windows 10, we'll gladly point to the FastStone viewer or the IrfanView, you can as well check them out.