It's that time of the year where we start searching for the best Android launcher, in 2018 we saw many amazing launchers available for free download, but since a new year is starting, we can predict there will be new features and new launchers for our advantage. People change their Android appearance whenever they want, basically because there are so many new developers out there trying new things and improving old ones that staying with the same launcher forever doesn't seem like the best choice. And 2019 seems like a very good year to try new versions, particularly the one Nova launcher has to offer us. But enough with the introductions, let's talk about the best launcher in 2019.
What Is an Android Launcher?
Let's clarify things first, an Android launcher is a home screen replacement, it is not designed by Android, but it is allowed by the company because they take the user interface very seriously. We can consider a launcher as an app that lets the user modify the software design and some other features on the operating system, but they don't make any permanent changes, if you wish to come back to the original interface or use a new one, you can do it without much trouble. However, theme launchers tend to be confused with aftermarket firmware replacements (we know them as ROMs), but they are not quite like them.
A ROM would completely replace the operating system that came with your phone, meaning, you wouldn't be using an original Android anymore. While a launcher only modifies the way you see the home screen and other features of the phone. Should you be using a ROM instead of a mobile launcher? Preferably not, first of all because you would be erasing the operating system forever and installing an original Android system would be a headache. Secondly, because installing a ROM is a long process that could take a few hours, and there's always a chance that you could end up bricking your phone and make it unusable. ROMs are useful, but we do not recommend to install them on your phone because they are a threat to its usability and warranty, that's why they are not so popular these days. Instead, launchers have taken over and are way more functional.
Types of Mobile Launchers
There are two popular types of launchers: smart launchers and design launchers. The design launchers are meant to change the way your operating system looks like, they were the first launchers to become popular among the Android users and have been around for a couple of years so far. Let's say, give your Android phone a look like an iOS, or to make it look like it's made of wood or electronic parts instead of a plain design. Design launchers are very popular also because the let you "unlock" Android design limitations, like how many apps you can fit individually on your home screen, you can even download icon packs, original wallpapers, play with your widgets, and more. Meanwhile, smart launchers are known for being adaptive, let's say, instead of waking up in the morning with a bunch of notifications, a smart launcher organizes them and show you exactly the most important ones. They sort of learn from your behavior and tell you which apps you use the most so you can program it to show you those notifications first. They also let you choose when to stop using an app in working hours, when you could save some space deleting an app you don't use, how to turn on or off your phone with one touch, opening specific apps with two clicks, etc. Many smart launchers are focused on providing a better search experience within your phone, whether that means searching something really quick on Google or going deep into your phone's memory searching for an app or a file. They also come in handy because they let you organize your files and apps alphabetically, or you could create a secret folder that will open only after you introduce a secret PIN. Design launchers are not better than smart launchers or vice versa, they are just focused on different user experiences, and most of the times a design app has smart features and smart launchers come with many customizable features.
1. Nova Launcher
This is one of the coolest phone launchers you will find out there; it has been downloaded for more than a million Android Users because it is extremely customizable. It is also super-fast and does not occupy much space on your phone. It was developed by TeslaCoil Software, and it has a minimalistic user interface, it's pretty intuitive actually. These are some of the features Nova Launcher has to offer:
Color controls
Infinite scroll
Icon themes
Sophisticated backup and restore system
It lets you create multiple docks
You can place any widget in your dock
And for the Prime version, you unlock features like hiding apps, icon swipes, dozens of scroll effects and gestures (pinch, swipe or double tap to open specific apps).
2. Apex Launcher
This is the direct competitor of Nova Launcher, Apex Launcher offers efficiency and speed. Comes with a vast pack of free icons and themes you can also personalize the way you want to, and includes 3D transition effects.
Sortable app drawer
Easy backup and restore function
Customizable grid and home-screen
Infinite scroll
Scrollable docks
3. Action Launcher
It's not as popular as the previous two but works pretty good. It's a combination of Pixel Launcher and Android Pie. Action is quite colorful and offers unique customizations.
Complete control to color and customize your phone's search box
Offers at glance widgets
If you have an Android version older than 8, you can now use Android 8's app shortcuts
Smart size icons
Icon packs for free
Import layouts from your old Android launcher to Action
Quickbar
4. Smart Launcher 5
Another strong launcher here, Smart Launcher 5 claims to use AI for a better user interface, meaning, it is very helpful when looking for contacts, apps and web content. It's incredibly light weighted and super-fast, a strong contestant for the best phone launcher 2019 run.
Smart turn off
Automatic app sorting
Ultra immersive mode (hide the navigation bar to maximize screen space)
Smart search
Ambient theme (automatically matches the theme colors with your wallpaper)
Protect apps with a secret PIN
Completely customizable
5. ADW Launcher 2
This launcher hasn't had many updates simply because it's amazing just the way it is. ADW Launcher 2 is very stable, fast and easy to use. Offers hundreds of customizable options, it lets you modify your widgets, create shortcuts, use transitioned animations, and more.
Fast scroll
Desktop transitions
Dynamic UI coloring
Configure icon badges
App drawer
Launcher shortcuts
Apply internal and external themes
6. Pixel Launcher
Directly from Google! Pixel launcher is not as customizable as others but comes with some great features as well. Includes the in-house app shortcuts so you can jump directly on specific tasks within the app, it is incredibly intuitive and it offers you the screen experience Pixel and Pixel XL phones have.
Quick access to the search bar
Find apps from A to Z with the swipe up button
Lock and unlock apps with one touch
Personalized features to swipe or pinch
Create shortcuts with long-press
7. Google Now Launcher
Now that we are talking about Google, here's another of their launchers. Includes Google Now cards with just one swipe, it lets you customize the search bar design and even though it's not as customizable as the previous launchers we talked about, it is very stable and completely free.
Comes with Google Now cards so you get the information you needed at the right time
Use Ok Google to send text messages, play a song, get directions, make a phone call and more
List your apps alphabetically
App suggestion feature
Search bar quick access from all home screens
8. C Launcher
This one is for Android lovers, it optimizes the look to the maximum without losing the phone's performance. It can run in the low-end smartphone, has alluring transition effects, you can personalize icons, docks and hundreds of features.
You can find, uninstall and download apps directly from the search bar
Protects your privacy from third-party apps
It does not consume much battery
Hides apps whenever you want to
App drawer
DIY them (create your own theme)
9. Launcher 8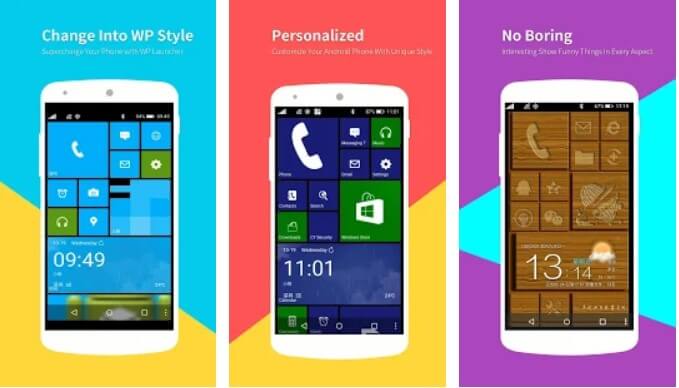 Let's face it, we all love Windows Phone system design, but we don't like their smartphones. Launcher 8 offers us exactly what we like but for Android users. It lets you change your home screen, the size and style of every icon and comes with great transition effects.
Comes with ads-block
Lock Screen
DIY folder (create new tabs, hide and look for folders)
It supports dynamic wallpapers
Super search (faster and bigger)
Upload and download themes online
Add special features tiles
Modify the colors of the icons and more
10. Buzz Launcher
This one is very popular in Japan and Korea, has a spin style home screen that you will love, and it's quite a fast and responsive launcher. It was even recognized as the best personalization app for the Best App Ever Awards, it's incredibly customizable and completely ad free.
Share home-screens with a single touch
Customize pretty much everything
Swipe up and down for specific actions
Edit your icons (shape, size, and color)
Unique widget features
Transition effects
Why Do I Need a Phone Launcher?
We know Android's are awesome, but honestly speaking, they could be better, and by better we mean, more customizable. It's not a demand to use, but it comes in handy if you use your phone for a long time and would like to have better features and a more responsive platform. Launchers make the Android experience better, they add tons of value and give life to phones that used to be pretty boring, especially those with an old Android OS that can't be updated anymore. Even if you enjoy your phone the way it is, downloading any of the launchers we just mentioned will make it more entertaining, and who knows, maybe you end up using your phone better and easier thanks to them. You don't even need the premium versions, they are very complete and stable. However, a few of them could show you some ads now and then, after all, updating and fixing bugs for launchers takes time and money. We do warn you that it could feel a little overwhelming at first, you have so many options to go through and choose from! Our advice: take your time, try a few of the launchers we just mentioned and see which one fits you better. The best launcher for android is actually the one that fulfills your needs as a user, downloading the one with more features could actually end up being unnecessary if you are not a phone enthusiast, but if you spend your days and nights scrolling down, then you already know which one to choose. Also Read: 10 Best Makeup Apps for Android