The Android operating system has millions of apps with more being added every day. Many of these apps are not available to PC and MAC users who do not also own an Android compatible device. If you want to access this growing wealth of applications without purchasing a new device, you will need an Android emulator for PC or an Android emulator for MAC, depending on which type of system you own. An Android emulator is an Android Virtual Device (AVD) that allows your operating system to run an Android environment through your native operating system. AVDs are growing in popularity as users want to take advantage of the millions of games available on Android, want to utilize productivity apps on their PC, or want to test out Android applications before installing them on their mobile device.
There are many different types of Best Android Emulator and they all have their own advantages and disadvantages, so it's important to know what you are looking for from the outset.
Why We Use Android Emulator
One of the primary uses of an Android Emulator is to emulate games that aren't available anywhere except on the Google Play Store. At this point, everyone in the world has probably heard of Fortnite, and the ability to play this game without owning a gaming console is a huge reason that Android Emulators are becoming popular. Of course, if you are looking to emulate games, you will want a very streamlined and optimized emulator, so that you are not experiencing lag or other hindrances to your enjoyment of the game. On the other hand, you may be interested in emulating Android on a PC or a MAC because you are a developer of apps for Android. If this is the case, then you will definitely want to look for a more specialized product which will give you access to developer tools, multiple instances, scripting, or other features that will make it easier to develop and test your app before deploying it to Google Play. Finally, you will have to consider whether or not you are willing to spend money on your Android Emulator. Although many of the options out there are free, some also require payment in order to access "premium" features, to allow unlimited use, or to allow you to emulate the most up-to-date version of Android rather than being forced to emulate older Android IOS which may not be compatible with the newest apps and games. There are tons of options when it comes to Android emulators, so let's take a look.
Best Android Emulator for PC and MAC
1. Bluestacks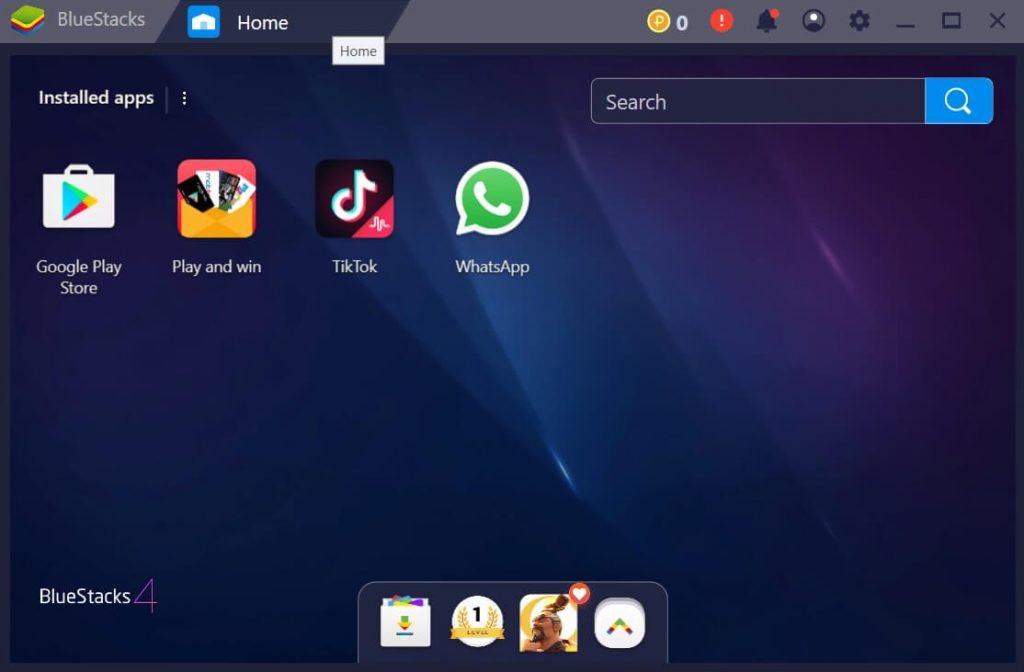 Bluestacks might be the best Android emulator for both PC and MAC. Since its launch, a Bluestacks download has become most people's one-stop solution for accessing Android apps without a mobile device. It's free to use if you don't have a problem with seeing some ads, and it is capable of running apps from outside of the Google Play store. If you have a Google Play account, you can also log in and download apps directly into Bluestacks, which is definitely a great feature. What makes Bluestacks so popular is its reputation for running smoothly and hiccup-free, even when emulating more hardware-intensive games. With the right PC or MAC, you will definitely be much better off hardware-wise than even the most powerful Android phones on the market.
2. Remix OS Player
One of the newer choices on the market, Remix OS Player supports multiple gaming windows and even has a built-in chat-room feature which is great when playing with friends. Best of all, it's completely free to download, free to update, and free to play. Since it comes as an .exe file, it's also very simple to install. The downside of the free installation and use is that you will see ads when using certain apps, but if you're willing to put up with the minor inconvenience, then it is still a great choice.
3. Archon
Archon emulator is not one of the most straightforward Android emulators but is compatible with Windows as well as MAC OS. What makes it great is that it is installed directly into Google Chrome and allows Android applications to be run directly through Chrome. There is some work required in using ARChon, as the user will have to be familiar with how to obtain Android APKs and convert them into a mode which the emulator will recognize. The advantage is that it lets you run an unlimited number of Android APKs across any desktop platform that supports Chrome
4. Youwave
Youwave has been around for a while and has earned a good reputation among Android emulators. While the free version is worth checking out, the "Lollipop" version which goes for $29.99 is a great choice if you want access to the latest version of Android in order to run the most up-to-date versions of apps, especially games. It can be tough to commit to the price tag for the full version, but they do offer a free 10-day trial so you can see if its a good fit for you.
5. Android Studio's Emulator
This android emulator is definitely the best choice if you are at all involved in the development of games or apps for Android. It's not as easy to set up and get running as some of the other emulators, so be aware that it may take some work up front to get used to. While it's not the best for emulating at the consumer level, it does have many specialized features and setting which will make it a powerful tool in the right hands. The ability to choose which Android OS you emulate to is also a huge advantage when it comes to playtesting and checking apps for compatibility, so don't overlook this feature. Another upside that you won't find anywhere else is the built-in static code analysis, which will help you find memory leaks or other performance issues, collect debugging information, and provides you with best practices for perfecting your code. It is also the only Google approved Android emulator, so you can expect a level of support and a user community that might not be available with any other platform.
6. Nox – Android Emulator
If you're specifically interested in emulating games on your PC or MAC, then Nox might be your new best friend. It's free to download, is better at handling lag than most emulators, and includes tons of features and utilities that specifically cater to gamers. Some of these features include keyboard command binding, script recording, and simultaneous running of multiple instances. You can also connect your controller or gamepad directly to Nox, which gives you that extra control when playing more complicated games. If you have any issues with the customization of Nox, the official website has a wide range of tutorials and guides that will help you along the way. Also Read: 10 Best iOS Emulator, iPhone Emulators for PC Windows
7.MeMu
If you need an Android emulator for Windows 10, look no further than MeMu. Like Nox, MeMu caters more towards gamers than to other usages. With that being said, it is still very versatile and can run almost any game or app. Since it's compatible with both AMD and Intel chipsets, it will also run on almost any computer that meets the hardware specifications. It also has usability with a well-designed user desktop. One of the great features of MeMu is the one-click APK installation. If you already have the APK that you want to emulate, you can navigate to the Android package on your PC or MAC and have it running within minutes.
8. Andy – Android Emulator for PC Windows
Andy is one of the newer emulator options on the scene, but its developers are working to refine the product and it already has many notable features which you may not find in other emulators. For example, Andy provides a seamless sync between your desktop PC and mobile devices, allows Windows and MAC users to connect with Android for launching, push notifications and storage, and ensure that you have the most current Android OS to ensure maximum compatibility. A great touch is the ability to run Andy in a minimized window, instead of being forced to run it on full-screen mode like many other emulators. Andy also allows you to use your Android phone as a controller when emulating, so if you are playing a game with tilt or movement controls, you won't be forced to use an awkward keyboard or mouse-binding commands.
9. ManyMo Emulator
If you want flexibility in your emulator, consider ManyMo's online emulation option. It runs through various internet browsers and therefore is easy to access as long as you have an internet connection. One of the selling points of this style of an emulator is that it is not as reliant on hardware requirements as say, Bluestacks may be. ManyMo claims that the emulation will even work on something as simple as a Chromebook. It's not free as many of the other options, but there is a possibility for an extended trial period if you want to give it a shot.
10. Bliss
Bliss is an excellent option for the more tech-savvy people out there. It comes with many "power-user" advantages, as it runs via a virtual machine which can be installed via a USB. The setup and installation process will not be easy compared to some of the other options on this list, but if your hardware is compatible with Android OS, then Bliss will allow you to run Android natively on your system. This will definitely reduce lag and allow you to further refine your experience if you're willing to put in the work. It comes with a taskbar launcher and a pixel launcher which are definitely great features to have, but the lack of general hardware compatibility can make it a restrictive choice for most users.
11. Genymotion
Another one of the best android emulator Genymotion, is a powerhouse that is compatible with Windows, Mac, and even Linux. It has a reputation for running super smooth on any operating system, handling graphics and processor intensive games with ease. It has great developer features as well, and can emulate 3000+ virtual Android device configurations, allowing you to fine-tune Android versions, screen size, hardware capacities, and more. Most users agree that Genymotion consumes fewer computer resources than other similar emulators, so if you are concerned about the capabilities of your hardware, then it may be right up your alley. However, you should be aware that the free version will definitely be lacking some of the most important features when it comes to testing and saving your code, so you may need to invest in the paid version to get the most out of this emulator.
12. Koplayer
Koplayer is another great choice for the gamer looking to tap into the vast library of games available for Android. One great feature is that it supports two preset modes: speed and compatibility. This allows you to customize your experience depending on the requirements of the app you want to run. Like many free emulator options, be aware that in choosing Koplayer you will likely have to put up with some ads, but if you can look past this drawback, then it may be a great choice if you are looking for a simple and lightweight emulator that is easy to install, configure, and will allow you to play games easily.
The Verdict
Since many of these emulators are free or at least have a free trial, then consider downloading and trying a few of them to see if they meet your needs. Android software is in constant development, and the development teams of emulators are always working to make sure their software meets the requirements of the evolving Android IOS. If a particular emulator works for a while, but then performance degrades, you can always switch to different software that is more up-to-date and has better communication from developers. Many of these emulators have great user communities that will help you in the setup and installation process, and with any troubleshooting issues, you might have. Hopefully, this list of the best android emulator has helped you find the perfect emulator for your needs. Enjoy your access to the infinite world of Android apps and games!