Today, we are constantly bombarded with multiple advertising content. It happens especially when we browse the vast majority of websites on the Internet. Usually, these are ads and pop up advertising while you browse some information. Unfortunately, that exists wherever you go online. It can be the banner of the top, in the sidebars, or even inside content. Advertising is one of the ways that developers and publishers have to assist their economy. Often, it is the only opportunity they have to move forward. Showing ads in apps is the most viable way to monetize the development effort. Usually, we see the ads when we open the applications.
However, this becomes invasive and even abusive for some users in certain web platforms. This is because recently, these ads camouflage to be some native Android or iOS warnings. These annoying ads and pop up cause:
Slower load of the content in a certain website;
When you browse a mobile device, regardless of whether it is Android or iPhone, they cover a large part of the screen and obstruct reading excessively;
They can be a risk to the security and privacy of the user;
Higher data consumption and battery use;
We usually say that the best way to avoid problems with applications is taking special care with what we install. You have to monitor the permissions, make sure the developer is the right one, you have to flee from the apps that promise to improve the battery or cool the phone … Yes, we must pay attention to. However, we always leave a loophole through which "we can strain it". Luckily, there are several applications that are responsible for not allowing pop up advertisements in your web browser or even on platforms like YouTube on the mobile phone. Having the best apps to block advertising on Android and iOS is a complete respite for Internet users. Using an ad blocker provides a better experience since we can perfectly enjoy the information in a simpler and more pleasant way. In this article, we are going to show you the best ad blockers to get rid of annoying ads, especially in Android.
What is Mobile Ad Blocker?
Mobile ad blocker has been taking much more strength in recent years. Every time, this type of program is more used by users around the world. Even in 2014, these programs have had a growth of more than 90 %. It is something shocking. Android is one of the most popular mobile operating systems for the number of apps available, a vast market compared to other platforms that have many free applications, but that use advertising to sustain themselves. This is often done in an intrusive and abusive way 🙁 Nowadays, there are very few users who like Internet ads on different web pages since for many people, these are annoying or interrupt navigation through a specific website. Due to this, this type of software began to emerge that will allow you to restrict this type of advertising. Thus, you have more peaceful and enjoyable navigation on the Internet. That is why we bring you a list of what are the best ads and pop up blockers so you can take these tools out in action. This will allow you to surf the Internet and not have to find those ads that can cause you a little stress when browsing the internet.
10 Best Ad Blockers for Android in 2019
1- Adblock Plus
This APK is a classic one. It has already operated on other platforms in the form of Addon and works in the same way. You have to download it from the official page or Play store and install it on your device. Then, you must make some changes to the network configuration that you will be asked for, and that's it. However, it is worth mentioning that the desktop version is more effective. AdBlock Plus was already a well-known extension for computer browsers and it was a matter of being settled on mobile devices. The basic functions are the same as those of the browser of the Mozilla function. There are block pages by tabs, incognito mode, history, bookmarks, search feature with autocomplete, and of course, ad block function. Adblock Plus is estimated as the most popular ad blocker for Android. It is an easy option to install and configure. It allows you to minimize the number of banners that you see in their mobile browser. Adblock Plus offers various configurations to explore and create the best possible browsing experience. As a totally beneficial feature, it reduces the most annoying ones automatically in your browser. Also, it disables the advertising tracking, hides the link buttons, and shares social networks and provides personalized advertising in your searches on the web.
2- Appbrain Ad Detector
Appbrain Ad Detector designed to reinforce the security of your device since it monitors installed applications. They are in search of advertisements that have not been authorized by you. It is a very powerful and complete alternative to restrict emerging pop ups and avoid ads in your web browser. Surprisingly, it is also able to locate spam and suppress push notification of your Android device according to the customized settings. In addition, AppBrain Ad Detector offers users different preset configurations to find their perfect configuration. It also scans before your browsing experience for more efficient response times.
3- Free Adblocker Browser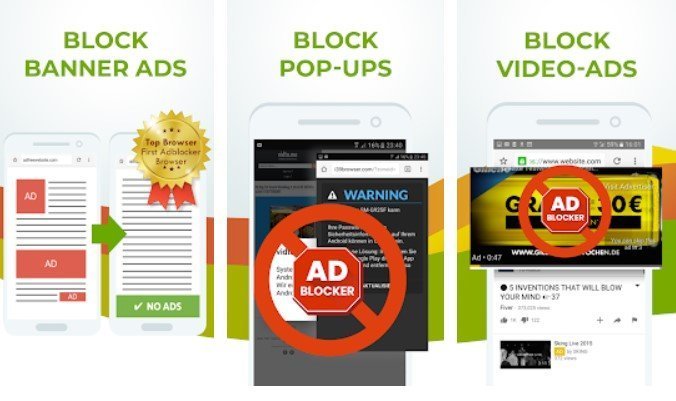 It is a popular application for Android devices. It works by completely replacing the browser of your mobile or tablet. Thus, it can offer you a fully powerful browser that provides you with better web browsing experience without any ads involved. Free Adblocker Browser suppresses any pop up and banner. Interestingly, you can also block ads on videos and disable the tracking feature on your device. You can hide, delete and disable cookies.
4- Crystal Adblock
Another one of the best ad blockers for Android. Crysal adblocker is aimed especially at those who have a Samsung Galaxy. In fact, Crystal Adblock is a specialized advertising blocker on Samsung mobile devices. It manages to automatically deactivate all types of banners that are on the Internet and also pop-up, allowing you to save data from your mobile rate and increase the security of the device.
5- AppWatch
AppWatch monitors the use of applications to detect abusive behavior. It removes annoying apps with a lot of ads that fill your mobile phone. Keep in mind, this app is NOT going to clean your phone of ads that are promoted with advertising, but it will help you identify those applications. Therefore, you can erase them without any regard. It is a simple and safe process: you will remove the annoying "pop ups" and intrusive ads that appear without coming to mind. Perhaps, you have installed an app from the Google Play that propagates advertising. Some of them even give you a bad user experience. For this, you must identify the cause of the problem. That is why you need AppWatch. AppWatch accesses the activity log of your Android (you must give it permission) to identify all the applications that come into operation, as well as those who are running in the background. This way, it is very easy to find the application that overloads you with advertising. Therefore, whenever you look at an ad, open AppWatch. It investigates among the accesses the app has on your mobile phone. To use AppWatch, you can follow this instruction:
Install AppWatch, give permission to access the activity log, activate monitoring and use your mobile phone regularly.
Wait until an ad appears in the notification bar, lock screen, or popup.
Once you have skipped the unexpected ad, open AppWatch from the notifications and investigate the list of latest apps.
The application that has been surpassed with the advertising should be listed as the last ones
Clearly remove the detected apps and make sure you do not install them again.
There are more ways to detect intrusive and unwanted ads, but with AppWatch. it's extremely simple. In addition, you will know what applications and services have been running on your phone. It is an excellent way to know what is happening in the background. AppWatch is a free, safe application and only has an ad banner; that you can eliminate with a micropayment to the developer.
6- Airpush Permanent OPT-OUT
It is another new app to block ads on Android without the need to root. Its operation is quite intuitive and straightforward. Therefore, it will not be difficult to understand how it works as soon as you install it.
7- AdAway
It is a free application that blocks ads from browsers. As a result, they do not load on the pages we visit. This is a real relief if you are a regular web browser, especially Chrome and Opera Mini.
8- Ad-Vanish Pro
Ad Vanish Pro includes automatic execution to block advertising in applications that we do not use. This may be one of the most valued apps for this feature since it is not limited only to the pop-ups of common browsers.
9- TrustGo Ad Detector
As already mentioned, advertising on the Internet can be very dangerous for privacy and security. It is because they add tracking cookies that can make a map of your trip on the web. However, TrustGo Ad Detector is widely designed to counteract this. It is showing you exactly the web pages you have visited and which have tracking your information. Luckily, it is a totally free application.
10- Unicorn Adblocker
It is valued as one of the best for its high quality. It has an effective locking system and can save up to 21% of the power of your device. In addition, it improves browsing speed by multiplying it by three and allows saving mobile data. It is not free though. The Unicorn Adblocker app has a cost of 1.99 USD.
Bonus Ad blockers
– Catlog
CatLog is a free application that allows you to explore the internet and stop those annoying ads that appear without warning from the applications you have installed. It is for this reason that removing Android advertising can be a bit difficult at times. Though, many of them appear unnoticed at first glance and are activated only when you are browsing the network.
– Exposed Framework
It is a highly configurable application that allows you to customize certain aspects of your mobile, such as advertising, although to use it you must have the rooted terminal as it happens with many applications of this type and you will not find in the Play Store.
– Ad Free
It is one of the free applications to remove most popular Android ads of its kind. It is useful, simple to use and does not require additional configurations as in the previous case. However, it requires superuser permissions to operate. By allowing it to access your mobile browser, it eliminates ads effectively. Finally, we complete this adblocker list to remove Android ads with a scanner type APK. This will let you know which of the applications you have installed are using any of the usual advertising systems and allows you to disable or even uninstall them directly.
What is the Future of Ad Blocker?
The applications listed above are a real relief for Android users since they have been very annoying repeatedly because the inclusion of advertising is due consent, thus hindering navigation and the proper use of smartphones. Thanks to this type of programs, this difficulty can become a bad memory In recent years, different universities in the world dedicated to the field of communication carried out various studies that gave alarming information to advertisers More and more users are using some Ad Blockers for android. At least, this is an app that we have recommended. That is why a new challenge has been placed against the Community Managers and Marketing Agents: How to genuinely interest the user when they present their ads to us. It is estimated that by the year 2020, 45% of the active users in the network have installed some kind of ad blocking extension. We hope that this list has helped you to remove the annoying ads on mobile. Do you currently use some of these ads or pop up blocking apps? Would you like to include other apps that have not been listed? Let us know in the comment below!