Downloading and installing media files or apps from unknown sources on your Android smartphone poses great risks. There are thousands of infected and malicious apps that can compromise your privacy, personal data or classified files that shouldn't be accessed by unauthorized users. The good news is that a good antivirus app can help protect your device from most of these threats. Google PlayStore is the safest place to download the best antivirus for android since most of them have real reviews from previous users. However, there are many apps to choose from and it can be quite challenging to determine one that will work perfectly for your android device. Fortunately for you, we handpicked the top android antivirus apps that will protect your personal data as well as your privacy. Here are some of the best antivirus for android that you can download from the Google PlayStore.
Our List of 15 Best Antivirus for Android
Kaspersky Internet Security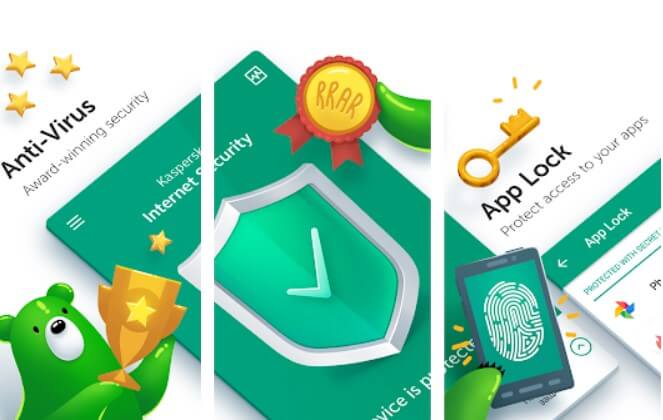 Kaspersky has been trending as the best PC Antivirus of all time with powerful security features. It is also the best Antivirus for Android as it makes good use of its unique features and capabilities to secure your personal data. It comes in two versions; the free version and the paid subscription. You can start out with the free version to determine if Kaspersky Internet Security is the best for you before you. However, if you choose to upgrade to the yearly subscription, then you get more solid features such as anti-phishing, cloud-based protection, and real-time protection. The most interesting part about the paid subscription is that it comes with a license for two Android devices. Primary Features Anti-theft, Anti-Virus protection, and Background scans, Web filter, and call blocker Pros
It offers top-tier malware protection
It has the ability to hide special contacts
It comes with a slick interface that is easy to navigate
The paid version offers cloud-based, and real-time protection
Cons
It has a confusing locking behavior
SIM card protection is non-functional in hands-on testing
RAM Usage: 115 MB Developer: Kaspersky Lab [appbox googleplay com.kms.free]
Bit Defender Mobile Security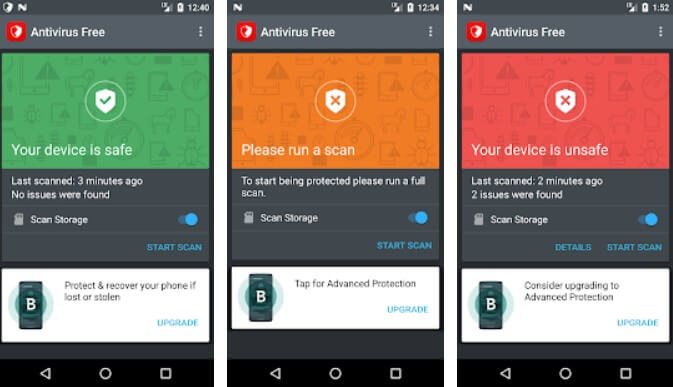 Bit Defender Android security app comes with robust privacy-protection tools and a nearly flawless malware protection. Its anti-theft features are incorporated in Android Wear watches and it is available in both the free and paid versions making it the best android antivirus. The free version only scans for malware while the paid version offers other incredible features that guarantee solid protection and restricted access to personal data. It has the unique ability to fight against malware and other potential viruses from malicious websites and infected apps. Bit Defender works well on android 2.0.1 and above and offers a great performance when it comes to your mobile security. Primary Features Virus detection, anti-malware, anti-phishing, zero configurations, Privacy advisor, app lock and a smart on-install scanner Pros
It has an outstanding antivirus protection
It offers quicker scans
It comes with robust anti-theft features
It allows for remote antivirus scan and has SIM alerts
Its user interface has an excellent design
It prevents access to personal data
Cons
It requires an internet connection when performing a malware scan
It lacks call blocking and has no remote camera
RAM Usage: 71 MB Developer: Bitdefender [appbox googleplay com.bitdefender.antivirus]
CM Security Master
This antivirus app comes with an extensive set of features and options that can be enjoyed by Android users at no cost. It highly rated on Google PlayStore because of its great security engine that is powered by both cloud and local engines. CM Security works pretty first when it comes to performing scans and removing viruses and malware. Its app lock and vault features offer the best user experience as they protect your private apps from people who like invading your privacy. It is also the best free antivirus for android as you can easily download it from the Google Play Store. Primary Features Performance booster, Anti-theft, anti-virus, app lock, call blocking, app cleaner, and phone finder Pros
It doesn't require much download space because of its small size
The disguise cover and intruder selfie are its most appreciable features
It offers ample security from possible threats
It helps in tracking stolen or lost smartphones
It allows for battery optimization if your battery is draining fast
Cons
The free version displayed a lot of ads
The malware-detection rates fluctuate often
RAM Usage: 109 MB Developer: Cheetah Mobile [appbox googleplay com.cleanmaster.security]
AVG Antivirus Security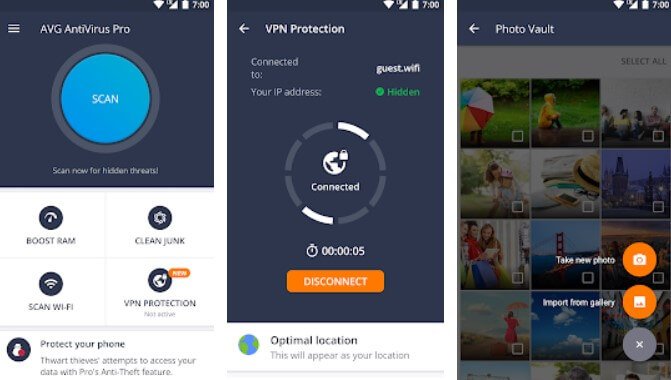 If you have been looking for the best free antivirus for android with proven protection, then AVG will be one of the best security apps for you. AVG is considered the best free antivirus for android as it provides comprehensive protection from all kinds of malware, viruses, data loss, and spyware. It has the ability to check for security threats and detect problems in the settings of your android device. Although the free version has much to offer, the paid version also offers premium features such as SIM locking, app locking, and app backup to keep your device safe and secure. Primary Features Anti-malware, anti-virus, anti-theft, anti-phishing, performance monitor, SMS blocker, safe web surfing, and phone finder Pros
It is packed with lots of free features
It allows for remote SMS commands
It comes with performance and privacy tools
It automatically scans your SMS and other personal data for malicious codes
Cons
It has annoying ads
Not all of its features are free
The SMS blocking feature often conflicts with Google Hangouts
RAM Usage: 128 MB Developer: AVG Mobile [appbox googleplay com.antivirus]
Avast Mobile Security
Avast is another antivirus that is available for both computers and Android devices. The mobile version offers advanced security features that protect your phone from malware, spyware, Trojans, or unwanted calls and texts. You can always start with the free version before upgrading to the paid version. The most interesting feature about Avast Mobile Security is that it performs automatic scans for viruses on memory card content, existing apps and while installing new apps. It supports the firewall features which makes it useful for the rooted users. If you want to enjoy the premium features, then you should consider making monthly or yearly payments to stay protected. Primary features Web shield, backup, app locking, anti-virus, calls and SMS filter, anti-theft, and virus scanner Pros
It has a strong malware protection
Web protection supports most of the popular browsers
It has powerful SMS commands
It comes with a huge set of features that offer privacy and security
Cons
It has a confusing web interface
It has lengthy anti-theft setup
It lacks options for a spy camera
RAM Usage: 103 MB Developer: AVAST Software [appbox googleplay com.avast.android.mobilesecurity]
Malwarebytes Anti-Malware
Malwarebytes is one of the most popular anti-malware technologies that are used on computers. It was also designed as an antivirus app for android and it focuses primarily on destroying any kind of malware, Trojans or spyware in your smartphone. Malwarebytes can easily detect potentially unwanted programs (PUPs) and comes with a built-in privacy that keeps your personal data safe from unauthorized parties. Its application manager gives you access to view permissions of every app on your android device and also determine the apps that are currently running. Malwarebytes can detect any app that is trying to access your personal data or an app that uses malicious coding. Primary features On-demand scans, real-time protection, automatic scans, PUP detection, privacy manager, anti-malware, anti-spyware Pros
It comes with a simple user interface
It has a tool for whitelisting
It has faster scans compared to other security apps
The app manager and privacy scanner are some of its viable features
Cons
It lacks anti-theft and web protection tools
It has low detection scores in the independent lab testing
RAM Usage: 206 MB Developer: Malwarebytes [appbox googleplay org.malwarebytes.antimalware]
Lookout Security & Antivirus
If you are always worried about losing your phone, then you should consider installing the Lookout security and antivirus app from Google Play Store. As the name suggests, this app allows for remotely locating your android device in an event where it is stolen or you happen to lose it along the way. With Lookout Security app, you can easily control your lost device to keep your personal data safe and secure. It also offers virus scanning and continuous protection making it the best antivirus for android. You can also upgrade to the paid version as it offers advanced premium features such as theft alerts and Breach Report. Primary Features Anti-theft, anti-virus, remote control, real-time protection, app scanning, and back up features. Pros
It has a slick user interface that is simple to use
It has a signal flare that locates a device with low battery life
It comes with 2 GB of cloud backups
It has consistent anti-malware detection with high performance
Cons
There are no alerts when the SIM card is changed
RAM Usage: 109 MB Developer: Lookout Mobile Security [appbox googleplay com.lookout]
360 Security – Antivirus Boost
If you have been looking for the best free antivirus for android then 360 Security will be the best pick for you. It offers an all-in-one solution as it comes packed with useful and advanced features that help protect your phone from potential viruses and malicious threats. It is possible to monitor every new APK installation the fact that 360 Security offers you a real-time protection. All you need to do is to configure it with only a single tap. It is a fully featured app that can be downloaded in Google Play Store for free. Also Read: 15 Best Camera Apps for Android Primary Features Memory booster, junk file cleaner, Anti-theft, anti-malware, app manager, privacy & App lock, and virus scanner Pros
It has SIM alerts and allows for call blocking
It provides solid malware detection in the independent tests
It has an improved and simplified interface
It offers real-time protection
It performs quicker virus scans compared to other security apps
Cons
It lacks remote anti-theft SMS commands
There are missing backup tools
Non-functioning features have several kludged patches
It has missing backup tools
RAM Usage: 208 MB Developer: Qihoo 360 [appbox googleplay com.qihoo.security]
TrustGo Antivirus & Mobile Security
TrustGo is a popular security app that provides ample mobile security and protection from adware, spyware, and viruses. It has also received a high rating on Google Play Store as it brings unique features that are much better than most antivirus apps. TrustGo allows you to safely browse the internet without having to worry about any malicious links or websites. Its regular scans for malware are pretty fast and can detect infected files and apps within a few seconds. The cool candid camera thief ID is probably the most interesting feature about this security app as it can take photos of people who try to unlock your private files. Primary Features Secure web browsing, security scanner, device & data protection, privacy guard, secure app search, and backup features Pros
It is simple to use and the interface is easy to navigate
It allows for data backup for personal files
It offers a top-tier malware protection
It can remotely engage and cancel the anti-theft features
Cons
There are no SIM card alerts
It comes with a poorly implemented anti-theft lock screen
RAM Usage: 96 MB Developer: TrustGo Inc. [appbox googleplay com.trustgo.mobile.security]
ESET Mobile Security and Antivirus
ESET is also a popular brand behind the NOD32 Antivirus used on Window PCs. It is quite fortunate that they also made an incredible antivirus app for Android devices. The ESET Mobile Security and Antivirus boast a 99.7 % rate of virus detection. It comes in both free and paid versions. It is always advisable to start with the free version if you want to gain a user experience on ESET Mobile Security. However, the paid version comes with premium features such as SMS and call blocking, mobile security education, and phone finder. ESET mobile security gives you free access to the premium features for the first 30 days. Primary Features Automatic scans, on-demand scans, anti-virus, and mobile security Pros
It has a clean and intuitive design
It protects your device against privacy intrusion
It allows remote control through SMS commands
It comes with a secure lock screen
It has excellent malware detection compared to other security apps
Cons
There is no web portal for anti-theft features
The SMS blocking feature is non-functional on some devices or configurations
RAM Usage: 104 MB Developer: ESET Mobile Security [appbox googleplay com.eset.ems2.gp]
Norton Security and Antivirus
This is one of the best antivirus for android, Norton Security app has been around for a long time as it saw the advancement in technology on Android devices over the past years. It is an all-in-one security app which means that it can lock the stolen device remotely and comes packed with other features such as a virus scanner and removal. It has the ability to protect your device from privacy intrusion, spyware, malware, theft, viruses, and unauthorized use. It has similar features to the Lookout Security and Antivirus app since it can locate a stolen Android device and even lock the phone remotely after several failed unlock attempts. Primary Features Remote alarm & lock, virus scanner, Anti-theft, sync contacts, call & text blocking Pros
It has an excellent phishing protection
It allows for call blocking and SMS filtering
It has an outstanding malware protection in the independent lab tests
The privacy warnings have been integrated into Google play
It has a full slate of anti-theft tools which include SMS commands
Cons
It doesn't automatically screen unknown contacts
It has a limited backup tool
RAM Usage: 162 MB Developer: NortonMobile [appbox googleplay com.symantec.mobilesecurity]
McAfee Antivirus & Security
McAfee is another best android antivirus that offers active protection to all Android devices. It boasts the TM technology that scans for malicious codes in download folders, SD card, and personal files. It also comes with many other features that work round the clock to provide security and keep your device safe from potential threats. If you don't want any calls or SMS from contacts that are not allowed on your list, then McAfee will be of help as it blocks all calls and messages as authorized by the user. The 14-day trial version allows you to preview a few features about McAfee before purchasing the full version. Primary Features TM technology, call blocker & SMS filter, app lock, anti-virus, anti-theft, and safe mobile web surfing Pros
It has a strong backup and restores features
It allows for phone tracking in case your smartphone is lost or stolen
It has SIM card alerts
The premium version allows for safe web browsing
Cons
It has little anti-theft tools
It lacks malware scanning and protection
RAM Usage: 148 MB Developer: McAfee LLC [appbox googleplay com.wsandroid.suite]
DFNDR Antivirus
DFNDR looks great on Android devices and comes with many free useful features. It is one of the best android antivirus apps that focus on speed, security, and performance. A prominent feature of DFNDR antivirus is the possibility of tracking your phone remotely. If you want to catch someone who has been spying on you all the time, you might consider this antivirus app as it comes with the Intruder Selfie feature that takes a picture of the unauthorized user. The paid version removes the annoying ads of the free version and has more unique features for protection and privacy. Primary Features Cleaning cache and junk files, antivirus, RAM booster, remote tracking, Intruder selfie, Energy menu deactivation, and battery charge optimization Pros
It prevents your device from discharging when locked
It takes snapshots of intruders
It has the possibility of tracking your phone remotely
It allows for battery optimization
It has an improved performance when compared to other security apps
It speeds up your phone by cleaning up the cache and junk files
Cons
The free version contains many ads
It has an inconsistent malware protection
RAM Usage: 101 MB Developer: PSafe [appbox googleplay com.psafe.msuite]
Avira Antivirus Security
Avira Antivirus app for Android focuses on protecting the privacy and personal data of an android user. It also allows for tracking a lost or stolen phone while preventing access to text messages, e-mails, and photos. Avira offers a comprehensive solution when it comes to safeguarding the privacy of users. The advanced virus scanner is not something to be overlooked as it can detect different types of malware, viruses, and spyware. The settings that come with premium features can be configured for protection against privacy instruction and theft. Avira Security is one of the best Android Antivirus for those who want an all-around protection against malicious sites and other potential threats. Primary Features App locking, app tracking, virus scanner, call blocker, and SMS filter Pros
It has excellent scores from the independent testing labs
It offers great malware protection
It gives you extended options for installing other Avira products
It allows blocking of calls and filtering SMS
You can easily lock your apps from unauthorized access
Cons
It has a slow on-demand scan
RAM Usage: 71 MB Developer: AVIRA [appbox googleplay com.avira.android]
Go Security
Go Security is another great selection of the Go apps. People who have been using Android smartphones for a long time are probably familiar with the Go Keyboard. The Go Dev Team have done their best to come up with the Go Security as it offers the best protection from malware, viruses, and invasion of your privacy. According to the developers, Go Security app is much faster than other antivirus apps when it comes to detecting new viruses. This makes it one of the leading virus detection engines on the list bearing in mind that privacy and security are the most essential factors to consider when using an android device. Primary Features Fast virus detection, real-time protection, junk cleaner, app lock, and privacy cleaner Pros
It has a clean and simple user interface
It supports quick and deep scanning modes
It provides you with options to hide bookmarked URLs
The real-time protection feature blocks the installation of apps infected with virus and malware
It allows for battery optimization
Cons
It has a complex procedure for anti-theft setup
The free version contains annoying ads
RAM Usage: 112 MB Developer: Go Dev Team [appbox googleplay com.jb.security]
Conclusion
Choosing the best antivirus for android should not be a difficult task for you since most of them offer unique features that guarantee enough security and privacy. It is also advisable to download these apps from the Google PlayStore to avoid installing infected apps from unknown sources which claim to work better than other antiviruses. Even if you don't download apps and other media files very often, accessing plenty of sites may direct you to unsecure web pages. It is important to download the best android antivirus if you want to keep your Android device safe from malware and other viruses that can be downloaded from malicious websites. Also Read: 10 Best Volume Boosters For Android Images Source: Google Play Store, All rights and reserves are associated with original uploaders.