See The World On Your iPhone With Live Cams (Review)
There are an unbelievable number of free, live public webcams on the Internet.  They all have different interfaces, require different browser plugins, and some are just difficult to use.  What if I told you that you could access them all, quite easily, from a simple single interface on your iPhone or iPod Touch.  And, in many cases, control them. That's where Barry Egerter's Live Cams comes in.
Review
Developed by Barry Egerter, Live Cams 2.31 is an app that allows you to browse public webcams by category, for example "Beaches and Bikinis", "Animals", "Italy", "Harbors and Waterfront", "Indoor", "Landscape", "Ski Resorts", "Traffic", etc.  In addition, you can add your own webcam to the list, and support of cameras is extensive (see screen shots below for the full list, as well as the full list of categories).
Once you select a category, you see a scrollable screen of thumbnails of each webcam, 6 per screen.  These also are updated live, so you can essentially be a voyeur at 6 places at once!  If a camera is offline, you'll just see color bars.  Once you click a webcam thumbnail, you're instantly transported to the full view of the webcam.  Average frame rate is just a few frames per second; some cams are better than others.  If a webcam is flagged with "PTZ" then you have the ability to Pan, Tilt, and Zoom that camera.  Some even allow you full 360 degree turns!  There's no audio from any of these sources, so that adds a nice element of imagination to the app.
Clicking the "Control Camera" button will either give you immediate PTZ control of the camera, or if someone else is using it, it may take a few minutes before your turn is up, in which case you'll see the button change to "Waiting…".  Once you have control of the camera, the interface adds three sliders.  The top horizontal slider gives you pan control (left and right movement), while the vertical slider on the left gives you zoom control (forward and back), and the vertical tilt slider on the right gives you tilt control (up and down movement).  Finally, there's an (i) Info icon on the bottom of the screen.  Tap that and you get more options, such as being able to control the backlight, and (if available) the ability to switch to a different camera position.
This app is rated 12+ for "infrequent/mild sexual content or nudity".  I guess if we could just get those giant elephants to put on some boxers, this warning could be removed!  Also, the app is only 200k (very small) and all streams are live, not recorded.
Problems
The app is well developed, but every now and then it will crash on you.  It's designed to work only on WiFi (gee thanks, AT&T!) which sucks and I don't quite understand why this rule applies to the Live Cams app, because the video is highly compressed, small, contains no audio, and has a very low frame rate.  I can easily blow through more AT&T bandwidth by downloading a 200MB episode of my MOTORZ TV show (please watch and subscribe!) through the iTunes store over 3G, which is allowed.  Double standards, and a shame for iPhone app devs.
Recommendation
This is one of the most intriguing and imaginative apps I've seen yet for the iPhone.   I'm not a voyeur, but I can see how this app would be popular for those who are.  I had a good time showing the animals to my kids–they kept trying to wake the pig by yelling at my iPhone.  Being able to easily switch from one cam to another, or hitting the "Random" button to see something completely new, was a lot of fun.  You can travel the world with the tap of the screen, from Poland, to Italy, Greece, and beyond.  An amazing little app for $1.99 in the iTunes Store.  I highly recommend it for anyone who loves to travel the world via a 3.5″ screen.
Videos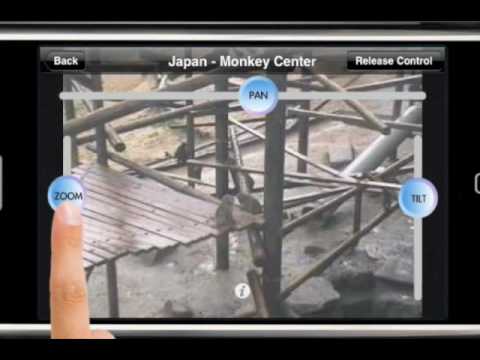 Photos
Please post your comments, tips, and your own reviews below in the comments area!
Filed:
Featured
•
iPhone
•
Travel