Need for Speed: Shift Review for iPhone and iPod Touch
EA Mobile has done it again! Just released in time for Christmas, EA has just given you the keys to some of the priciest performance cars in their latest game, Need for Speed: Shift for iPhone and iPod Touch. It's time for you to put on that helmet and racing gloves cause now's your chance to prove to the racing world that you've got what it takes to rule the streets!
Review
Need for Speed: Shift is a realistic 3D racing game focused on a single-player, 28-stage Career mode. You begin your career by only having enough money in your pocket to buy a basic car from the start. You will first compete along the streets of Chicago, then London and finally working your way to drifting in Tokyo. With every event you compete in, you will accrue experience points in specific event performance categories which go towards unlocking additional events.
You are free to try your hand at different events, as the game does not lock you into continuing from one event to the next. Although you gain experience points for competing, your precision and aggressiveness are ultimately what shapes your driver's profile. You are not expected to win every race to advance, but you do need to strive in earning enough stars to unlock the next stage. So if you're not great at drifting and only earn a single star in the London drift event, then perhaps you can make up the difference with an impressive showing on a time trial run at another stage.
As a reward for good performance, you can take your hard-earned cash winnings and upgrade your vehicle's top speed, acceleration, suspension, tires, and the almighty nitrous. A word of caution, don't spend it all on upgrades! You should save some money to buy a better car. Blowing it all on upgrades for your current vehicle may get you across the finish line, but it also may just leave you with not enough cash to buy a more powerful ride that you will need for later stages. So save up; there are 20 cars to choose from!
Need for Speed Shift's controls rely heavily on the device's accelerometer. Tilt steering is incredibly accurate and provides exact precision which you need as you negotiate tight turns and make tough passes. It has multiple control settings that toggle assists for brakes, transmission and a very useful racing line that shows you the fastest route through a track. There are four driving views; chase-cam, hood-cam, bumper-cam, and cockpit. As for me, I actually preferred the hood-cam so I could easily line up my car against the racing arrows.
No detail has been spared in the game's design. You will find yourself completely immersed in the game, as you stare at the eye candy provided for you with EA's clever use of 3D graphics with OpenGL ES 2.0 integration. The combination of the game noises from the car's powerful engine revving up, switching gears to the tires screeching as you maneuver through tight turns, you can't help but feel in total sync with the game. To make the game more fun than it already is, there is also an option to listen to your iPod collection as you work your way towards world racing domination. I would've loved to feel the vibration of the device, much like an XBox 360 controller, as make your turns or shift gears. Vibration would be a cool feature, however I'm sure it would play havoc with your battery life. That's just me with my wishful thinking and an endless battery supply.
Multiplayer is available, although a limited one at that. There are multiple race events to play over local Wi-Fi or Bluetooth connectivity, but playing online is missing from this version. Perhaps, internet play along with leaderboard scores will be made available with an upcoming update.
Recommendation
Need for Speed: Shift for iPhone and iPod Touch is by far, the best racing game I've ever had the privilege to review. I guess good things do come to those who wait! It has everything one could wish for in a racing game. A visual stunner with responsive controls to boot! I wouldn't mind paying the regular price of $9.99, but as a holiday treat from EA and for a limited time only, Need for Speed: Shift can be purchased for only $6.99 at the iTunes App Store. Folks, don't let this one pass you by. Literally!
Check out Need For Speed: Shift's gameplay on the video below.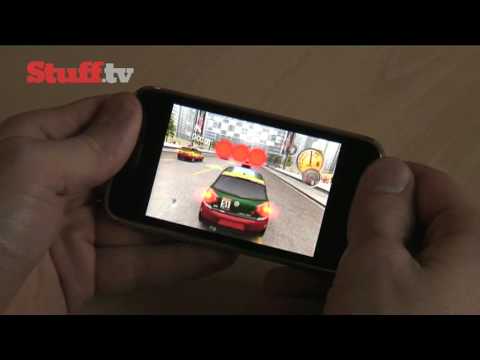 Photos
Note: A promotional code was provided by the creator for use in this article.
Please post your comments, tips, and your own reviews below in the comments area!
Filed:
Games
•
iPhone
•
Reviews