PicsPlay Pro for iPhone & iPad
With PicsPlay – Photo Editor, now everyone can take photos that could be considered professionally done. Lauded by 'Forbes' as one of the most ingenious and the best Photo applications for Android Tablets and iOS devices, this app makes your travelling memories a joy to look at. PicsPlay – Photo Editor has 200 filters and more editing features than you can imagine. This allows you to capture life's precious moments and express them as beautifully as you would have wanted to. With just a few taps of your device's screen, you can edit and make your Photos look like the work of a highly qualified professional.
Special features
You can take and load photos immediately- You can reset, Undo, and even Redo your work- You have the capability to compare with original photos- You can edit full resolution pictures- You can zoom in while editing- You have a host of environmental settings- You can straighten, crop and rotate photos- EXHIF Data is available
The super camera has flash control that with torch mode, multi-touch control with focus and exposure, Geo-tag, 6x digital zoom, anti-shake, front camera reverse, a self timer among many other features.
When it comes to filters, you have 200 in 10 themes. What this means is that, among other functions, you can your very own unique effect from combining different filters. You can also control filter opacity and use supported masking tools to draw a mask on any of the available 200 filters.
You have three types of blur effects available to you: radial, oval and linear. With the live tilt and shift, you can control watch your effect take place as you control the blur area. All this can be done simultaneously.
The PicPlay – Photo Editor comes with very powerful editing tools that are very well suited for both professionals as well as beginners. You can control the contrast and brightness of your exposure, the hue, vibrance and saturation of the color and so much more.
As far as photo decoration is concerned, you have a myriad of options. Which includes: Texts – over 200 fonts available, 24 labels, 14 styles, 80 colors and patterns, hundreds of stamps, numerous textures ranging from vintage to blending, many painting options and several border styles.
Since social media has become the center of our life styles nowadays, with this app you can directly upload your photos to Facebook, Instagram, Flickr, Twitter and so on. This app is free and requires iOS 5.0 or later versions. It is compatible with iPad, iPhone, and iPod touch. It is optimized for iPhone 5 and the latest version, 2.6 is optimized for iOS 7 and has a much more improved user interface.
Recommendation
The word around photography circles is that this is by far the best Photo editing app there is. Try it out and see for yourself, what do you have to lose?
YouTube Video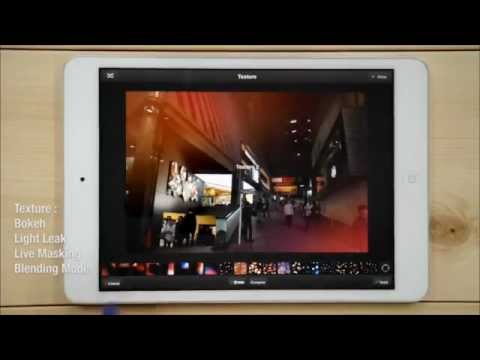 QR Code
Screenshots
Filed:
iPad
•
iPhone
•
Photography
•
Reviews