Shark Attack 2 for iPhone, iPad and iPod Touch
There are some games that gain attraction of players from even the title! Angry Birds, Fruit Ninja and some other popular games are no exception here. Shark Attack 2 is such a nice game that takes tap to shoot gaming into heights.
Review
Are you a fan of Plants Vs Zombies game? If so, Shark Attack is never going to bore you! Shark Attack 2 is developed by Kamleon Games for the iPhone, iPad and the iPod Touch. As I said above, this game turned my attention from starting the app name. Of course, the game promises what it shows in the icon and the screenshots. It offers a very addictive gameplay along with colorful animations and graphics.
Shark Attack is not high-end graphical action pack, but with a simple gameplay this game can definitely your favorite. The ultimate objective of the game is protecting your down-water territory from the attacks of big sharks by placing shells and fish on the opposition. The controls are very simple and intuitive where the shooting progresses automatically, but your exact placement of fish makes it easiest to complete the levels.
 Shark Attack 2 has various worlds with large number of levels to play. You have to unlock each world to reveal the next. You can collect pearls from the oysters and flowing water to increase the counts. Once you choose the fish, you can place it inside the water against the waves of opponents. You have some special powerful powers to vanish the entire wave of enemies such as a Tsunami wave, a thunder storm, crabs and bigger fish.
You can watch out the enemy waves progress from the progress bar below the screen. The game has in-app purchases to buy the special powers if you have not enough crystals in account.
Recommendation
Shark Attack 2 is a great game if you are a slow moving game that takes the toughness on deeper levels. The game is enriched with quality graphics and sounds to make any gamer addicted to it. You can download the game from the Apple App Store for $0.99. It is universally available for the iPhone, iPad and iPod Touch.
QR Code
YouTube Video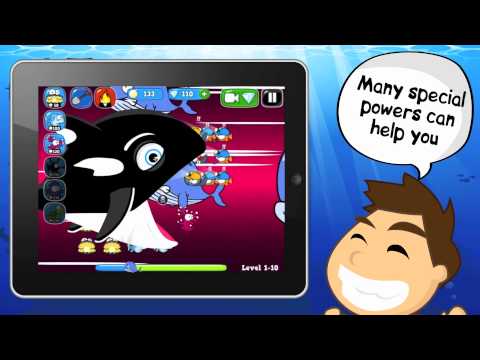 Screenshots
Filed:
Games
•
iPad
•
iPhone
•
Reviews