Process Credit Cards with iSwipe for iPhone
Available for both the Apple iPhone and iPod Touch, iSwipe is a  virtual terminal app which allows you to process all major credit cards right on the go from PayPal, Authorize.net, and Cybersource.
Review
Developed by AppNinjas LLC, iSwipe is one of those handy credit card processing utilities that you wish you could always have in your pocket.  There are a few of them in the App Store, but iSwipe has great reviews, supports multiple payment gateways, and has a lower cost, so we decided to give it a spin to process a few pending charges we had from Appmodo advertisers (if interested, please contact us! [shameless plug]).
What's great about this app is that it works for multiple payment gateways.  If you have an existing gateway, chances are iSwipe already supports it, and for the cost of this app you could be on your way in minutes.  It supports PayPal Website Payments Pro (and PayPal Virtual Terminal… we'll get to that in a sec), Authorize.net, and Cybersource.
It is a very simple app, with very few bells and whistles, which we like because when it comes to charging a credit card on the go, the last thing you want to do is to be messing with an app with too many options and a bad user interface.  You simply enter the credit card information (card number, expiration month/year, CVV, email address, dollar amount, first & last name, and billing address).  Once you've double-checked everything, click the Process button and within a few seconds it's done!  It just couldn't be more simple.  You can then check your account (in our case, PayPal), and immediately see the charge logged, and the money in your account.
With the upcoming iPhone 3.0 operating system, it makes it easier to copy and paste credit card numbers out of other applications and into iSwipe.  We spoke briefly with AppNinjas, and they confirmed that it is compatible with the new iPhone 3.0 update due out next week.
Now just don't go thinking that you can get this app for 20 bucks and start charging credit cards.  You first have to have a payment gateway setup (which I mentioned before). Your monthly charge and per-transaction fees will vary depending on which payment gateway you choose.  We were previously using PayPal's Virtual Terminal for processing credit cards.  The fees for PayPal's Virtual Terminal are $30 per month, plus 3.1% and $0.30 per transaction.
So, for a $100 charge, you're giving PayPal $3.40 for the convenience of credit cards.  This really isn't very different from what other payment gateways and banks charge you.  However, you can't just use PayPal's Virtual Terminal for iSwipe.  If you're using PayPal as your payment gateway, you have to 'upgrade' to PayPal's Website Payments Pro.  This is the same monthly rate ($30) and includes Virtual Terminal, so you aren't paying double.  Here's the kicker… since you have to do this, the rates are actually better!  Instead of paying 3.1% per transaction, it's 2.9%.  So in the previous example, you're only giving $3.20 to them.  As you can see, with larger credit card charges, this could add up substantially.
In order to properly configure the iSwipe app to work with PayPal, there's a bit of a setup process.  This isn't iSwipe's fault, so don't hate.  You have to login to your PayPal account, request an "API signature" which generates a username, password, and signature that all needs to be entered into the iSwipe app on your iPhone.  This information is lengthy, and basically impossible to perform this step without copy and paste.  Thankfully the good people at AppNinjas came up with a solution called WebFill.  During setup of the app on your iPhone it will give you a code that you enter at their website.  After you copy and paste the information from PayPal into that form (doing all this on your desktiop computer, of course), then you press another button on your iPhone and you're good to go!  Then enter your credit card information and charge away!
Suggestions for the developer: Have the fields auto-advance as you populate them, and try to make the text within those fields slightly larger.  I understand that the keyboard takes up half the screen, but there must be some UI tricks to make it easier to read.  Also, once iPhone 3.0 comes out with the ability to develop for the 30-pin connection, add support for card readers.  With PayPal, I can print receipts, download data, etc. so that isn't an issue for me, but perhaps this is for other payment gateways.  I can see being on the road with my iPhone 3GS and a card reader to scan cards–the next obvious step would be to print out a receipt (or email a receipt like the Apple store does) for the customer.  This is a great "1.0" version of a mobile credit card processing app, and I can't wait to see what the future holds.
Support
When it comes to using a mission-critical application such as this, technical support means a lot.  If you can't charge a card, you can't make money, so what's the point right? When I initially attempted to configure iSwipe using their WebFill process, their step-by-step instructions had a few errors due to PayPal's recent website changes.  I contacted their support team and it was quickly resolved within a few hours, and they even updated their web page to reflect the recent changes at paypal.com.  So know that when you get stuck, help is not far away.
Recommendation
Perfect for small business owners, iSwipe is an incredibly simple iPhone and iPod Touch application for processing credit card charges on the go, or while at your desk.  Never miss or delay a sale because you aren't in front of your computer.  The support is top-notch, and it's a breeze to set up.  Currently available for $19.99 in the Apple iTunes App Store, and they even offer a Global Credit Card Terminal at $9.99 for processing International payments.
Photos
Videos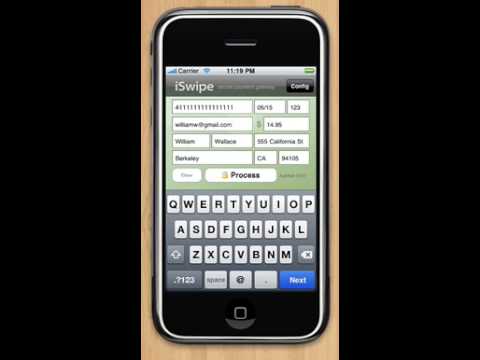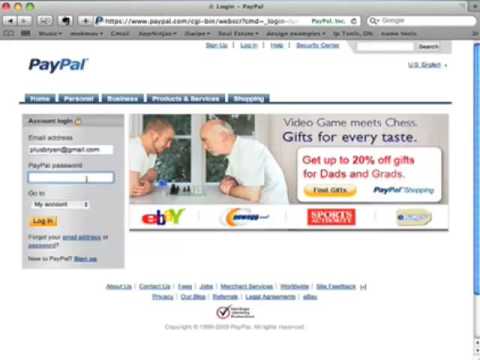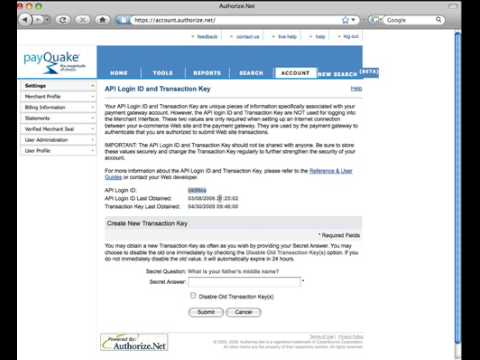 Please post your comments, tips, and your own reviews below in the comments area!
Filed:
Featured
•
iPhone
•
Utilities