ProPrompter Teleprompter Review for iPhone and iPod Touch
Looking for a quick, easy, and inexpensive teleprompter solution for your next video?  All it takes is an iPhone or iPod touch, a $130 accessory, and the ProPrompter App from Bodelin, Inc. for $9.99.
Background
Not too long after the iPhone came out, I saw a few apps in the AppStore that allowed you to scroll text on the screen.  It was just a short one-line message — kind of useless really, but might be fun at a movie theater or while in class, to harass a friend.  The creation of this App gave me an idea, though.  Why not create an App that functioned as a full-on teleprompter!  I fired off a few emails to the authors of the existing scrolly-Apps asking them to turn their silly project into something more useful–something that a videographer could use.  Not one of them responded, so I just waited patiently until someone else finally caught the idea and developed it.
It wasn't very long until the first real teleprompter App appeared in the AppStore.  But it wasn't very impressive. Then another. Again, not really hitting the mark.  Finally Bodelin, Inc. launched ProPrompter, along with a small piece of hardware to support it, and blew the others out of the water.
I immediately purchased both the software and the hardware for my company, Duke Networks, LLC — which in addition to publishing Appmodo, also produces a half-hour television called MOTORZ TV.  It is a DIY automotive show that for two seasons has been online, on iTunes, TiVo, YouTube, and about 40 different video sharing sites.  In January 2010 the third season of the show will be on cable TV to the tune of 18 million homes.
In addition to being the Editorial Director of Appmodo, I am the Host and Executive Producer of MOTORZ TV, and I operate it on a very tight budget. Affordable products that make great use of technology are key to my business, and the ProPrompter solution is no exception.
Jason, who is my videographer and seen in these photos holding the camera, runs Appmodo for me as the Editor in charge. On a side note, the Canon HG10 camcorder seen in the photos has been replaced by a much larger prosumer HDV camcorder.  Even with a full-on pro camera, the ProPrompter fits the bill.
My apologies for all the background here, but I wanted to point out how relevant this App is for my company, Duke Networks.  With Appmodo, MOTORZ TV, and the ProPrompter from Bodelin, a full circle is completed.  Now isn't that special?
Review
For us, working on the set of MOTORZ TV, it is a long time coming.  We don't always use a teleprompter solution, especially during the actual installs we shoot, but when we do it comes in extremely handy.  As we dive further into broadcast television distribution, having a scripted show is even more important due to FCC regulations which mandate that all television shows broadcast in the U.S. be closed captioned (CC).  Having a script already done ahead of time, where possible, saves a ton of time in post production.
The ProPrompter is great for individual filmmakers, or those working on a school project.  It's even great for small to mid-sized production companies like my own.  Try pricing a real traditional teleprompter–you can easily spend several thousands on hardware.  And if you really want to go all out, you can hire another warm body to be on your set who operates it.  I have to admit, prior to using ProPrompter, we got by with a white board and some dry erase markers.  Now that's low budget!
To edit your scripts, you can author them on your computer and then upload them to Bodelin's website. Their service, called the ProPrompter Producer is a free and very easy to use web service to manage your scripts.  Once you're done with your script, just upload it to their website then return to your ProPrompter iPhone App and press the sync button.  But let's say you don't want to have to keep running to your computer, uploading and syncing every time because you want to make a script change on the spot.  No problemo, Mr. Bruckheimer!  You can edit and save right on the App, in addition to creating new scripts right on the App.
Getting your script on your iPhone and managing it is easy, but how about usability?  Unlike other similar Apps, ProPrompter displays your script full screen on the iPhone with buttery-smooth scrolling.  Settings allow you to control a countdown, manage the orientation (portrait, landscape, or auto), mirror the text, loop the script, change the scroll speed, and change a ton of text display settings including font type / size / color, as well as the background color and more.  They really did think of everything here, folks.  It is really impressive.
Once your talent is ready, just tap the script in the list and after the countdown the script starts to scroll.  If you would like to pause the scrolling, just tap the screen.  You can control the scrolling speed by swiping up to increase, down to decrease.  You can also place asterisks in your script so when you swipe left or right you will navigate to the those cue points in your script.  Need to re-do the take?  Just swipe to the left until you return to the beginning. It's so simple a caveman could do it.
Hardware
Not only did Bodelin create the best teleprompter App for the iPhone & iPod Touch, but they took it a step further by creating the ProPrompter Wing, a lightweight aluminum arm that includes a device clip for your iThingy.  It also supports PocketPC. It easily connects to the tripod mount on any camcorder (or DSLR camera) and is adjustable for the horizontal placement of your iPhone.  It grips the phone nice and tight and we have never had a problem with it falling out.  It is well manufactured.
If you invest in the Wing, and I highly recommend you do, it's only $129.  I'm not quite sure how you'd manage without it, short of using some duct tape and rubber bands McGyver-style.
On a related note, Bodelin also manufactures another product that works with the ProPrompter App. It magnifies your iPhone's display by 2X for an even easier way for your talent to read the teleprompter.  It's called the ProPrompter ProMag and also looks to be a solid product (I hope to be able to review that soon as well!)
Recommendation
The ProPrompter teleprompter solution is something we now rely on every time we step foot on the set.  The scrolling is buttery smooth, and the settings for scrolling, colors, fonts, etc. allows us to tweak it perfectly to our needs. The ability to work on the script on a computer, upload it to the ProPrompter Producer website and edit right on the App is incredible work-flow, especially when at remote locations. I highly recommend it for anyone looking for a teleprompter solution whether you are an individual working on a small project or a large-sized production company who needs an easy, low-cost teleprompter solution.
I have personally recommended it to my colleagues who also produce video content.  I have even gone so far as recommending it and making it a part of my presentation at speaking engagements. I literally fire up the App while I'm speaking, load a script and show the attendees the scrolling script while I discuss affordable teleprompter solutions. I simply can't recommend it enough!
Tips
If you're using an iPhone, you may want to put your phone into "Airplane Mode" to disable any calls or text/push messages that may interrupt your script.  Or buy a separate (bottom of the line) iPod Touch just for this purpose.  It will still be cheaper than other teleprompter solutions.
Don't be afraid to increase the font size of your text and adjust the scroll speed to compensate.
The settings we use for MOTORZ TV are: Arial-BoldMT, font size 60, black text on white background color, with a scroll speed of 4.
If you adjust the scroll speed (up or down swipe gestures) while the script is playing, it resets to the configured Scroll Speed in Settings once you exit.
Demonstration Videos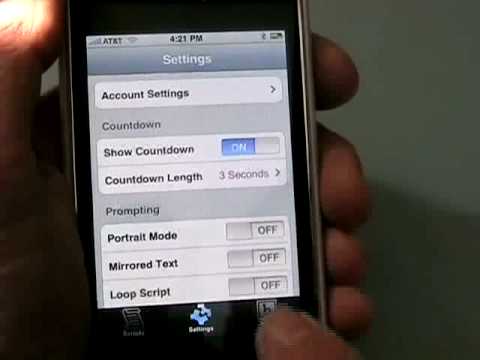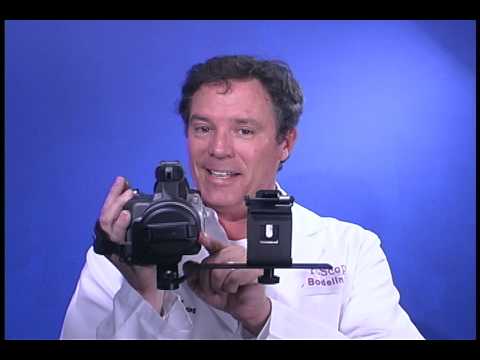 Photos
Note: A promotional code was provided by the creator for use in this article.
Please post your comments, tips, and your own reviews below in the comments area!
Filed:
Hardware
•
iPhone
•
Productivity