Cannibal Cookout review for iPhone, iPod Touch and iPad
Did you ever think that you'd be helping a witch become the best chef in all of the land?  That's exactly the objective when playing Cannibal Cookout.  The graphics are superb as well as its concept and will keep you playing until you've accomplished every recipe.
Review
This iPad and iPhone App will have you trying to accomplish all of the tasks to create as many recipes as possible.  The overall goal is to cook as many Nibblers and as quickly as possible.  This can be difficult with local police, birds, ghosts, and ninjas that are trying to save them.  It's a very action packed game that will keep you playing until all levels are accomplished.
The game itself has fantastic graphics and makes it very easy to see the different characters.  The yellow Nibblers need to follow a process before being cooked.  The bubbling pot in the middle is always set to boil along with the barrier of bones for protection.  The Nibblers that are casually walking around will need to be dragged to a cleaning log and once they're ready; they will begin to fall.  You must drag them into the pot before they hit the ground to achieve ingredients.
Each Nibbler will throw out different ingredients and each one must be clicked on in order to use.  Make sure to tap on them before they disappear; you'll be using them later in the game.  Also, be aware of floating body parts from the cooking Nibblers; these will be needed as well.  But, the blue police that shoot guns will appear on the sides and they must be thrown up in the air in order to kill.  Sometimes they die on the first slide and sometimes they need a few extra throws, but killing them is a must when trying to cook the Nibblers.
You'll see flying birds trying to blow up your barriers or steal the cooking Nibblers; you can click on them to throw stones and shoot them dead.  Luckily, Elvira the Witch isn't picky; so make sure to throw the dead birds into the pot as well.  After each Nibbler has been cooked to perfection; their source will travel upwards to the "Hunger Meter" until the witch is full which will complete the level.
There is a lot of dragging, tapping, and sliding during this game with the variety of characters to play with.  This is why it can be very addicting.  I found that the graphics were perfect with the different colors to identify enemies and Nibblers.  This is convenient in preventing any blurry obstacles during play.
Once you've collected a few different ingredients; you can add them to the overall Elvira Recipe collection.  With each accomplished recipe; she is that much closer to becoming Head Chef.  There are weapons for enemies, stoves, barriers, ingredients and more that can also be purchased from the shop to help.  I have yet been able to put it down!
Recommendation
For those that enjoy strategy play; then Cannibal Cookout is definitely for you.  It almost gives the sense of being overwhelmed with the different things that have to be accomplished on each level.  By the end of it; I am huffing and puffing from excitement and curious at how well I've done.  If that's the type of excitement that you're looking for; then you'll be doing the same thing once you download this game from the app store.
YouTube Video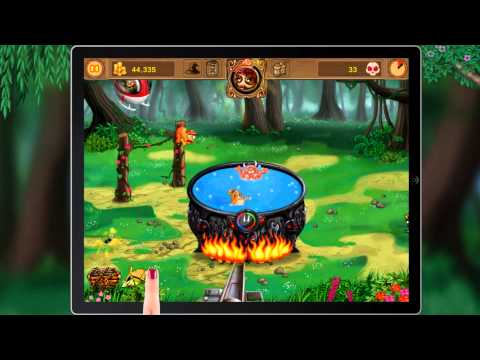 QR Code
Photos
Filed:
Featured
•
Free Apps
•
Games
•
iPad
•
iPhone
•
Reviews