APPMODO GIVEAWAY: AViiQ: Portable Quick Stand (WINNER)
APPMODO will be giving away an AViiQ: Portable Quick Stand to one lucky winner! Unlike other laptop stands which are big, bulky and stationary, the AViiQ portable quick stand is designed to fit the mobile lifestyle. Take it on the go and enjoy the benefits of a laptop stand, anywhere. Make sure to leave a comment below to enter this giveaway!
AViiQ: Portable Quick Stand
Origami inspired laptop stand combining sleek foldable design and amazing portability
Provides optimal ergonomic angle to reduce strain on your wrist
Improves air flow to dissipate laptop heat and extend battery life for laptops up to 17-inches
Folds down to 3/8" of an inch for easy storage and weighs less than 3.5 ounces
German-made Hylite patented material provides durability, flexibility and weightlessness
Available in Onyx Black, Cadet Gray, Chartreuse Green, Cerulean Blue and Magenta
Available at: aviiq.com
Price: $39.99
Website: www.aviiq.com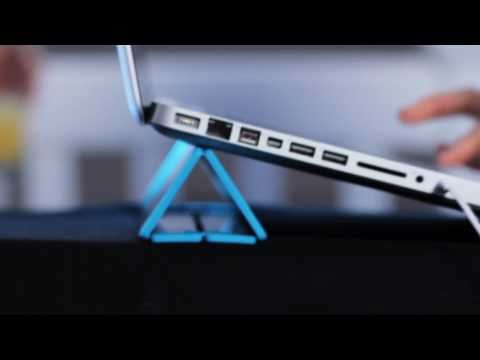 HOW TO PARTICIPATE:
The contest begins April 4, 2012 at 12:00AM PST and ENDS April 10, 2012 at 11:59PM PST. WINNER will be announced on April 11. Contest is open to U.S. Residents only.
Simply re-tweet this particular giveaway on Twitter and/or Like it to your Facebook account (located at top of article). THEN YOU MUST…
Post a comment below stating why you would love to win the AViiQ: Portable Quick Stand.
When you post your comment please be sure to include your Twitter @username or Facebook name (whatever you used) AND provide an email address so we can verify your submission!
Good luck!
Special thanks to AViiQ and the Max Borges Agency for helping us with this giveaway.
UPDATE
April 11: The winner of the AViiQ: Portable Quick Stand is – Mike
Thanks to all who participated and be sure to keep an eye out for more of our weekly giveaways!
Filed:
Accessories
•
Featured
•
Free Apps
•
Giveaway
•
Hardware
•
Mac