YouTube video sensation 'Baby Monkey' now an iPhone game
If you are one of the 9 million people who have viewed Parry Gripp's catchy "Baby Monkey (Going Backwards on a Pig)" YouTube video, then you'll be happy to hear that Kihon Games and Parry Gripp have adapted his popular video into an all-ages friendly game for the iPhone, iPad and iPod Touch. Announcement, game details and YouTube video appear below:
Quite possibly the first casual game based on a YouTube video, "Baby Monkey (Going Backwards on a Pig)," from musician Parry Gripp, has been adapted as an iPhone, iPad and iPod game by Kihon Games (www.kihongames.com). "Baby Monkey" is priced at $0.99 and can be found on the iTunes store.
Just as in the YouTube video with nearly 9 million views, in "Baby Monkey," the player is a precarious baby monkey attempting to take the ride of his life, while the grumpy pig charges through obstacles in an attempt to buck the monkey off. The carefree monkey jumps to avoid obstacles and reach for bananas for points and power-ups, and pulls the pig's tail to make the pig jump over pits and cliffs.
"When we first saw Parry's catchy, hilarious video, we knew immediately that this could be a fun, fantastic game to share with your family and friends. And who doesn't want to be a baby monkey riding on a pig?" said Mark Grossnickle, Co-Founder and CEO, Kihon Games. "We're very excited to collaborate with a talent like Parry Gripp and look forward to creating more viral games that users will love just as much as 'Baby Monkey.'"
Using a two-button system that is easy for all ages, "Baby Monkey" offers a variety of features, including:
- Dynamically created areas that ensure each play session is unique
- Tons of entertaining obstacles including: Nom Nom Hamsters, Toxic Waste, and even a Space Unicorn
- Original Music by Parry Gripp!
- Challenge your friends with the Game Center Leaderboard!
- Earn Achievements for collecting bananas, points, and reaching new areas
- Speed and difficulty increases with time to take this fast-paced survival game to a thrilling new level
- In-game tutorial makes it easy and entertaining for all ages
- iCade Support!
- Easy to play, hard to master, addicting as Swedish Fish
"The world of YouTube has created so many fascinating opportunities for many people, and collaborating with Kihon Games to make my 'Baby Monkey' song an iPhone game has been one such entertaining and synchronistic opportunity," said Parry Grip, musician. "I'm thrilled to see all of the ways that YouTube is inspiring people and new experiences like my 'Baby Monkey' game."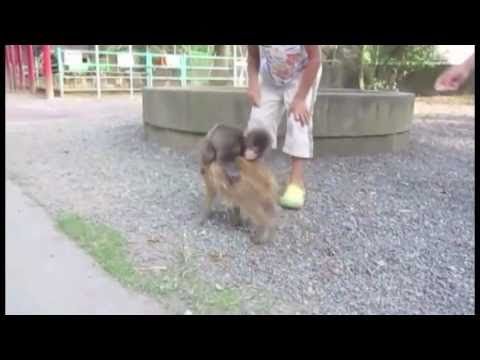 Filed:
Featured
•
Games
•
iPad
•
iPadmodo
•
iPhone
•
New Apps