Scosche Launches sneakPEEK auto, In-Car A/V Cable for iPad, iPhone and iPod
Scosche Industries, award-winning innovator of consumer technology, is excited to announce the availability of the sneakPEEK auto – in-car audio and video output solution for iPad, iPhone and iPod.  The new cable allows users to watch movies, TV shows, music videos or listen to high quality music in the car.
Kas Alves, executive vice president, Scosche Industries said, "We continue to develop innovative and functional products for the automotive aftermarket. Our new cable combines our traditional car audio expertise with our new consumer technology capabilities."
The 9 ft. of high-quality, shielded cable give installers the flexibility to rout the cable virtually anywhere in the vehicle for a seamless install.  The integrated switch allows users to change between playing video on an external monitor or on the iOS device's screen.
The sneakPEEK auto boasts all-metal barrel connectors with gold plated RCA's and integrated strain relief construction for a superior audio connection and enhanced durability. The 10W charging circuitry allows all iOS devices to be charged during playback including the power hungry iPad models.  Additionally the sneakPEEK auto features a stepped connector that allows users to connect without having to remove their case.
The Scosche sneakPEEK auto is available now at Scosche.com for $74.99.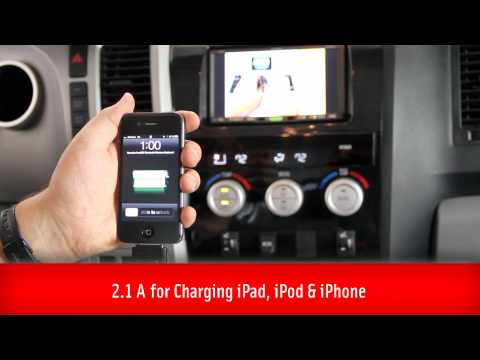 Filed:
Accessories
•
Featured
•
Hardware
•
iPad
•
iPadmodo
•
iPhone