Zombie Wonderland App Review for iPhone and iPod Touch: Who Ya Gonna Call? Zombie Busters
By
Adam
on Jul 13, 2010 at 5:00 am
Developed by Xoobis and published by Chillingo Ltd, Zombie Wonderland is a frantic, action filled, 3D defense game where your main job is to kill the pesky zombies that approach different buildings. The game takes the two boring and repetitive ideas of zombies and defense, and applies new excitement to them.
Review
Who ya gonna call? The zombie busters. In Zombie Wonderland, you play as Chuck, the zombie exterminator. With a simple minded premise, the game has you using a different tools which get bigger, badder, and more useful with each upgrade to them; they are used to prevent zombies from getting into different customers' buildings.
Controlling Chuck's actions are very easy. Tapping on a window will take chuck there, and tapping on a zombie will target it and also make Chuck walk to the window closest. Repairing windows is done by a button with a hammer on it, and vacuuming/mopping the stick zombie blood is done with a button and then a slider that has you frantically sliding back and forth.
When the clock on the screen reaches 6:30 AM, the zombies will scurry back to their homes. That's when the level ends. The game is presented in different sections which each belong to an environment: Aunt Lilly's house, Joe's Bar, Jake's Garage, and lastly the Cemetery. Each has multiple sections, a new setting, and gets more difficult.
The way that everything is made is so creative; zombies with the cylindrical heads, worn out clothes, and floating arms make the game unique in terms of artwork. The environments are all highly detailed with everything that you'd have in a normal house, bar, garage, and cemetery in the area making it a more realistic experience.
I think that the whole idea is pretty absurd and humorous: killing zombies for a job. It is a unique story, and the game is one that will keep you playing for while. However, the beginning few levels seem too boring. It's the same thing over and over again with no new elements. The gameplay only starts getting fun when you start upgrading your weapon, and bigger and even more uglier zombies start challenging you.
Once you beat all of the environments, a Survival mode becomes available for play. This adds some replay value to the game, and also has the frantic gameplay that you will face in the campaign. For the sale price of $0.99, the game is a steal. It has frantic gameplay that can get boring at some points, nice visuals, and a unique story.
Tips
Make the best of your weapons. You don't have a set amount of ammo, so keep on shooting until those zombies won't even think about coming near you again!
Recommendation
$0.99 or even the original price of $1.99 is a fair price to pay for Zombie Wonderland. You get a fun idea stuffed with zombie exterminating action. Even considering the boring parts of the game, it's a must buy!
Gameplay Video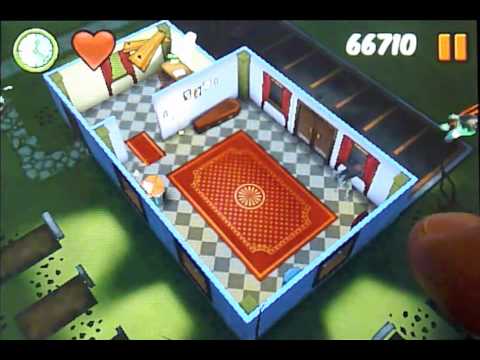 Photos
Note: A promotional code was provided from the creator for use in this article.
Please post your comments, tips, and questions down below in the comments section.
Thanks for reading!
Filed:
Games
•
iPhone
•
New Apps
•
Reviews