Puppet War:FPS App Review for iPhone and iPod Touch: COD and Elmo's World Have A Kid
By
Adam
on Jun 22, 2010 at 7:00 am
What's really fascinating about the apps that make up the app store is the things that they are further made of: the graphics, the characters, and the overall plot. Puppet War FPS developed by Twindigo is a unique idea executed brilliantly: think of it as COD (Call of Duty) meets Elmo's World (a show on Sesame Street run by the ever so famous Elmo).
Review
The game starts off with a short clip of a kids' show starring a happy puppet with a toothy grin on its face. The puppet then grabs out an AK-47 and starts shooting the screen; both weird and funny. Basically, formerly happy puppets have turned evil and have a plot to take over the world, and you're the only one that can stop them. Who are you? A janitor. Yup, a janitor with a mop as a starting weapon. Good luck on saving the world!
Ok, well maybe I was a little pessimistic. You do have a chance on saving the world against the evil puppets. How? Throughout the game, you will be able to buy an assortment of different weapons. They might be simple like a wooden baseball bat, or complex like big hardy guns.
The control system is setup like any other First Person Shooter or, in this case, First Puppet Shooter: You have a joystick on the bottom-left side of the screen used for running around, a button on the bottom-right side of the screen for shooting, and stroking anywhere on the screen changes the view. The controls are extremely responsive proved by the fact that you don't have to press twice to shoot or continuously drag the joy-stick in every which direction to move. Changing your weapon is easy, and your score, which increases for each puppet killed, is displayed.
The game has visuals like none other: the screen bursts in bright colors, and the puppets have a menacing glare that is easily distinguishable. Everything that makes up the game environment in which you play in, create a realistic setting just like a kids' show studio would look like in real life.
I'd like to see more environments added to the game which can be unlocked by completing a certain amount of levels. This would bring to the game more variety rather than the same map every time which could act as a turn-off to some people. However, I think very highly of this game, and once I install 4.0 on my device, this will go in my "Best Games" folder!
Tips
Play the game, get points and money, buy weapons, don't die!
Recommendation
If you want a solid FPS that adds a unique idea to the genre and has some killer artwork, look no further than Puppet War:FPS! $1.99 is a fair price to pay for the game, so buy it now!
Gameplay Video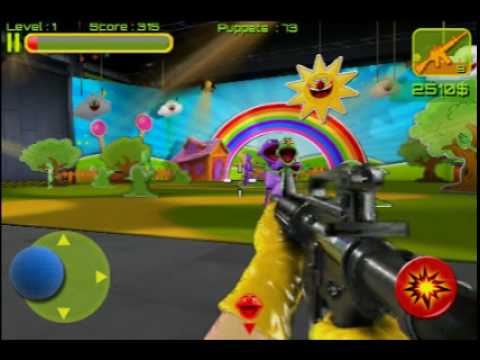 Photos
Note: A promotional code was provided from the creator for use in this article.
Please post your comments, tips, and questions down below in the comments section!
Thanks for reading!
Filed:
Featured
•
Games
•
iPhone
•
New Apps
•
Reviews