Pandamania App Review for iPhone and iPod Touch: Bow Defense; A New Genre for iPhone Gaming
By
Adam
on Mar 13, 2010 at 8:40 pm
Your prized possession has been stolen. No, it's okay, just facial hair. Help the panda recover his mustache from the evil devil in Fizz Pow's new twist to tower defense games: Pandamania
Review
I always love new games that have their own unique genres and styles. As seen in Gameloft's Alone at War, you now have Pandamania which has a new way to play.
The object of the game is to kill all
of the enemies on-screen, and enemies that enter the screen to advance to the next level. To do this, you use arrows. Your panda that you are in control of, is said to be the best archer in all of the land, and now you have to use his skills to recover his stolen possession. To aim, you click and drag in a direction. An arrow will pop up on the screen: The longer it is, the farther the arrow is going to go when your finger is released. The direction it's pointing in shows where the arrow will. However, it isn't that simple. You have to plan out your arch, and strategically lay out your battle plan in your head. If the enemies get past your arrows, they will attack your tower and your health will slowly deplete (indicated in the top left corner).
As you advance through the 50 included levels, enemies will get harder and more resistant to regular arrows. Flying birds will soon show up along with enemies that throw sticks. That's why you collect tokens every time you kill something. After each level, you can buy new arrows with different capabilities, build a stronger tower, and upgrade arrows that you already have to strike with more damage.
If you click and hold on the screen aiming your arrow for 4 seconds, you can super charge it to inflict more damage to opponents. If there are multiple enemies next to each other, and you hit one of them after your arrow is super-charged, it will kill all of them at once. (This method can help, but not on fast moving enemies.) As you earn combos and kill oncoming monsters, a meter in the bottom right of the screen will build up. When pressed, your panda will fire multiple arrows in a different pattern. Depending on how much you build it up, the attack will inflict a different amount of damage and a different amount of arrows.
I love the sounds and the wonderfully illustrated graphics. The background is sharp and doesn't have any dull places or discoloration.
Overall, Pandamania is a fun game with a new twist and gaming genre to it. Everyone now officially knows that facial hair is a prized possession to men and pandas, of course!
Tips
Calculate your arch and speed of your arrow with the amount of time you have. You won't be able to use the super charged arrow every time, so don't try!
Recommendation
Pandamania is an awesome game, that every iDevice owner should own! Fans of TD games, check it out!
Gameplay Video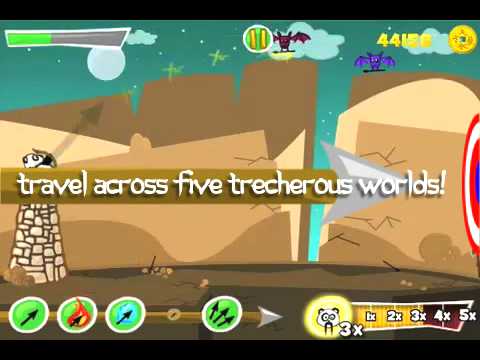 Photos
Note: A promotional code was provided from the creator for use in this article.
Please post your comments, tips, and questions below! Thanks!
Filed:
Featured
•
Games
•
iPhone
•
New Apps
•
Reviews