iQuarium Review for iPhone and iPod Touch
Virtual pets have been around for quite a long time. With each passing year, we have seen technology improve, thus adding more realism to these pets. Infinite Dreams Inc. has developed such a pet with their newest creation, iQuarium for iPhone and iPod Touch.
Review
iQuarium isn't a game. It is a virtual aquarium where you are given a simple tank, water, gravel and a little Parrot Cichlid to raise. It is your responsibility to keep the fish happy by fulfilling its basic needs. The fish must be fed at least once a day for not doing so for a couple of days may make your fish become more aggressive. As with any live fish, should you forget to feed them for several days, you will end up with a sick or worse yet, a dead pet. Also, not only is it necessary to nurture that growling belly, the fish will need human interaction. You must play with it by tapping on the glass, drawing circles along the tank for the fish to follow and so on until it grows tired from the activity.
At the beginning of iQuarium, the tank will appear very plain but for every 10 minutes that passes by, a point is earned and eventually you will accrue enough points to unlock items that will help enhance the appearance of your tank. Not to worry, points will continue to accumulate even if the app is not running. Items to be unlocked include rocks, plants, backdrops, bubbles and so forth. Items will take time before they are unlocked, so patience is the key. It took me a several days to reach where I am now with these photos, with the last addition being an additional plant.
Graphics are absolutely amazing, even with my minimal looking tank, thus far. Each detail has been carefully rendered, making the tank and fish as life like as possible. The display can be set to either portrait or landscape by simply tilting the device on its side. Also using the pinching and spreading method on the device allows you to zoom in and out, allowing for a closer look at your virtual fish. There is no background music, simply the soothing sounds coming from the bubble machine and when you tap on the glass. Should you prefer to play music from your iPod collection in the background, you must first launch your iPod before going into your aquarium.
iQuarium is a fun and relaxing distraction. Not only is it beautiful, it is quite soothing. The app was recently updated so that the bubble sound may be turned off, however it appears that this function has yet to be fixed as the sound continues to stay on, even when the off option is chosen.
Recommendation
iQuarium for iPhone and iPod Touch comes recommended to everyone, young or old. It teaches responsibility and most of all, having lots of patience. For those willing to put in the time, iQuarium is available at the iTunes App Store for $.99. A great aquarium simply doesn't happen overnight, so for those looking for instant gratification, I'm afraid you will likely come out disappointed. A free app, iQuarium FREE can also be downloaded should you prefer a sample before paying for the full app.
Check out iQuarium's gameplay on the video below.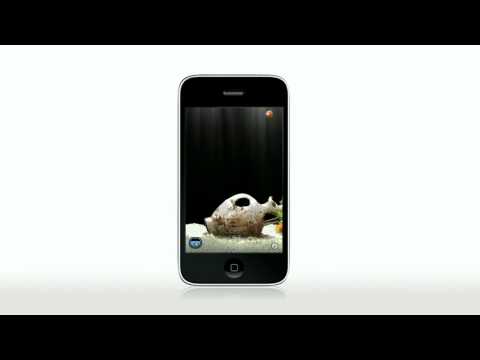 Photos
Note: A promotional code was provided by the creator for use in this article.
Please post your comments, tips, and your own reviews below in the comments area!
Filed:
Games
•
iPhone
•
Reviews