Jungle Style Pinball Review for iPhone and iPod Touch
Who doesn't love a good game of pinball? Following in the same great fashion as their previous hits, Wild West Pinball and The Deep Pinball, Gameprom continues to build upon this pinball franchise with their latest game, Jungle Style Pinball for iPhone and iPod Touch.
Review
Jungle Style Pinball is based upon a lush 3D world filled with colorful items such as hula girls, helicopters, palm trees, a Big Kong and Shaman guards. Also, in keeping with the jungle theme, Tiki bridges, which span across the playing area, have been added to serve as the ball chutes. As with any pinball machine, as you tilt the machine (your iPhone), the pinball table shifts along with you, thus allowing yourself a better view of the entire playing field.
Controls are what you would find on a regular table. The Jungle Style Pinball game has four flippers, your standard two at the bottom of the table and the other two on top and on top opposite sides of each other. To move the left side flippers, simply tap on the left side of the screen and tap on the right side to move the right flippers. To pause the game, merely tap on the top of the screen and pinching in or out will give you a better view of the playing field.
There are hidden triggers that also come with the game, although you will need to go to Gameprom's website to access it, as it was not built into the game menu. Once these keys are collected, the Big Kong that crouches at the far end of the playing field can be awoken and you can make the helicopter hover. Other unlockables also include multiball mode, where more than one ball is at play at same time, allowing you the opportunity to rack up some more points.
The 3D graphics look incredible in Jungle Style Pinball. Gameprom's use of vivid colors combined with an awesome jungle soundtrack all work hand-in-hand to provide you with that full in-game experience. What is great about this game is its auto saving feature. Never again will you have to start up from the beginning, as the game picks up precisely where you left off. Should you decide to show off your high scores, there is also online leaderboards, so you can see how well or how badly you did amongst other Jungle Style pinball players.
As I've mentioned before, the game lacks a real menu complete with a help/tutorial option. Although not a deterrent from giving it a good recommendation, it would have been great to have access to the guide within the application itself, as opposed to going to Gameprom's website to get you moving along in the game.
Recommendation
Jungle Style Pinball for iPhone and iPod Touch is recommended for pinball fanatics everywhere. The game feels great, there's always something happening on the playing field and with amazing graphics topped off with easy to use controls, this one is a real winner. This app is now available at the iTunes App Store for $.99.
Check out Jungle Style Pinball's gameplay on the video below.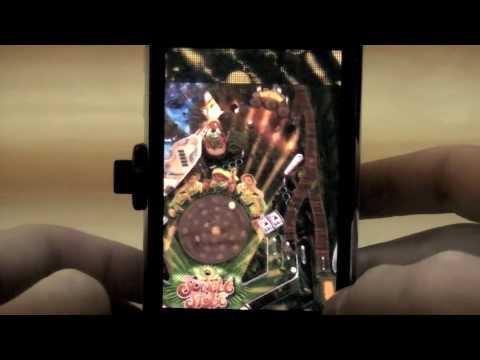 Photos
Note: A promotional code was provided by the creator for use in this article.
Please post your comments, tips, and your own reviews below in the comments area!
Filed:
Games
•
iPhone
•
Reviews